The Next Generation of Bulgari Women Are Coming of Age, Each In Their Own Way
Meet the scions of one of Italy's most prominent fine-jewelry houses.
---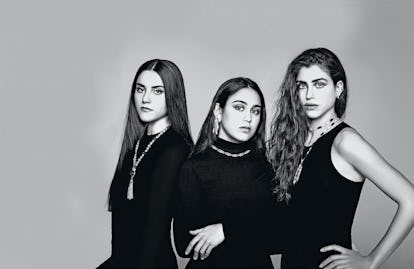 Photograph by Fabrizio Ferri; Styled by Nora Milch.
Considering that they're scions of one of Italy's most prominent fine-jewelry houses, Ginevra, Carlota, and Marina Bulgari make for a remarkably unflashy bunch. "We don't wear a lot of jewelry," says Marina, 18, her dark mane nearly concealing her sole, albeit understated, nod to bling—a pair of highly discreet surgical studs, procured at the pharmacy where she recently got her ears pierced. "Maybe for special occasions," adds her 21-year-old sister, Carlota, as she fiddles with a charm necklace given to her by their grandmother. "We're still quite young—and Bulgari pieces are pretty big."
Discretion, it seems, runs in the family. Growing up in Rome, the sisters, as well as their cousin Ginevra, also 21, knew little about the family vocation, including how their great-grandfather Sotirio Bulgari, a silversmith, opened his first store in 1884 after emigrating from Greece to Italy. Or how their respective fathers, Paolo and Nicola, took over the company in the mid-1980s, at the behest of their late grandfather Giorgio. "Our father didn't talk about it much—he never really told us the story of the business," Marina says. "My father would change the topic," Ginevra notes.
If both dads seemed dismissive, it's because they wanted their daughters to feel free to pursue their own passions, which they have done. Marina, a competitive ice skater, spends three hours a day training—though she coyly dismisses any Olympic aspirations. Carlota, who worked for Dior's jewelry-design team, as well as for Vogue China ("I learned three words in Chinese: 'left,' 'right,' and 'thanks' "), now studies fine art at Goldsmiths, in London. "I make sculptures that are alive," she says of her structures, which are formed using human subjects and then captured on video. "It's very nontraditional." Ginevra, a senior at Brown University, originally applied as an art history major but changed tack after teaching English for a summer to children in the Himalayas. She is now studying international relations with a focus on human rights. A film buff and occasional actress—she starred in The Lack, by the Italian video artists Masbedo—Ginevra also entertains the idea of one day designing a jewelry line with Carlota, a plan hatched when they were kids. Back then, Ginevra would spend afternoons drawing earrings and crafting necklaces in the Bulgari creative director Lucia Silvestri's design studio. "For me, it began as a game, and then I started appreciating the beauty of the stones," she says. None of the girls swears off working for the company at some point.
"Art, film, design—they all tie back to the creative side of Bulgari that we three love," Ginevra says. "So maybe one day we'll be involved, but it will be so much more rewarding because it will be our decision and we'll be bringing our experiences, our vision, to it." The significance of all of them being women, after generations of men, is not lost on any of these Bulgaris. "In light of what's happening in the world," Ginevra says, "it's important to have a female vision for the brand."