Burberry Kicks Off London Fashion Week With a Twitch Livestream
The show featured multiple firsts, including a collaboration with artist Anne Imhof and a partnership with Twitch, on which the show's stream was hosted by Erykah Badu, Rosalía, Steve Lacy, and Bella Hadid.
---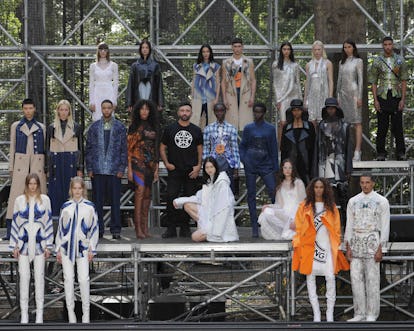 Courtesy of Burberry.
This morning, somewhere in the forests of Great Britain, models in tangerine overalls, layered trench coats and crystal-embellished party dresses wandered down trails carpeted in pine needles and rimmed with lush ferns. They convened in a circle, where dancers in crisp white loungewear moved slowly to a soundtrack performed by the painter and musician Eliza Douglas. As cameras suspended from the treetops panned above them, a few paused to snap selfies, while others released smoke grenades in colors coordinated to the ensembles.
Thus began Burberry's spring 2021 show. Like many fashion houses adapting to pandemic restrictions, the English heritage brand traded the traditional indoor venue and catwalk for a multidimensional digital presentation. It was the debut collection of London Fashion Week, streamed live on the Burberry website as well as on Twitch, representing the first partnership between a luxury fashion brand and the platform best known as a destination for video game streams. (The Twitch stream was hosted by Erykah Badu, Rosalía, Steve Lacy, and Bella Hadid.)
It was also the first time chief creative officer Riccardo Tisci brought in an artistic collaborator, working with the performer and installation artist Anne Imhof to help conceive of and choreograph the event. "'It began with a thought of British summer time," Tisci said of the concept behind the show, which was inspired by the ocean and Britain's urban-rural duality. "The collection is called 'In Bloom' because I was thinking about regeneration, about dynamic youth, about nature constantly recreating itself, always growing and evolving, always alive."
The collection featured a tightly curated color palette of white, black, khaki, cerulean, and orange, with hand-painted details and glittering fishnet accents. The house's traditional emphasis on outerwear remained strong, with multiple technical parkas, crisp rubber dusters, and the signature trench coat rendered in multiple prints, colors, and materials.
At just under 25 minutes, the digital performance ran twice as long as the standard IRL fashion show, allowing for lingering shots of individual looks with interstitial moments of reflection—palate cleansers of trees, dancers and Douglas's haunting stage presence. The elegant camerawork, powerful music and subtle narrative made the whole video into a refreshing, original take on the medium, one that the industry will probably be tinkering with for the foreseeable future.
Related: Riccardo Tisci's Vision For Burberry Redefines "British" Style