Burning Man 2020 Is Semi-Canceled For the First Time in History
Thanks to the coronavirus, Burning Man 2020 will be forced to go digital. You can't get much more environmentally friendly than that.
---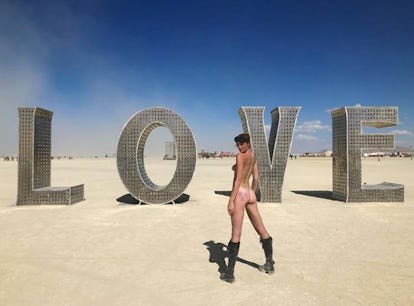 For the first time in its 34-year history, Burning Man has been canceled.
Well, sort of. On Friday, Burning Man organizers released a statement about their decision to cancel the IRL festival. "After much listening, discussion, and careful consideration, we have made the difficult decision not to build Black Rock City in 2020. Given the painful reality of COVID-19, one of the greatest global challenges of our lifetimes, we believe this is the right thing to do. Yes, we are heartbroken. We know you are too. In 2020 we need human connection and Immediacy more than ever. But public health and the well-being of our participants, staff, and neighbors in Nevada are our highest priorities," the statement read.
Due to the rapidly spreading coronavirus, the festival which was supposed to take place from August 30 to September 7, will have to go online this year. Even if society returns to some state of semi-normalcy by late August, it's questionable whether packing tens of thousands of people in a crowded space with no running water would be a good idea, let alone appealing.
That means No more scantily clad influencers and models using Black Rock City as their Instagram dropbacks. Celebrity burners like Paris Hilton, Susan Sarandon, Karlie Kloss, and Diplo will just have to log on digitally instead.
But this year, the theme was already slated to be "The Multiverse," and COVID-19 won't stop the burners from congregating. "We look forward to welcoming you to Virtual Black Rock City 2020. We're not sure how it's going to come out; it will likely be messy and awkward with mistakes. It will also likely be engaging, connective, and fun," the statement continued. "In this Multiverse, Black Rock City will be online, and everyone will be welcome to join in. On a virtual playa, there's no limit to who can participate. It won't be like the BRC we've built over the years; we know there's no substitute for an in-person experience. It will be a new kind of Burn."
Burning Man 2018: How Celebrities Like Karlie Kloss and Alessandra Ambrosio Partied
Karlie Kloss holds up the world at Burning Man 2018 ,in September.

Photo by @karliekloss.
Supermodel Lais Ribeiro poses at Burning Man in September 2018.

Photo by @laisribeiro.
Heidi Klum and Tokio Hotel's Tom Kaulitz took a couple's trip to Black Rock City for Burning Man, in September.

Photo by @heidiklum.
Nathalie Kelley in her Space Yeti look at Burning Man, September 2018.

Photo by @natkelley.
Charlee Fraser at Burning Man, September 2018.

Photo by @charleefraser.
Skrillex took a bike ride at Burning Man, August 2018.

Photo by @skrillex.
The "ancient alien species of Black Rock Desert," known as Simi Haze, touched down at Burning Man, in September 2018.

Photo by @simihaze.
Diplo performed a couple sets at Burning Man, in September 2018.

Photo by @diplo.
Frances Bean Cobain posed in Black Rock City, at Burning Man, September 2018.

Photo by @space_witch666.
Nina Dobrev took a trip to the desert for Burning Man, September 2018.

Photo by @nina.
Alessandra Ambrosio prepared for a desert storm at Burning Man, in September 2018.

Photo by @alessandraambrosio.
Cleo Wade posed with Karlie Kloss at Burning Man, September 2018.

Photo by @karliekloss.
The main tenets of Burning Man include "radical inclusion" and the idea of "leave no trace," which means to leave the outdoor space exactly as you found it once you leave. You can't get more environmentally friendly than taking this desert gathering online.
Coachella, which was slated to occur for two weekends in April, was postponed until October due to COVID-19 concerns. Social distancing is nearly impossible to practice at a festival, and hygiene is essentially impossible to manage. If Burning Man, which runs for about a week in the beginning of September had to be canceled, Coachella could be looking at a similar fate.
Related: Burning Man Comes Out Against Instagram Influencers and Coachella-ification