For Byredo's Debut Makeup Line, Isamaya Ffrench Sought a Different Approach to Color
The makeup artist discusses working alongside the brand's founder Ben Gorham, and her top beauty tricks to help transition your beauty look into fall.
---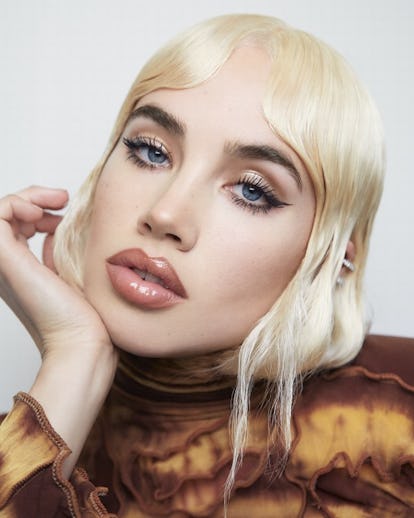 Amid the chaos that is 2020, beauty can be a form of escapism or self expression for many—whether it takes the form of unbridled fantasy or the simple delight in the everyday and mundane. The personal physical manifestation of the ephemeral was top of mind for Byredo's founder Ben Gorham when he tapped the avant-garde British makeup artist Isamaya Ffrench (who recently was appointed as Burberry's global beauty director) to help him devise his inaugural cosmetics collection, Byredo Makeup. After working over a decade in an invisible medium—fragrance—he was ready to take the visually visceral plunge.
The duo has developed a kind of open-source approach to beauty, placing the instincts and subjectivity of the wearer at the products' core. The multi-purpose Colour Stick gives consumers the freedom to choose where they'll wear it, whether on eyes, cheeks, lips. " I think it was still cloudy in my mind as to what the makeup would be. The pivotal point came about when Isamaya was demoing, with four or five of the color sticks, creating multiple looks, and most importantly, completely different emotions. And I think at that point, I started to—as I saw with fragrance once upon a time—understand the magic of makeup and the transformative quality of what she was creating," Gorham said.
Launching this October, the all-inclusive makeup line consists of chrome colorways in clean formulations meant to be blended. The collection's 16 pigmented color sticks, 15 lipsticks, ebony black mascara, inky liquid eyeliner, and neutral lip balm are part of this fall's first drop, with five- and 18-color eyeshadow palettes, slated for release in November and February, respectively.
Below, Gorham and Ffrench discuss the idea of beauty as a form of expression, the emotions evoked by face paint, and the transcendental nature of color in all shapes and forms—with an additional bonus of Ffrench jotting down a few makeup tips to help you transition into the fall season.
What made you decide to expand into cosmetics?
Ben: I founded Byredo almost 15 years ago. My initial work was primarily focusing on fragrance and smell as a medium. As the brand evolved, I started to introduce and play in other categories: leather, jewelry, and eyewear, among other things. But about five years ago, I started to feel like makeup could be a strong physical manifestation of beauty at Byredo in contrast to fragrance. So I started imagining what that could be and found it really hard to relate to in a practical sense—being that I've never worn makeup.
It wasn't until about three years ago when I came across the work of Isamaya Ffrench, which I was extremely drawn to. Primarily because of her creative vision, but also this notion that she was an outsider in her industry, which related a lot to how I perceived my journey in fragrance. That outsider perspective and sensibility was something I felt we shared. [Isamaya] entered into the industry with a completely unique perspective. She didn't go about it in the traditional route and was not emulating traditional work.
We eventually met through a common friend and began a dialogue and had random meetings, sometimes in the back of cars between shows in Paris and in London. But it created a discussion about color being an important pillar for the line.
Isamaya, what were your thoughts when Ben approached you about collaborating on a makeup line?
Isamaya: Honestly, initially, I wasn't very interested in doing another makeup brand and I felt like the market was very saturated already. We didn't need any more solutions to things. Everything was kind of replaying itself in different trends and colors. So I said to Ben, "if we're going to work together, can we really try and do something new? I don't want to approach this as a makeup collection, necessarily. I want it to feel like something else."
How so?
Isamaya: I wanted to think about the collaboration in terms of color and our approach to it. A lot of makeup brands have these categories that they try to fulfill—red lip, blue eyeshadow, pink lip, etc. It's a very common denominator in makeup brands. So the way that we approached color was to start from the beginning and work purely on creating a Byredo color library. I did a lot of image research and I took images from landscape photography, digital images, CGI stuff, and I would pick out pixels or areas of color from the images that I found really beautiful. I'd put them in a folder. Over time, that folder expanded to become a color library. And that was the base of the beginnings of our approach to beautiful color. Some of them were from our imagination, but a lot of them were from colors that we found around us that we wanted to translate into products.
What I felt was missing was a universal color stick. I find that in the last couple of years people's relationship with makeup and applying it has really changed. I love the idea that something like a car key green or an iridescent blue could look gorgeous on fair eyelids like mine and look amazing on the lips of a girl with darker skin. So the idea of creating universal colors became the project.
We developed 16 sticks, ranging from an iridescent khaki green that has a white gold undertone to a midnight purple with blue-and-silver undertone. They all come in different finishes. I felt that it was one thing to create really nice color, but the way it translated onto the skin was just as important. For example, we have a cloudy blue color—it's a very sheer, glossy texture. Then, we have a sparkly orange which is very matte and highly pigmented. These sticks fulfill all the makeup requirements, bar foundation. They work really well as blushes. There's one that has little flecks of sparkling that works well as a highlighter. We also have a very matte black color that can double as a smudgey eyeliner.
You mentioned that in the last couple of years, people's relationship with applying color has changed, and it's really opened up. Can you go into that a little bit more?
Isamaya: I think people are becoming a lot more experimental with makeup and that's because of social media and Gen Z, and their relationship with beauty. It's also about gender fluidity. Makeup and self-expression are becoming an important topic of conversation and are having a really important moment—it is increasing our sense of identity and self-expression.
I also think people of color with darker skin tones [have also opened up brands to the possibility of quality and the application of makeup]. Brands like Fenty, which really set a precedent for darker skin tones, have shown that wearing green or blue on your lips can look very beautiful. And for me, I find that so inspiring.
Ben, how has Isamaya's relationship with color impacted how you feel about color?
Ben: I think there's a general color phobia in the world, especially in the last 10 years. I built a monochrome brand. When you don't wear makeup, when somebody says they're going to put on green and orange on your eyelids, that seems extreme. And I'm sure that feels extreme to [some] people who wear makeup, too. When I saw Isamaya applying it on skin, I started to understand the very wearable quality to it.
The makeup packaging is very ergonomic and modern. What were your influences or references?
Ben: The shape and the design really reflect the function and use of each of the products. Isamaya had a very clear idea of color curation and I wanted these objects to look like a curation of objects, with everything being unique. It's the same theory that I've used previously in Byredo when developing our other products. With the makeup, the lipsticks are very much about proportion. For the eye quads, the compact came from the idea of liquid gold dripping into an oyster. We also wanted to design shapes that really consider the person's hand, and the tactility that relates to the form and weight and even to the magnet fastenings.
Isamaya: Technically, it was also important that they worked really well. For example, the volumizing mascara, the shape of it reminds me of a horn, but it is very modern. And then the wand is much smaller than you might expect from something that provides volume. But really, it's so you can get as close as possible to the lash bed, which a lot of volumizing mascaras don't do. And the same for the eyeliner. I wanted it to have the longest line or tip possible so that you could do a really straight line. I studied product design many, many years ago but I remember always thinking about how form follows function.
We're also going to launch two textures of lip. One is going to be matte and one is going to be a demi-gloss because it's important that the effect is a marriage with the color. Some products look much better when they have a bit of gloss and others look better when they're very matte.
Speaking of the lipsticks, they seem to have a slight fragrance to them…
Ben: Yeah, there is a scent to the lipsticks. There were two references in my mind. One was this vintage lipstick of my mother's from the '80s and '90s with that violet component, and then another was a raw vanilla material used in most contemporary [cosmetic] lines. I wanted to create something new, but I still wanted to incorporate those two memories I had of makeup smells.
Will there be extensions down the line? Do you envision ever launching foundation, concealers or illuminators?
Ben: The line right now is about the tools for self-expression. I think once you get into foundations and skincare, you're looking at very technical solutions for people. I don't think we're at that point yet. We're still working within this color arena, and we still have a lot of stories to tell and things to explore.
Isamaya's 4 Beauty Tips to Take You Into Fall
"Everyone is convinced that lips are long gone now that we have to wear masks, but I'm not so sure. I've worn more lipstick this year than ever before and I'm excited to start wearing autumn shades like burnt and vibrant orange, soft browns and also deep purples. I love to soften the edges to make a blurry lip shape so that the mouth feels more pouty."
"Autumn means it gets colder outside and we turn the heat up inside, so make sure you stay hydrated. I like to mix a spray bottle of water with essential oil and mist my face when I'm feeling dry. The water hydrates and the oils add a touch of glow."
"Try swapping your black eyeliner for a dark brown, as it feels softer. If you have a heavy lid, try smoking the line out rather than having a hard line—it will create the same illusion of elongating the eye without looking messy."
"It can be fun to play with eye color. Experiment by wearing a different color on your top lid and another shade on the bottom lid. It's a great contrast, especially if you're wearing black or a more simple outfit."