Cameron Robbie: The Internet Is In Love with Margot Robbie's Little Brother
Meet Cameron Robbie. He loves cheap wine, good lighting and an earnest thirst trap.
---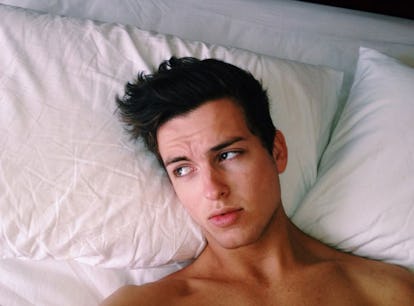 To some Americans it may have seemed like Margot Robbie stepped onto our shores one day like a Venus emerging from the seas and said, "Hello, Hollywood, I am your next A-Lister." That's not exactly how it happened. Indeed, she had a whole life before that back in her native Australia with a career and a family and all of that. It was a member of that family, younger brother Cameron Robbie, who captured Robbie's celebrating her first Oscar nomination while back in her homeland. The clip spread around the internet, but if you're wondering why a clip from Cameron Robbie's IG was so easily found it's because the younger Robbie is already something of a social media star himself with over 42,200 followers.
It's not hard to see why, either. Robbie, an aspiring actor himself, manages to perfectly walk Instagram's favorite line between "highly relatable content" and "perfect looking life." He seems to be constantly jetting around the globe to hotspots while also being tongue-in-cheek about university fees and his toxic relationship with his bank account. He also knows the joys of good selfie lighting and cheap wine, as any millennial should.
Let's take a "This isn't creepy at all! Instagram is for public consumption, alright? Stop judging us" trip through his greatest Instagram hits.
He loves some good $9 wine:
And isn't afraid of openly acknowledging a thirst trap:
Especially if it's to celebrate his 21st birthday:
[#Instagram: https://www.instagram.com/p/BBj8Hq-LIub/?taken-by=cameronrobbie]
Like everyone he ran into someone dressed as his sister's Suicide Squad character during Halloween 2016:
Yes, he tagged his sister.
He knows the struggle of capturing the perfect selfie:
He joins the whole squad at Pride:
He loves a cat:
Hangs with his mates:
And knows a good photo backdrop:
Of course, he's a very proud brother as well:
Somehow, Robbie seems to have attended college while not spending time with friends, but he does have hopes of conquering show business. He's already appeared in a few Australian movies, and is inspired by his big sister.
"My sister and I liked to perform all the time, (including) skits at home," he once told The Gold Coast Bulletin. "When she started succeeding, I realised you can do this as a job."
"She is such a grounded, supportive and intelligent girl. There's such a business side to this world … and she's helping with (that)."
So, one day you may see him on a screen bigger than your iPhone, but for now, if you're looking for an answer as to whether you should hit that follow button, well:
Related: Biaggio Ali Walsh, Grandson of Muhammad Ali, is a Champion on His Own