Camila Cabello Continues Her Post-Fifth Harmony Solo Journey As the New Face of Guess
She's channeling '90s nostalgia in her latest ads.
---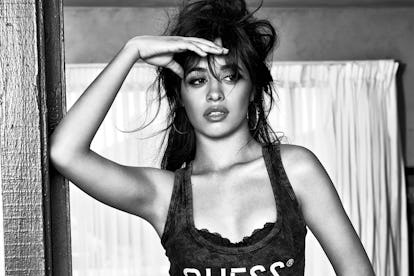 Courtesy of Guess
Former boy band members aren't the only singers focusing on fashion.
Camila Cabello is the newest face of Guess, and the just-released ad campaign, which has a major emphasis on '90s nostalgia. In graphic tops and high-waisted silhouettes, denim and leather alike, the singer channels her inner supermodel in her first shoot for the brand—though, having been born in 1997, the 20-year-old is surely drawing more on those who came before her than her own decades-old sartorial experience.
With the new gig means Cabello joins the likes of Drew Barrymore, supermodel Claudia Schiffer, and Gigi Hadid, to name just a few famed Guess Girls past. In a press release, Cabello says she's excited to be joining the storied Guess ranks: "I couldn't be more excited to partner with Guess on this incredible campaign. I've grown up loving their aesthetic and not in my wildest dreams did I ever think I'd be lucky enough to be a part of it."
The shoot was art-directed by the chief creative officer for the brand, Paul Marciano, and photographed by Tatiana Gerusova. The team traveled to Palmdale, California, to shoot on location in the desert. In one image, Cabello stands in the doorway of what looks like a hotel room, wearing a sultry graphic tank that reveals a lace bra underneath, paired with high-waisted, button-front skinny jeans. In another, she stands in the middle of the desert road, dancing with a male model. The singer seems to be channeling a '90s Western version of Sandy from Grease, in skinny black jeans, a bustier, and knee-high cowboy boots.
The ex-Fifth Harmony member has only just embarked on her solo career, but she's already hit it big with her first single, "Crying in the Club." Although Guess ads are daring, to be sure, it's a decidedly different image from the one she put forth as part of her former girl group. The singer has spoken out about the pressure to sexualize her image with Fifth Harmony in the past.
See Cabello in the two newly released photos from Guess, below:
Watch all of W's trending videos, here: