Camila Mendes, Kiernan Shipka, and Tommy Dorfman Propose an Epic Netflix Crossover
"13 Chilling Adventures of Riverdale" is my new favorite show.
---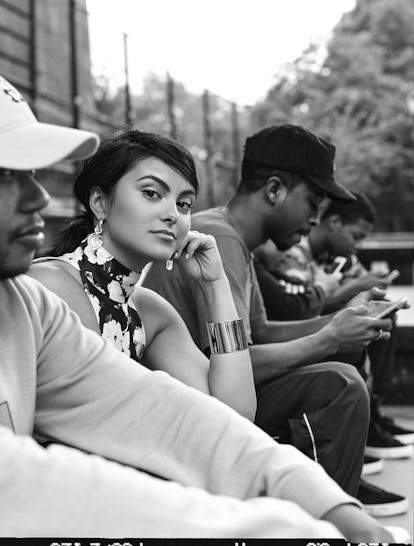 With all the reboots, crossovers, and nostalgia-driven shows on Netflix these days, one has to wonder: Is the streaming service running out of ideas? Apparently not—and if the studio's executives ever need some creative inspiration, they needn't look further than Kiernan Shipka, Tommy Dorfman, and Camila Mendes, who had a serious lightbulb moment regarding what would be an epic crossover.
The whole thing started when Shipka shared a selfie of the three actors on Instagram, writing in the caption: "13 Chilling Adventures of Riverdale #Crossover?" The title is of course an amalgamation of the three stars' respective series: 13 Reasons Why, The Chilling Adventures of Sabrina, and Riverdale.
Mendes and Dorfman also got in on the fun, sharing the same selfie with a similar caption. Dorfman also posted the group pic to Twitter, adding an optical illusion into the mix. "Whose thumb is that though?!" he wrote. Wait, but really…whose is it?!
Optic puzzles aside, it seems as thought Netflix is also on board with the idea. "I CANNOT DEAL WITH THIS," the streaming service's official account commented on Shipka's 'gram. Fans also peeped a note from Cole Sprouse, who simply hashtagged the picture #Content (and, I mean, he's not wrong).
But Netflix seems to like it so much that they even re-posted the picture to their own feed. "My heart rate just skyrocketed," they wrote. "The most ambitious crossover event featuring all my absolute faves."
So: When does filming begin?