Can a Stylish 20-Year-Old From Atlanta Make Blogging Great Again?
Reese Blutstein is trying to pick up where Tavi Gevinson left off: "I say I'm a style blogger. Anyone can be a fashion blogger. But style is different."
---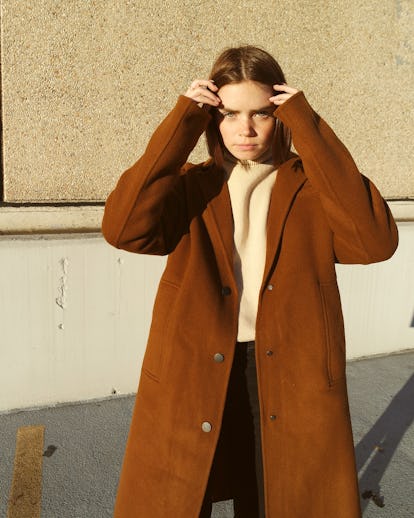 Copyright Reese Blutstein 2014
Reese Blutstein is 20, the same age as Tavi Gevinson, who started her blog, Style Rookie, at the age of 11 in 2008. But as Gevinson retired from blogging altogether, Blutstein is attempting to pick up where she left off with her own site, Double3xposure.com.
It's not an easy task, considering that the medium is pronounced "dead" more often than new names rise to the top. In fact, calling someone a "blogger" is practically an insult these days. But with an approachable style and youthful eye can Blutstein make blogging great again?
"I try not to say I'm a fashion blogger," said Blutstein from her hometown of Atlanta last week in-between classes at Georgia State University, where she's in her third year of studying art (Gevinson, it should be noted, blogged from Chicago). "I say I'm a style blogger. I don't really know why, but 'fashion' as a word is kind of taken. Anyone can be a fashion blogger. But style is different."
Blutstein created Double3xposure in September 2015 and has since gained a following of over 75,000 on Instagram. It began as a homespun project with her identical twin sister, Molly, (hence the name), who still helps with photography and film, and it has rapidly grown in the past year to the point where brands are approaching her.
Today, Double3xposure has all the trappings of a "fashion blog"—apathetic poses against a wall, beauty tutorial videos, and pictures from far-flung destinations. But Blutstein's style is a 20-year-old's spin on a Céline lookbook. She pairs Vans sneakers with an oversized camel jacket; or a small Danish brand with a Beavis & Butt-head vintage t-shirt. She's obsessed with names like Rachel Comey and Maryam Nassir Zadeh, but also smaller, lesser-known labels Loq footwear, Olderbrother, and Collina Strada, plus online destinations like Frankie Shop and Lisa Says Gah. And as for beauty, she prefers eco-conscious brands like Milk Makeup and F.Miller.
These are decidedly not the names you would find on today's most popular fashion blogs like The Blonde Salad, for example.
"I am very adamant about only working with brands that I would actually wear in real life," said Blutstein of her relatable yet stylish wardrobe choices. "I always try to add in pieces that are cheap and pieces that I have thrifted to show people that you actually do not need a lot of money to have good style. And I try to re-wear my clothes all the time. I can't relate to bloggers who wear something different every single day, and I am sure most of my followers can't either."
What keeps people coming back to blogs is not only their ability to inspire — whether that means to attain a "Man Repeller" lifestyle or one of the minimalist French luxury like Garance Doré—but also their opportunity for discovery. Rather than flaunting the latest designer obsession like Gucci loafers or street style bait like Vetements sweats that we see everywhere, Blutstein introducers her readers to brands they may have never heard of. Sure, her outfits look like some amalgamation of what you've seen elsewhere, but when you look at the credits, the brand equations are entirely original.
"I feel like people might think blogging is 'dead' because they're bored of what bloggers are posting," said Blutstein. "They all seem to run together because they are so similar. I don't feel like I need to be wearing what other bloggers are wearing to be liked by the masses, though. What I have learned from successful bloggers like Pernille Teisbaek is to just be yourself, wear what you want, and don't try to censor your blog or Instagram so much that your personality doesn't shine through."
In addition to her style, Blutstein's entry into the blog-osphere is also unlikely. In comparison to Gevinson, she didn't follow popular fashion blogs growing up. "Until Instagram came out, I didn't actually follow bloggers that much," she admitted. "I've been obsessed with fashion ever since I was little. My dad even made me and my sister a Chanel cake with two C's for our 10th birthday. But I find most of the blogs I like through Instagram. It's harder to find blogs on Tumblr because so many people re-blog. On Instagram though, you can find the actual person."
At this point, Instagram has almost become a fashion blog feed in itself, bypassing platforms like Tumblr and WordPress. "What is the function of this blog anymore?" wrote Tavi Gevinson in her latest post on Style Rookie. "Everything is basically on my Instagram."
Social media platforms like Instagram have allowed bloggers to showcase their lifestyles in real-time, making following them an even more personal (and obsessive) experience. In the past, people like Leandra Medine gained huge followings on Instagram because of their blogs. But this second wave of bloggers, including Blutstein, are using Instagram to direct followers to their sites, and not the other way around.
However, in the same way that blogging began as an original source of style content, and eventually morphed into a monetized fashion machine, Instagram is now doomed to a similar fate with intensely-curated feeds and sponsored posts. So, where does this leave bloggers like Blutstein, who are entering the game now? Is there a way to sustain a "personal brand" and still feel authentic? Thanks to their predecessors, the interest is still there—but they have to simultaneously stay ahead of the curve and re-invent the wheel.
"I don't think blogging is dead at all," said Blutstein before going back to class. "I actually think there is a new wave of blogging coming along and it's going to be more unique and more real. I even think really successful bloggers who have been doing this for a while are realizing that they shouldn't be so curated. No one lives a perfect life."
To be "yourself" on social media and the internet today means to be many things at once, and young bloggers like Blutstein succeed because they reflect the same experimental, uninhibited, and raw headspace of an 11-year-old Tavi Gevinson in 2008. To sustain themselves, bloggers in 2017 need to curiouser and curiouser individuals — not more curated. Or as Blutstein said herself: stylish, not fashionable.
Watch W's most popular videos below.