Can Kate Moss Become the Jay Z of Fashion?
Kate Moss won't be the first model to start her own agency, but her ambitions seem more in line with the likes of Jay Z's Roc Nation.
---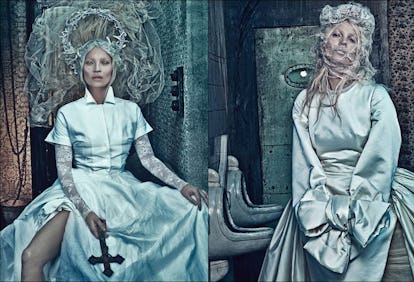 Once you reach the pinnacle of your career it seems like the only sensible thing a superstar can do these days is turn their magic touch to guiding the careers of others.
It's what Jay Z is doing with Roc Nation. It's what Beyoncé is trying with the expansion of Parkwood Entertainment. It's what Madonna attempted with Maverick. And it's what Kanye is possibly doing with GOOD music and DONDA. We think.
Now Kate Moss will take her turn at segueing from superstar into svengali.
In a rare interview with Business of Fashion, the supermodel announced today the creation of the Kate Moss Agency, a company that Moss hopes will be more about creating stars than just booking people in runway shows.
"I want to focus more on managing people's careers than just [running] a modeling agency," Moss said. "I don't really want pretty people, I want people that want to sing and dance and act — I want to create stars."
Which is to say it will be sort of a modeling agency…but not really.
The plan, she said, is to start off with a small group of talent and represent them as models, but then manage other aspects of their careers. Moss says that in her own professional life she realized she needed not just a modeling agent, but a manager to think about the long term aspects and full reach of her career as not just a girl who stands in front of cameras but as a full on public figure and brand.
So, she left her longtime home agency, Storm Models, earlier this year, and brought longtime agent Lucy Baxter with her. She also recruited Camilla Johnson-Hill, founder of The Production Club, to serve as brand and business manager.
Moss will not be the first former model to try her hand at management. Former models Wilhelmina Cooper, Eileen Ford, and Irene Marie all started their own agencies, but Moss's ambitions seem higher.
Perhaps those ambitions aren't unlike Jay Z's Roc Nation. He wasn't the first rapper to start his own record label, but he was the first to start a successful multifaceted management agency that focuses on all aspects of a performer's career. Today, Roc Nation handles the careers of everyone from Rihanna to Grimes, but also represents creatives who work within the music industry. He also recently expanded into sports management as well.
Moss is ready for the next challenge.
"I didn't realise how much it was going to change the way I feel because it is like taking responsibility for my own [business], whatever I do, instead of being the model who's being sent on jobs to turn up and just be whatever they want you to be," Moss said in the interview.
The launch of the company also comes with Moss's first foray into social media. The company debuted it's own Instagram, which only features the cover of Business of Fashion at the moment. It won't be used as Moss's personal account, but it will feature the star from time to time.
Of course, the business moves will come with the expansion of Moss's own branded line of products. So far the model has only released a line of fragrances and dabbled in collaborations the seem focused but far between. Naturally, if Moss's agency is to be more than just a modeling agency, it only makes sense that the first order of business would be to focus its energy on doing more for the career of Kate herself.