Can We Kick It One More Time: Inside the Party for A Tribe Called Quest's Final Album
The legendary rap group's last album We Got It From Here, Thank You 4 Your Service, featuring everyone from Elton John to Kendrick Lamar, is out today.
---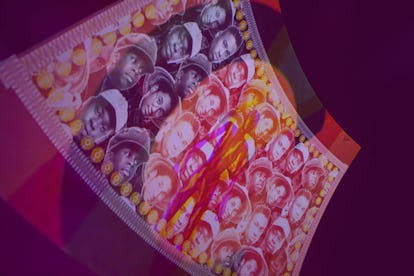 Today, the legendary rap group A Tribe Called Quest will release their first album since 1998 — and, they are claiming, their last.
We Got It From Here, Thank You 4 Your Service is more than just the creative product of the minds behind Tribe — Q-Tip, Ali Shaheed Muhammed, Jarobi White and of course the late Phife Dawg, who passed away this year — the album has roped in an impressive array of talent from a variety of genres. With the Phife Dawg's health declining this year, the group moved quickly, recording the album primarily in Q-Tip's home studio in New Jersey. In March, Phife, né Malik Taylor, passed away following a near two-decade long battle with diabetes. The album, the group noted, is a tribute to the renowned emcee, whose lyrical dynamism and punchy lines earned him praise, respect, and a permanent place in the hip hop canon.
Celebrating their album at a listening party at MoMA PS1 on Wednesday night, the group revealed that guests on the album include André 3000, Jack White, Elton John, Talib Kweli, Anderson Paak, Kendrick Lamar, Consequence and Busta Rhymes. Many of them, like Busta and Consequence, have figured heavily in the Tribe universe; others, like Jack White, embody Tribe's inclusive, jazzy musicality. No one guest is truly a surprise, and that says something about Tribe.
Speaking to an intimate but hyped gathering, Q-Tip told the audience that their main challenge in producing their final studio album was to "to keep the thread but try to push it forward." Somehow, they connected the musical dots between influences like Queen's "Bohemian Rhapsody" and Kendrick Lamar's 2012 single "Money Trees."
Q-Tip and Jarobi White also revealed that their November 2015 appearance on "The Tonight Show," on the same night of the Paris bombings, was the impetus for their new album. During heir first TV reunion appearance in 18 years, they performed their classic jam, "Can I Kick It?" Something clicked. "The energy we had that night, the vibe — it all just felt right," Q-Tip said. Days later they reached out to honorary Tribe members Busta Rhymes and Consequence — Q-Tip's cousin, who frequently appeared on the group's tracks throughout the 90's — and began to plot their sixth and final album.
The announcement of the first Tribe album since 1998 surprised many of their loyal followers. Their last studio album, The Love Movement, was considered an artistic and commercial flop. Following that disappointment, the group reunited for several concerts in the late aught's. But creative direction and clashing personalities ultimately led to a less-than-amicable break-up in 2010, which was chronicled in Michael Rapaport's revealing 2011 documentary Beats, Rhymes & Life: The Travels of A Tribe Called Quest. The critically acclaimed film was the first time the public really saw the growing rift between lifelong friends Q-Tip and Phife, and cast Q-Tip as an aggressor within a group known for its positive, high-energy melodies and ethos.
Q-Tip is aware of this. Asking audience members to quiet down during the Q&A, he smiled ruefully. "I know this is the documentary Q-Tip coming out," he quipped, "but if everyone could please be quiet."
The crowd was upbeat as the listening session began, with bodies swaying back and forth to match the beat. Above the gyrating bodies was a projection of of classic Tribe footage married with vibrant and radiant colors, produced by the artist Richard Prince. We Got It From Here is a reminder of the essential Tribe sound — the inimitable, chunky drumbeats, soulful samples and Afrocentric melodies are there — only updated for 2016. The album is top heavy, with its three strongest tracks out front, but the entire album is worthy of close listening, with major guest stars throughout.
Q-Tip went on to explain that the group fed off each other in the studio, trying to one-up the last man lyrically. With admiration, he recited one of Phife Dawg's final raps from heart: "Now am I supposed to be dead or doing life in prison / Just another dummy caught up in the system / Unruly hooligan who belongs in Spofford versus getting that degree that's preferred from Harvard."
It's a fitting way to go out, with Tribe back together, intact. "The main difference between us and other rap groups is that other rap groups are put together — but we grew up with each other," Jarobi White said. "The brotherhood is a part of the music."