Cara Delevingne Celebrated Her Birthday With a New Hairstyle and a New Relationship
The model is finally showing us pictures from her star-studded party.
---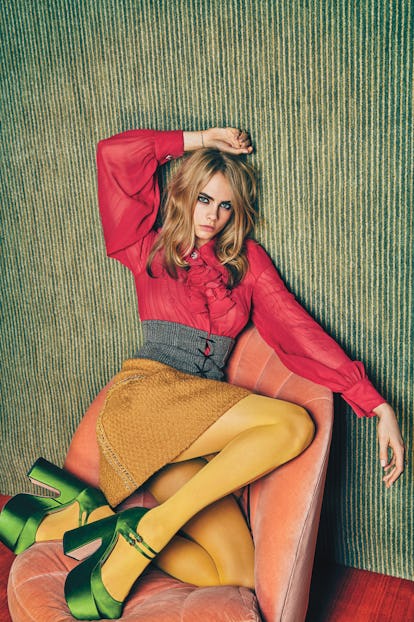 Cara Delevingne may have turned 26 back on August 12, but she's only just posted pictures from the party, so let's check in on the model-actress and how her new life chapter is shaping up, eh?
Via Instagram, Delevingne shared photos from her birthday bash, in which she and famous friends like Zoë Kravitz, Margot Robbie, Sienna Miller, and Kate Beckinsale pose poolside with…a mermaid. Or, a woman in a mermaid costume. We won't make a definitive call on whether Delevingne hired a woman to play-act as a mermaid or caught an actual woman of the sea and is keeping her prisoner. Either way, everyone seemed to be having a great time. The birthday girl captioned the photo series, "It was my birthday a week ago and I am still giggling with MERmazing memories."
According to the Daily Mail, the exclusive party was held in the South of France, where Delevingne really played up the high/low thing, wearing a dress held together with 24-karat gold rings and blowing out the candles on a cake…shaped like a pot leaf.
Pal Paris Jackson also took to Instagram to celebrate 26 years of Cara, posting a series of photos of the two of them (all visible here, on Elle) and adding the messages, "happy belated birthday i love you @caradelevingne" and "i'm so proud of you and all you do. here's to another year of life, so lucky to have you in mine!" Jackson and Delevingne were reportedly dating earlier this year, but, per Jackson's own tweets, the two were never exclusive.
But cornrows aside (or will she pull a Kim Kardashian and claim they're "Bo Derek braids"?), the biggest new development in the young star's life is certainly her relationship with Pretty Little Liars star Ashley Benson. There's been no official comment from either party—no word on exclusivity—but they made out at the airport, so draw your own conclusions.
Benson was even wearing a necklace with a "C" on it, bringing to mind a certain Taylor Swift lyric. Aww. Happy birthday, Cara.
Related: Paris Jackson Clarifies Her Dating and Relationship Status With Cara Delevingne, Ashley Benson, and Caroline D'Amore
Revisit Gemma Ward's Most Memorable Runway Moments of the Mid-Aughts
Gemma Ward walking the runway of the spring/summer 2005 Alexander McQueen show during Paris Fashion Week.

Stephane Cardinale – Corbis
Gemma Ward walking the runway of the Oscar de la Renta spring/summer 2006 show during New York Fashion Week.

Getty Images
Gemma Ward walking the runway for the spring/summer 2006 Dries Van Noten show during Paris Fashion Week.

Getty Images
Gemma Ward walking the runway for the spring/summer 2006 Jean-Paul Gaultier for Hermès show during Paris Fashion Week.

Getty Images
Gemma Ward walking the runway of the fall/winter 2008 John Galliano show during Paris Fashion Week.

Getty Images
Gemma Ward walking the runway of the spring/summer 2005 Zac Posen show during New York Fashion Week.

Getty Images
Gemma Ward walking the runway of the spring/summer 2006 Jean-Paul Gaultier show during Paris Fashion Week.

Getty Images
Gemma Ward walking the runway of the fall/winter 2006 Alexander McQueen show during Paris Fashion Week.

Getty Images
Gemma Ward walking the runway for the fall/winter 2008 Chanel show during Paris Fashion Week.

Getty Images
Gemma Ward walking the runway for the fall/winter 2008 Balenciaga show during Paris Fashion Week.

Getty Images
Gemma Ward walking the runway of the fall/winter 2004 Anna Sui show during New York Fashion Week.

Getty Images
Gemma Ward walking the runway of the fall/winter 2004 Alexander McQueen show during Paris Fashion Week.

Getty Images
Gemma Ward walking the runway of the fall/winter 2006 Marc by Marc Jacobs show during New York Fashion Week.

Getty Images
Gemma Ward walking the runway of the spring/summer 2005 Rouland Mouret show during New York Fashion Week.

Getty Images
Gemma Ward walking the runway of the fall/winter 2008 Hermès show during Paris Fashion Week.

Getty Images
Gemma Ward walking the runway of the spring/summer 2006 Rouland Mouret show during New York Fashion Week.

Getty Images
Gemma Ward walking the runway of the fall/winter 2007 Alexander McQueen show during Paris Fashion Week.

Getty Images
Gemma Ward walking the runway of the spring/summer 2005 Calvin Klein show during New York Fashion Week.

Getty Images
Gemma Ward walking the runway of the fall/winter 2005 J. Mendel show during New York Fashion Week.

Getty Images
Gemma Ward walking the runway for the fall/winter 2008 Chanel show during Paris Fashion Week.

Getty Images
Gemma Ward walking the runway of the spring/summer 2005 Tommy Hilfiger show during New York Fashion Week.

Getty Images
Gemma Ward walking the runway of the spring/summer 2006 Jean-Paul Gaultier show during Paris Fashion Week.

Getty Images
Gemma Ward walking the runway of the fall/winter 2004 Carolina Herrera show during New York Fashion Week.

Getty Images
Gemma Ward walking the runway of the spring/summer 2005 Calvin Klein show during New York Fashion Week.

Getty Images
Gemma Ward walking the runway of the spring/summer 2007 Oscar de la Renta show during New York Fashion Week.

Getty Images
Gemma Ward walking the runway of the fall/winter 2006 Yves Saint Laurent show during New York Fashion Week.

Getty Images
Gemma Ward walking the runway of the fall/winter 2004 Michael Kors show during New York Fashion Week.

Getty Images
Gemma Ward walking the runway of the spring/summer 2006 Rochas by Olivier Theyskens show during Paris Fashion Week.

Getty Images
Gemma Ward walking the runway of the spring/summer 2008 Jean-Paul Gaultier show during Paris Fashion Week.

Getty Images
Gemma Ward walking the runway of the spring/summer 2005 Carolina Herrera show during Paris Fashion Week.

Getty Images