It's Cara, Not Carla
In case you missed them, here are the top style news stories of the week.
---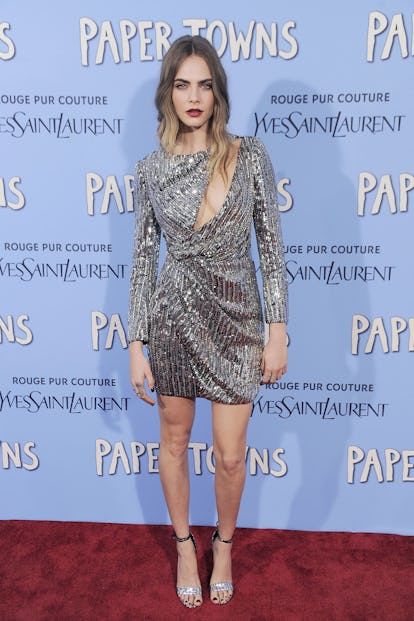 Band of Outsiders The recently deceased brand may be resurrected.
Banks, Tyra Takes a page out of Erykah Badu's style guide and tries a bowl cut. Now smize!
Bay, Rebekka The former COS and GAP designer is joining a brand with more than three letters: Everlane.
Birkin, Jane The style icon wants Hermès to take her name off of the croc version of the bag. The others, however, she's fine with.
Blahnik, Manolo Debuts jeweled bag collection. Carrie Bradshaw rolls over.
Borromeo, Beatrice The Italian heiress married Pierre Casiraghi in Valentino. How Nicky Hilton of her.
Calvin Klein Uses Tinder in new denim campaign. Because sex sells.
Crawford, Cindy Developing NBC series about modeling wars. Watch out, Naomi.
Delevingne, Cara Was called Carla by a poor interviewer on Good Day Sacramento. Was appropriately crotchety in following answers.
Fox, Langley The collaborator extraordinaire added yet another project to her lineup: a nine-piece capsule collection with Sportmax.
Grande, Ariana To launch a celebrity fragrance. Will not be doughnut flavored.
Hadid, Gigi The It girl fronts the new Topshop campaign, sans Bella unfortunately.
Henson, Taraji P. Can officiate weddings. How do we sign up?
Jagaciak, Jac The Victoria's Secret model reveals that a plus-size angel may be hitting the runway soon.
Kardashian, Kim Channels Audrey Hepburn and Barbarella in a new campaign. Aw, all the icons together.
Lopez, Jennifer Celebrates her 46th birthday by looking 26.
Paltrow, Gwyneth Now selling rap-inspired Edie Parker clutches on GOOP. Because country music is so 2011.
Pelosi, Nancy Revealed that she LOVES binge shipping on Net-a-Porter. As do we all.
Slimane, Hedi To bring back couture for Yves Saint Laurent. But only for a select few. How haute can you go.
Von Furstenberg, Diane Named chairman of the CFDA. Not chairwoman.
Wang, Alexander Officially parting ways with Balenciaga. All good things must come to an end. Like this column.