Cara Delevingne's Planet Sex Show Sounds Like Goop Lab for the Bedroom
"Planet Sex" sounds like "Goop Lab" for our sex and gender questions.
---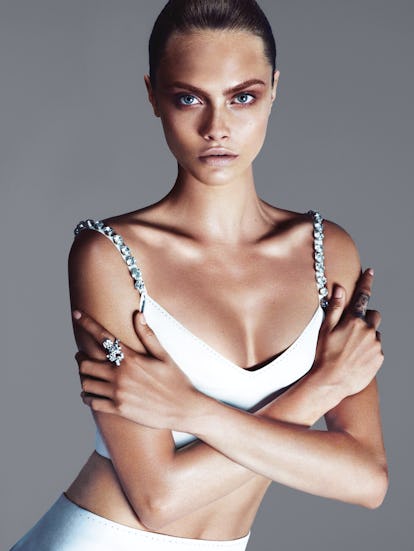 Mert and Marcus
Cara Delevingne didn't necessarily mean to launch the idea of a sex bench into the zeitgeist with that infamous paparazzi photo, but the supermodel-turned-multihyphenate isn't shy about opening the public's mind to new ways of thinking about sex and gender. In fact, she's working on a whole TV show about such topic.
According to Deadline, Delevingne will co-produce and host a "high-end" docu-series that is currently tagged with the working title Planet Sex. The project sounds part Gwyneth Paltrow's The Goop Lab and part Anthony Bourdain's Parts Unknown, though obviously with an emphasis on sexuality and gender. The show will include everything from Delevingne throwing "herself into experiments conducted by world-leading sex labs" to the model visiting places where their understanding of sex and gender are far different than the traditional Eurocentric take.
In fact, Delevingne started filming the series earlier this year before the COVID-19 pandemic put a hault on all productions. Filming is now back underway.
Delevingne has often had to explore her own sexuality under the glare of the spotlight. Delevingne had been linked to women before going public with her relationship with musician St. Vincent. The 28-year-old (mostly) retired runway star now identifies as pansexual, and isn't afraid to be sex-positive. "I'm not just talking about sex for sex," she told Marie Claire last year. "I'm talking about experience, whether it's abuse or confusion, positive or negative."
Frank discussion of sexuality on television has always been a rarity, and shows anchored by queer people are even rarer. Late night call-in shows like MTV's Loveline and Talk Sex With Sue Johanson have a legacy of lending advice to the curious, while HBO's Real Sex series attempted to anchor it's prurient tendencies in something like documentary-style education. Though, the internet has certainly released the steam valve when it comes to more mature and open discussion of sex, and its time television caught up.
According to Deadline, the BBC is on the brink of closing a deal for the British rights to the program, while Hulu will likely carry the show in America.
Related: Cara Delevingne Finally Acknowledged That "Sex Bench" She Carried with Ashley Benson