Cara Delevingne Talks Suicide Squad in W's June/July Issue
The model, actress, and enchantress, talks about Suicide Squad, Celine Dion, and more in an interview with Lynn Hirschberg.
---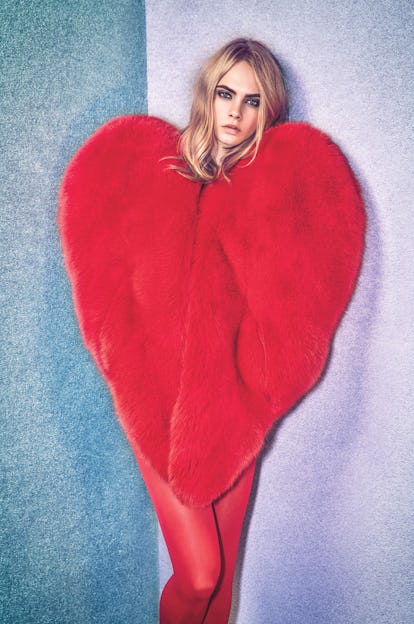 Photography by Mario Sorrenti. Styled by Edward Enninful
When Cara Delevingne was a child, she dreamed of being Spider-Man. "It was the sense of dressing up and feeling really tough," Delevingne said on a beautiful spring day in New York. She had arrived at the W photo shoot directly from the airport, having flown in early that morning from Las Vegas, where her new film, Suicide Squad (out August 5), was on the lineup at CinemaCon, an annual industry event that celebrates all things major and upcoming in the movie business. In Suicide Squad, which is based on the darkest of the DC Comics, a gang of sociopathic archvillains unite to complete a highly classified government mission. It features an all-star cast, including Margot Robbie, Will Smith, Ben Affleck, and Jared Leto, who, as the Joker, took his character to Method Acting extremes: He powdered his skin, dyed his hair multiple shades, and sent his fellow actors gifts such as sticky copies of Playboy, anal beads, and what appeared to be a used condom.
Suicide Squad was shrouded in secrecy, but Delevingne could reveal that, like Spider-Man, her character has a double identity. During the day she is Dr. June Moone, a shy scientist in a tightly buttoned suit; by night, she morphs into the wildly seductive Enchantress. Delevingne was still in her travel garb (navy tracksuit, blonde hair tucked into a knit ski cap) and had yet to be transformed for W's camera. "When I was a kid, I always wanted to be other people," she continued. "I went through different stages: I was a few Spice Girls for a while—first Baby, then Sporty, and then Ginger. I was never Posh, because she wore little black dresses, and I didn't want to be that kind of girl. Beyond that, I only dreamed of being male superheroes. Spider-Man, especially, had a cool costume and cool toys. There were not many strong superhero-type women, apart from Wonder Woman—but I didn't want to be a 5-year-old running around in, like, a bikini."
Cara Delevingne, Heart-Stopper, Is W's June/July Cover Star
Cara Delevingne wears a Saint Laurent coat; Fogal of Switzerland tights.

Photography by Mario Sorrenti. Styled by Edward Enninful.
Photography by Mario Sorrenti. Styled by Edward Enninful.
Cara Delevingne wears a Saint Laurent coat; Fogal of Switzerland tights.

Photography by Mario Sorrenti. Styled by Edward Enninful.
Photography by Mario Sorrenti. Styled by Edward Enninful.
Cara Delevingne wears a Chanel blouse and skirt; Prada corset; Fogal of Switzerland tights; Rochas shoes.

Photography by Mario Sorrenti. Styled by Edward Enninful.
Photography by Mario Sorrenti. Styled by Edward Enninful.
Cara Delevingne wears a Prada dress and corset; Deborah Marquit bra and briefs; Van Cleef & Arpels bracelets; Tiffany & Co. rings; De Beers necklace; Balenciaga pumps. Beauty note: For swoon-worthy locks, try Moroccanoil Blow-Dry Concentrate.

Photography by Mario Sorrenti. Styled by Edward Enninful.
Cara Delevingne wears a Alexander McQueen dress and corset; Rosamosario bra; Prada lace-up corset and shoes; Gucci coat; Fogal of Switzerland tights.

Photography by Mario Sorrenti. Styled by Edward Enninful.
Cara Delevingne wears a Balenciaga jacket and turtleneck.

Photography by Mario Sorrenti. Styled by Edward Enninful. Hair by Shay Ashual at Art Partner; makeup by Aaron de Mey at Art Partner; manicure by Honey for Exposure NY. Set design by Philipp Haemmerle. Lighting Technician: Lars Beaulieu; Digital Technician: Johnny Vicari; Photography Assistants: Felix Kim, Javier Villegas; Videographer: Heather Sommerfield; Fashion Assistants: Ryann Foulke, Dena Giannini; Hair Assistant: Taichi Saito; Makeup Assistant: Tayler Treadwell; Set-Design Assistants: Theo Volpatti, Ryan Stenger, Valentin Haemmerle.
Although Delevingne still models—that night she would hop on a plane to London to shoot an ad for Rimmel London—she is very focused on her acting career. For the past several months she has been filming Valerian and the City of a Thousand Planets, based on a popular French comic book from the 1960s and directed by Luc Besson. Delevingne stars as Laureline, a space agent who solves crimes in intergalactic worlds. "That plot is a secret, too," Delevingne said as she settled into the hair-and-makeup chair. "More is known about my life than the lives of the characters I play. My plan is to reverse that."
An early adopter of social media, Delevingne, who turns 24 in August, has about 30 million followers and counting on Instagram. She has trademarked her name—and at one point even created separate accounts for her distinctive thick eyebrows, thigh gap (the space under her crotch between the top of her thighs), and bog eye (translation: the rubbery funny faces she makes). Unlike your typical model posts, hers are consistently goofy—she is not offering glimpses of the glamorous life. Instead, Delevingne is interested in using social media as a direct and honest connection to her public. Her followers are well aware, for instance, that she has a girlfriend (she has been romantically linked to the musician St. Vincent for more than a year), loves SpongeBob SquarePants, has about 15 tattoos, and, yes, likes to party. "They even know about my skin," Delevingne said as she scratched a scab on the top of her head. For years, she's battled chronic psoriasis. When ­Delevingne is stressed-out, her body erupts in angry red patches. "It's my antenna," she said with a laugh as she pulled at the rather long, unhappy skin tag on her scalp. "Do you want to feel it?"
I declined and changed the subject.
Lynn Hirschberg: Did you have to audition for Suicide Squad?
Cara Delevingne: Yes. I met the director, David Ayer, at a hotel in London on a dark and stormy night. He didn't tell me anything about the movie. Instead, he showed me pictures of these amazing, enlightened, powerful, but very evil women. He spoke to me about addiction and mental illness, which are things I find very, very interesting. The next time I met David was at his house in L.A. He asked me to read a scene from Who's Afraid of Virginia Woolf? I love that play and had acted in it at school when I was 17, so I was excited. Somehow, when we were doing the scene, I became livid. I hadn't felt rage like that in years. And then I got the part! There still wasn't a script, but David asked me to go and try and find a forest and, if it was a full moon, get naked and walk through the woods with my feet in the mud, which I did. There wasn't a full moon, but I howled like a wolf. It would have been really funny if someone had seen me.
The forest where Delevingne revealed herself was on the property of her sister Chloe's country house in the Southeast of England. Part of Delevingne's charisma derives from the combination of her almost fairy-tale posh background and the real-world difficulties she faced growing up. Cara and her sisters, Poppy and Chloe, are British blue bloods, but their mother, a onetime It girl, had a heroin addiction and was in and out of rehab throughout their childhood. Ambitious even then, Cara began modeling at 16 and set her sights on becoming an actress. By 2013 she was the hands-down girl of the moment, appearing in more than 40 runway shows and in campaigns for brands as diverse as Fendi and H&M. Her meteoric rise invited comparisons to Kate Moss—only Moss can't act. Delevingne won a coveted part in the 2015 film Paper Towns, playing a mysterious object of teenage desire. Somehow she was ­believable as an all-American high school rebel. I was curious how Delevingne, who is so British, was able to pull it off.
LH: Did you spend time in an American high school?
CD: Growing up in England, I thought everything I saw in American films was fake. I didn't think New York was a real place! So it was the same with high schools. When we made the movie, I actually got a locker and popped into classes at a real high school. Last year at CinemaCon, I received an award for Paper Towns, which was funny because the movie hadn't come out yet. I said, "None of you have actually seen me act, but thank you for trusting that I can."
LH: Had you been to Las Vegas before?
CD: Yes. To see Celine Dion. It was so great.
LH: I would not have thought of you as a Celine Dion fan. Did she hook you with the theme from Titanic?
CD: Probably. That's really bad because it shows I'm not the truest of true hard-core die-hard Celine Dion fans, but that song is great.
LH: Is that your go-to karaoke pick?
CD: No. I'm a really serious karaoke singer. You don't want to go to karaoke with me because I try really, really hard. My favorite song to perform is Eve's "Let Me Blow Your Mind." You've got a lot of singsong, a lot of rap attack, and it's emotional. That song has it all.
Right there, in her description of the song's appeal, is the secret to ­Delevingne: She's that rare synthesis of cultivated sophistication and psychological honesty. Her style god may be Eminem, but she weeps when she listens to Adele; she is worried about her skin and, so, tries to avoid stressful situations, and yet she's restless, always up for an extreme adventure. "I like anything intense," Delevingne said.
"When I was a child, I was obsessed with blood and death. This sounds really dark, but my earliest memory is of cutting myself. I was pretending to shave like my dad. One time, I covered my face in shaving foam, and I got his razor and ran it along the bottom of my finger and nearly cut it off." She paused. "Do you want to see the scar? It's barely visible now. But I like knowing that it's there."
Watch Cara Delevingne's video screen test with Lynn Hirschberg to find out more: