Cardi B and Bruno Mars's Finesse Video Is a Kaleidoscope of Throwback Delights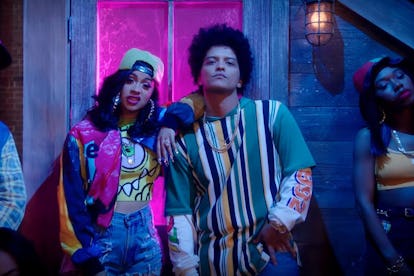 With this "bomb cyclone" hitting the entire East Coast today and morale across the country generally low because of politics and other miseries, Bruno Mars and Cardi B are here to deliver us with their "funky fresh" collaboration.
Dropping the music video for "Finesse (Remix)" on Tuesday evening, the two musicians collaborated on this '90s-throwback tune about a pair of flirty people who know they're the objects of each other's affection. But are they going to act on it while out on the town? Their friends think (and hope) so. (Ooh, don't we look good together? / There's a reason why they watch all night long.)
In fact, the video and its imagery was inspired by Mars's love of the iconic '90s television show In Living Color—starting right off with the opening paint-splattered montage with Cardi B's denim booty shorts, all the way down to Mars's swing-tastic choreographed dance moves and colorful tunic.
But we don't want to spoil anything for you. Go in with an open mind! You might actually be sweating when you're done watching.
Related: Cardi B Shares Her Instagram Do's and Don'ts, and Why You Should Post "Every Two Hours"