Cardi B's Invasion of Privacy: All the People She Name-Drops on the Album
From Chrissy Teigen and Rihanna to TLC.
---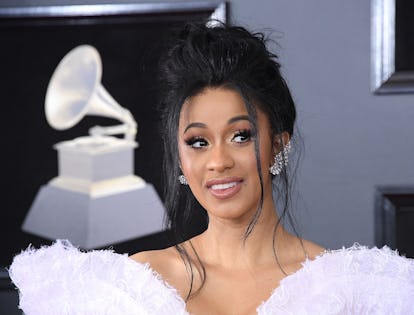 Steve Granitz/WireImage
Today, Cardi B's long awaited debut album, Invasion of Privacy, came out, and, with it, so did a handful of name-drops. There is plenty to unpack, so to help, we rounded up every person who gets a mention.
Beyoncé
At this very moment, the Beyhive is tallying up all of Cardi's references to the pop queen. On "Money Bags," Cardi compares herself to Yoncé, specifically her breasts to the artist's new set of twins, Rumi and Sir, rapping, "I said, 'Bae, it's a snack,' he said, 'It's a entrée / With them pretty ass twins, you look like Beyoncé.'" On the opening track "Get Up 10," Cardi says of her "twins," "Real b-tch, only thing fake is the boobs." Cardi also shouts out Bey in "Thru the Phone," while talking about her fiancée, Offset, an MC who rose up in the Atlanta group Migos and whose infidelity Cardi B has addressed before. "All I can see is you and her in different scenarios," Cardi says. "Beyoncé on my stereo, 'Resentment' on repeat." Someone's been listening to Lemonade.
Chrissy Teigen and Rihanna
"I need Chrissy Teigen / Know a bad bitch when I see one / Tell RiRi I need a threesome" on "She Bad." Teigen has since responded, tweeting a link to the lyrics with the caption, "Gasp!! drops biscuits."
Angelina Jolie
Cardi doesn't just see Beyoncé in her own body; she also sees Angelina Jolie. "Got lips like Angelina, Bentley truck tangerine," she raps on "Money Bag."
Related: Cardi B Shares Her Instagram Do's and Don'ts, and Why You Should Post "Every Two Hours"
Raf Simons
Calvin Klein creative director Raf Simons appears in a hyper-detailed verse of Cardi's, one about pleasing her man. After promising sexual satisfaction, Cardi says the favor will be returned, materially speaking. "Give him some vag', I'm gettin' a bag, give him some ass / I'm gettin' some Raf," she raps on "Bickenhead." SZA mentions Raf later, on the chorus of Cardi's "I Do," singing, "Dress me down in that Raf, Saint Laurent jacket / Dapper, dapper, I look fine and my checks defined." Cardi's best fashion reference, though, may be her lowest: "Boujee, bad, and thick," she raps on "She Bad," "I could buy designer, but this Fashion Nova fit all that ass."
Stephen and Ayesha Curry
Out of all Cardi B's references to her relationship problems with Offset,"Be Careful," a warning shot, is the most blatant. On the track, Cardi imagines her relationship ideal to be the one set by Stephen and Ayesha Curry. "I wanna get married like the Currys, Steph and Ayesha shit," she raps, before turning the page to reference Hype Williams's 1998 Belly with DMX and Taral Hicks, who confronts her man for cheating on her. "But we more like Belly / Tommy and Keisha shit."
TLC
In the same song, Cardi B calls out Offset's infidelity with the line, "Gave you TLC, you wanna creep and shit / Poured out my whole heart to a piece of shit."
Michael Jackson
Cardi B manages to reference Michael Jackson, Christian Louboutin, and Drake, all within the scope of three lines in "Bartier Cardi." "Red bottom MJ, moonwalk on a bitch," she raps. "Moonwalkin' through your clique / I'm moonwalkin' in the 6," referring to Toronto, to which Drake paid homage to with fourth studio album, Views.
Tina Turner
In one of the more somber references on the album, Cardi references one of the times Tina Turner (born Anna Mae Bullock) was abused by her former husband Ike Turner. "Anna Mae, got cake by the pound (pound) / Go down, eat it up, don't drown," she raps in "Drip." As depicted in the 1993 biopic What's Love Got to Do With It, Ike told Tina to "eat the cake, Anna Mae," after a fan asked for her autograph but not his at a diner. Jay-Z previously referenced the line on Beyoncé's "Drunk in Love."
Notorious B.I.G. and Tupac
Comparisons to other rappers is one of the thing Cardi B does best (see: "Bodak Yellow," which borrows its name and flow from Kodak Black). On "Best Life," Cardi is back at it, this time comparing herself to her fellow New York natives Notorious B.I.G. and Tupac (who moved to California in high school). "I'm like Big Pop' mixed with 2Pac, I'm like Makaveli," she raps, dropping Tupac's nickname, which he referred to himself as on the last album he released before his untimely death, The Don Killuminati: The 7 Day Theory.
Tay-K
In the same song, Cardi drops the line, "I seen the car I wanted, then I went and paid for it, cash cash / Hit the Tay-K, I hit the race, hit the dash dash." Donald Glover, the mastermind behind Atlanta who also makes music as Childish Gambino, spoke about Tay-K in a recent interview with The New Yorker, describing him as "a real Jesse James story." "Tay-K was sixteen and on the run for murder when he made this song," he said, "Look at this kid! He's a baby! He never had a chance! Y'all are forgetting what rap is. Rap is 'I don't care what you think in society, wagging your finger at me for calling women 'b-tches'—when, for you to have two cars, I have to live in the projects.' … Young black kid in Texas with a murder on him. He's definitely going to die, and it's sad."
Michael Myers
"When I got a mil', I got excited (million) / For the cash, I'ma turn to Michael Myers," she raps on "Drip" in reference to the Halloween serial killer. While Cardi doesn't unpack the reference, it's one that her fiancée, Offset, has mentioned before in London on da Track's "No Flag."
Cal Ripken Jr. and Ken Griffey Jr.
"Cal Ripken's hit a n-gga, Ken Griffey (uh, huh)," Cardi B raps on "Drip," comparing herself to Hall of Famer baseball players Cal Ripken Jr. and Ken Griffey Jr.
Related: Cardi B Just Delivered the Best Red Carpet Interview of the 2018 Grammys
Cardi B Is Everyone's Favorite New York Fashion Week Front Row Seatmate
Whoopi Goldberg, Meg Ryan, Molly Shannon and Cardi B sat next to each other in the front row at Christian Siriano's Fall 2018 show.

Photo by @theofficialsuperstar.
Rosie Huntington-Whitely and Zayn were seated next to each other at Tom Ford's Fall 2018 NYFW show.

Photo by @zayn.
Halsey and Sebastian Stan at Tom Ford.

Photo by @iamhalsey.
Dev Hynes performed during Telfar's musical Fall 2018 show, along with Ian Isiah, Kelela, Oyinda, 070 Shake and Kelsey Lu.

Photo by @devhynes.
Diddy's sons Justin Combs and Christian Combs shared a slice of pizza in the front row at NYFW.

Photo by @princejdc.
Brandon Thomas Lee and Myles O'Neal buddied up in the front row at NYFW.

Photo by @brandonthomaslee.
Maya Jama and Victoria Justice were seated together in the front row at Philipp Plein.

Photo by @victoriajustice.
A$AP Rocky and Liya Kebede posed together backstage at Raf Simons.

Photo by @liyakebede.
Gigi Hadid went full Fifth Element in this neon pink wig at the Jeremy Scott Fall 2018 NYFW show.

Photo by @gigihadid.
Kimberly Drew wore PH5 in this NYFW elevator moment.

Photo by @museummammy.
Sebastian Stan at Hugo Boss

Photo by @imsebastianstan.
Queen Latifah snapped a selfie with director Lee Daniels at the annual amFAR gala to kick off New York Fashion Week.

Photo by @queenlatifah.
Timothée Chalamet crashed a L'Officiel dinner date between Armie Hammer and his wife Elizabeth Chambers.

Photo by @armiehammer.
Cardi B stole the show at Jeremy Scott's Fall 2018 show during New York Fashion Week.

Photo by @iamcardib.
Alexa Chung skipped through the cold city streets in between NYFW shows.

Photo by @alexachung.
Justin Theroux and Petra Collins sported Adam Selman tees together during NYFW.

Photo by @justintheroux.
Kate Upton, Jourdan Dunn, Maya Jama and Victoria Justice in the front row at Jonathan Simkhai's Fall 2018 NYFW Show.

Photo by @mayajama.
Diddy's son Christian Combs posed outside of Tom Ford's Fall 2018 show during New York Fashion Week.

Photo by @kingcombs.
Anwar Hadid cheesed for the camera with Nicola Peltz outside of Tom Ford's Fall 2018 show.

Photo by @anwarhadid.
Lala strutted down her hotel hallway, looking like a smooth criminal before the Tom Ford show.

Photo by @lala.
Kelela struck a pose at Adam Selman's NYFW show.

Photo by @kelelam.
Kate Upton touched down in front of Philipp Plein's spaceship during NYFW.

Photo by @kateupton.
Keke Palmer at Hellesy's Fall 2018 New York Fashion Week show.

Photo by @keke.
Zoey Deutch sat next to Tory Burch at the Tory Burch Fall 2018 NYFW Show, and loved "getting to pick her brilliant and artistic brain."

Photo by @zoeydeutch.