Cardi B Talks Kulture's Style and How She's Teaching Her Unwavering Confidence to Her Daughter
"I want my daughter to feel like she's that woman. I'm not going to say 'that b-tch.'"
---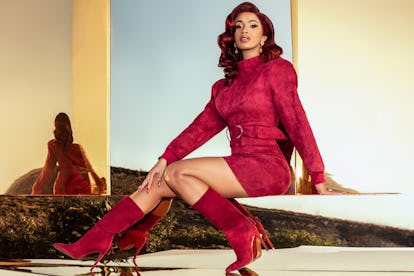 Fashion Nova
Even before Cardi B arrived at the launch party for her collaboration with Fashion Nova, the pandemonium spilling down Sunset Boulevard had reached a boiling point. Much of the crowd that had congregated outside of the makeshift club where she was being celebrated were turned away. Inside, it was even harder to find a spot to stand without interrupting the dozens of photo shoots happening every few feet. On the red carpet, we waited almost three hours for just three minutes with the rapper, reality star, and, now, designer. Which is all to say that her world is one that people desperately want to be let in on, and for good reason.
In one year, since she released the infectious breakthrough "Bodak Yellow," Cardi B has become a symbol of confidence and power, especially for women. As Frank Ocean recently put it, her fearlessness within the male-dominated space of hip-hop "has a political context." The party for her Fashion Nova line was just an extension of the empowerment she's hoping to give to her fans, as evidenced by the MC who introduced the all-female lineup Cardi had selected as the musical guests for the evening (including herself). "Who's feeling confident? Who's feeling sexy? Who's feeling like a boss bitch?," the MC said, riling up the crowd at the beginning of the night. For Cardi, the whole purpose of the evening and the collection—which, perhaps unsurprisingly, sold out hours after it was released—was to impart her intoxicating confidence to her fans. "I really wanted people to feel very high-end, like how I feel when I wear expensive clothes," she said on the red carpet. "When I first started, I couldn't afford certain things."
For Cardi, confidence comes naturally. "My confidence comes from within myself, from my personality," she told W exclusively. "Since I was in school, people used to love me. People used to gravitate to me. I used to be like, Why? I don't feel like I'm the prettiest girl in the room. I don't feel like I look any type of special. But I guess it's my personality, the way I walk in and smile, the way I talk."
She's now sharing that wisdom and self-esteem with her 4-month-old daughter, Kulture, whom she shares with the Migos rapper Offset. "I want my daughter to feel like she's that woman," she said. "I'm not going to say 'that bitch'—but I want her to feel like that person."
As for how the Fashion Nova collection compares to Kulture's style, Cardi has a characteristically unfiltered take: "My daughter don't have no style right now," she said. "She loves to throw up on everything—I'm sorry. My daughter might end up with a Gucci outfit and then the rest of her three outfits—because she wears four different outfits a day—might be from Target. She just throws up on everything."
Between raising her daughter, lending her talent and commercial appeal to Fashion Nova, and already working on the follow-up to her debut album, Invasion of Privacy, which only came out this April, Cardi doesn't have much time to just enjoy the moment. So how does she stay centered? "Talking to my husband. Talking to my family. Talking to my friends," she said. "I don't know when to stop. I go to the studio, and then, when I come home, I got to take care of my daughter. The other day, my body literally shut down completely and my family was like, 'You know what? We're calling your husband.' He came through and he was like, 'You need to relax. You need to sit down.'" Given her demand, though, it may be awhile before she's truly able to do so.