Cardi B and Maroon 5's 'Girls Like You' Video: Every Famous Woman's Cameo Ranked by How Shocked We Were
From J. Lo to Gal Gabot to Millie Bobby Brown, ranked by how surprised we were to see them.
---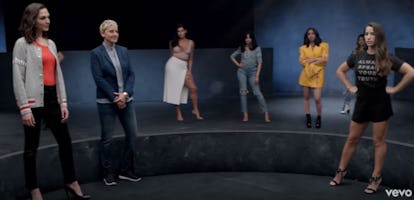 First, we were sort of shocked to find out that, of all musical artists, Cardi B and Maroon 5 were teaming up for a music video. Then we were even more shocked when the video for that single, "Girls Like You," arrived and included a few dozen of the most famous and notable women on earth. It's sort of the female flip side of Charli XCX's star-packed "Boys" video from last year, except with empowerment swapped out for tongue-in-cheek objectification and with, arguably, a more famous roster of cameos.
Obviously, the making of this video relied heavily on special effects and green screens to accommodate so many busy schedules, and, yet, every time Adam Levine turned around to reveal a new famous face, we were still surprised by just how many accomplished women agreed to do the video. Seriously, there're more famous women in this video than there is in the upcoming Ocean's 8. (And, frankly, we were kind of surprised that cast didn't get in on the fun either. Talk about synergy.) Here, everyone we could identify in the video, from Ellen Degeneres to Gal Gadot, ranked by how surprised we were to see them.
25. Rita Ora: Rita Ora shows up in some pretty surprising places, but, then again, that's her entire essence. She just seems to be everywhere. Acting in the 50 Shades franchise? Sure, why not? On a track with Cardi B, Charli XCX, and Bebe Rexha? Of course she is. Judging the British version of The X-Factor? Who else but Rita Ora? Front row at a fashion show? Second row at a fashion show? Some European gala? On the L train next to you? Restaurant opening? Diner opening? Letter opening? Anytime you have to ask, "Hey, is that Rita Ora?" the answer is probably "Girl, you know it is." As her song goes, "just take me anywhere, take me anywhere," and she meant it.
24. Ellen DeGeneres: Ellen seems like a perfectly congenial woman who loves fun and probably always dreamed of being in a music video, but no one ever asked before. Why wouldn't she drop by?
23. Danica Patrick: Officially retired from racing, she seems to be having a lot of fun right now.
22. Aly Raisman: She is a damn hero and she deserves every little bit of pop culture fun she gets to have, and people should ask her to have more.
21. and 20. Angy Rivera and Jackie Fielder: Pretty much the same goes for the immigration activist and the Native American rights activist, respectively. Let them get their message across anywhere.
19. Ilhan Omar: The 2018 midterm elections are shaping up to be a major moment for a diverse group of female candidates, and it seems the Minnesota House of Representatives member is here to represent that.
18. Ashley Graham: Ashley Graham is just out here continuing to live her best life.
17. Tiffany Haddish: She is, as everyone knows, extremely chill and is still at that time in her career where she's down for anything, as long as she has time.
16. Franchesca Ramsey: Threading the line between comedy and activism everywhere from her YouTube channel to MTV's Decoded, she seems to be doing a lot, and even has a new book out.
15. Lily Singh: No one over 30 knows who YouTube superstar Lily Singh is right now, but she's been out here. Don't be surprised to see a lot more of her in the future, basically. Like, she was actually in that Fahrenheit 451 movie on HBO. Who knew?
14. Alex Morgan: The U.S. soccer star actually is starring in a direct-to-DVD family movie called Alex & Me later this month.
13. Behati Prinsloo: Either you spent the entire video thinking, "But, wait, where's Adam Levine's wife?" or were shocked at the end like, "OMG! Right! That's his wife!" So, we'll just put her in the middle.
12. Chloe Kim: She's a star right now and has plenty of time to have some fun before the next Winter Olympics.
11. Phoebe Robinson: She's on the come-up after a series of 2 Dope Girls specials with Jessica Williams on HBO and a starring role in Netflix's Ibiza. Everyone wants her in their project right now.
10. Elizabeth Banks: Elizabeth Banks has been focused more on producing and directing more lately, so maybe she missed getting in front of the camera.
9. Amani Al-Khatahtbeh: The activist and tech entrepreneur has an ever-growing public profile.
8. Trace Lysette: The Transparent actress was one of the women who accused Jeffrey Tambor of harassment on set. We're not so much surprised that she's here, as we were at Maroon 5's dedication to being totally inclusive.
7. Mary J. Blige: Of course Mary should be here. She's the Queen.
6. Beanie Feldstein: The Lady Bird star has actually been a strong supporter of Maroon 5 since she was five years old.
5. Sarah Silverman: Always a pleasant surprise.
4. Millie Bobby Brown: It's every teen's dream to make a music video cameo.
3. Camila Cabello: It was nice of her to pop in even though she's busy still going through her own debut album cycle at the moment.
2. Gal Gadot: The most talked-about star of the past year is a major get for anyone.
1. Jennifer Lopez: Honestly, when does Jennifer Lopez sleep? She acts, produces, maintains a pop music career in two languages, hosts a summer dance competition show, is about to make her directorial debut, raises kids, dates A-Rod, has a perfume empire, etc., etc., etc. She was just in another video with Cardi B. She didn't need to do this. And yet, here she is.
Related: What Your Favorite Boy in Charli XCX's "Boys" Video Says About You