A Celebration of Cardi B's Love for Cardi B Memes
The self referential regrams make following Cardi B on Instagram worth it.
---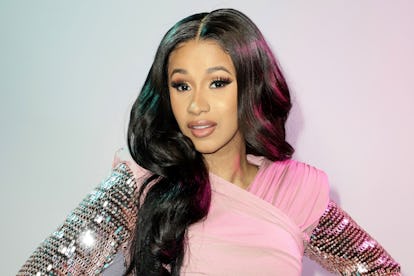 Telemundo/Getty Images
Last month, a photograph of a young Cardi B looking like she's ready to teach someone a lesson began to circulate on Twitter and Instagram. With her head cocked to the side and her hand on her hips, it was clear you wouldn't want to mess with this five-year-old—or at least, that's the message the meme sends when paired with a particular smart-ass caption. Naturally, the Internet memed the photo to the point where even millennial teachers were using it for hall passes at school. And Cardi B was a good sport about the circulation of her kindergarten photo; the rapper would not be the A-list celebrity that she is today if her Instagram sermons from three to four years ago didn't grow massively popular to the point where she landed a spot on Love & Hip Hop, before going on to her rap career (those sermons since been deleted from her page, after trolls attacked her on the app earlier this year, but sharp fans saved them for compilations on YouTube).
Few celebrities could get away with sharing memes about themselves without it coming across as self-aggrandizing or self-absorbed, but Cardi B is an exception. She can't seem to get enough of the Internet's love for her (as long as the Internet's memes aren't mean-spirited jabs at her personality). It is genuinely cute to see Cardi B get excited about a cartoonish riff on her album cover, a tip jar with her face on it, the reaction to her meeting with Kris Jenner, or a fan's interpretation of "Be Careful," a song about putting a lover in his place if he acts up one too many times. Of course, it also just makes sense that a 25-year-old rapper like Cardi B would be as plugged in as she is, and her social media habits reflect that.
When Cardi B shares a meme about herself on her own social media platforms, it feels like celebrating an inside joke with an old friend rather than watching a celebrity's boastful attempt at getting attention from fans. It's the total opposite of the approach a celebrity like Beyoncé would take to engaging with social media posts, which is to say that Cardi B appears to utilize no strategy whatsoever but to just enjoy her life and her fans. If that means taking a corny weather forecast joke that quotes her and by retweeting it, then so be it. The self-recognition and regrams are well-deserved.
Related: Selena Gomez and Cardi B's Music Video: Everything We Know So Far