Selena Gomez and Cardi B's Music Video: Everything We Know So Far
Here's what we learned from scouring Instagram.
---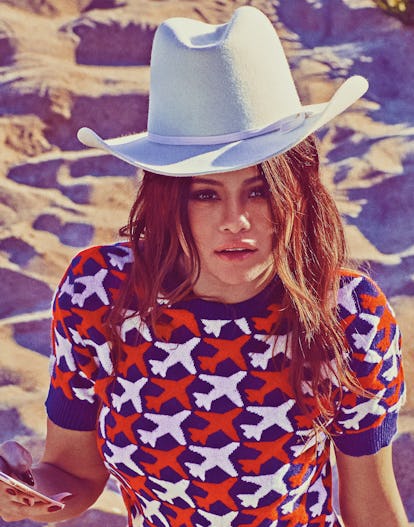 Steven Klein
Today in collaborations we did not see coming, Cardi B and Selena Gomez just shot a music video with DJ Snake and Ozuna. And Cardi's daughter, Kulture, may or may not be in the video as well.
Cardi was the first to tease the project, posting a picture of the personalized chairs used by the foursome on set, plus a tiny one for Kulture, on Friday night. We have to imagine that Cardi didn't actually make her daughter sit behind her; the arrangement is for the 'gram. She captioned the pic, "Soon come 😉 ON SET!"
DJ Snake posted a clearer version of the same picture on his own account.
A few hours later, Gomez posted her own behind-the-scenes photos from the shoot, showing her, in red satin shorts, hugging Cardi, in a red lacy bustier. And basically everyone was wearing red. She captioned the three-picture series, "today was so fun."
Gomez showed more from behind the scenes in her Instagram Stories, alluding first to some physical exertion on set in a video: "So basically they asked me after I am sweating to do liners, and to do everything. So now I look like this…," a reference to her dewy skin and curled hair, which frankly looked fantastic. "And the queen"—by which she means Cardi—"looks flawless, as always." Agreed.
She signed off her video to fans by adding, "I hope you like our song."
And on Saturday morning, Cardi posted a video on her Instagram Stories that confirmed what the other pictures hinted at. "I just finished filming this, um, this video for DJ Snake featuring Ozuna and Selena Gomez. I love this song, I love the video, y'all gonna love this record. I love it," she says in the clip. According to her caption, the song and video will be out "soon." Cardi spends the rest of the video showing off her daughter, Kulture's—whom she calls Culture Vulture—wardrobe. It's all Gucci, by the way.
Related: Selena Gomez Reveals Details About Her Much-Anticipated Next Album, Which She Plans to Release "Later"
Step Aside for Celebrity Cancers Selena Gomez, Lana Del Rey, and Lindsay Lohan
Selena Gomez, born July 22nd, photographed by Steven Klein for W Magazine, March 2016.

Steven Klein
Lana Del Rey, born June 21st, photographed by Jacob Sutton for W Magazine, January 2012.

Jacob Sutton
Gisele Bundchen, born July 20th, photographed by Michael Thompson for W Magazine, June 2005.

Michael Thompson
Meryl Streep, born June 22nd, photographed by Michael Thompson for W Magazine, May 2006.

Michael Thompson
Will Ferrell, born July 16th, photographed by Juergen Teller for W Magazine, February 2014.

Juergen Teller
Mindy Kaling, born June 24th, photographed by Pari Dukovic for W Magazine, August 2015.

Pari Dukovic
Tobey Maguire, born June 27th, photographed by Tierney Gearon for W magazine, February 2007.

Tierney Gearon
Lindsay Lohan, born July 2nd, photographed by Brigitte Lacombe for W Magazine, January 2018.

Brigitte Lacombe
Margot Robbie, born July 2nd, photographed by Tim Walker for W Magazine, February 2019.

Tim Walker
Tom Cruise, born July 3rd, photographed by Juergen Teller for W Magazine, February 2013.

Juergen Teller
Benedict Cumberbatch, born July 19th, photographed by Tim Walker for W Magazine, February 2015.

Tim Walker
Camila Mendes, born June 29th, photographed by Heather Hazzan for W Magazine, June 2018.

Heather Hazzan
Joel Edgerton, born June 23rd, photographed by Craig McDean for W Magazine, February 2017.

Craig McDean
Diane Kruger, born July 15th, photographed by Santiago and Mauricio for W Magazine, October 2012.

Santiago and Mauricio
Liv Tyler, born July 1st, photographed by Vanina Sorrenti for W Magazine, August 2016.

Vanina Sorrenti
Topher Grace , born July 12th, photographed by Sian Kennedy for W Magazine, January 2005.

Sian Kennedy
Olivia Munn, born July 3rd, photographed by David Slijper for W Magazine, September 2014.

David Slijper
Tom Hanks, born July 9th, photographed by Juergen Teller for W Magazine, Best Performances 2018.

Juergen Teller
Eva Green, born July 6th, photographed by Mert and Marcus for W Magazine, August 2016.

Mert Alas and Marcus Piggott
Priyanka Chopra, born July 18th, photographed by Mario Sorrenti for W Magazine, October 2016.

Mario Sorrenti
Willem Dafoe, born July 22nd, photographed by Tim Walker for W Magazine, February 2019.

Tim Walker