Cardi B Announces Split From Offset After One Year of Marriage
"I guess we grew out of love."
---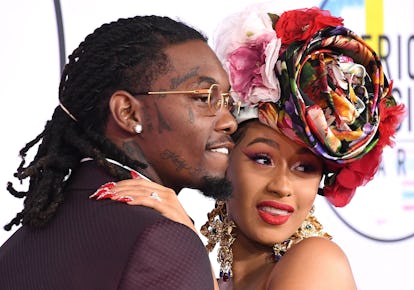 Steve Granitz/Getty Images
After a little over a year of marriage, Cardi B and Offset have broken up. Cardi announced the news in a video she posted on Instagram on Wednesday morning, explaining that she and Offset, who first began dating in February 2017 and welcomed daughter Kulture this past July, still have "a lot of love for each other."
"So, everybody been bugging me and everything. And, you know, I been trying to work things out with my baby father for a hot minute now, and we're really good friends and, you know, we're really good business partners and, you know, he's always somebody that I run to to talk to and we got a lot of love for each other, but things just haven't been working out between us for a long time," she said in the video. "And it's nobody's fault. It's just, like, I guess we grew out of love. But we're not together anymore. I don't know, it might take time to get a divorce. And I'm going to always have a lot of love for him because he is my daughter's father."
"There you go..peace and love," Cardi captioned the post. Offset opted not to share a post of his own but, as spotted by Instagram watchdog Comments by Celebs, he commented, "Y'all won" on his ex's video.
The post comes as a complete surprise to many of the rappers' fans, many of whom are accusing Cardi of pulling a prank in their comments on the video. And the split does seem to have come straight out of left field: Not only have both Cardi and Offset posted about each other on Instagram as recently as November 24, but Offset also spoke lovingly about his wife in an interview with The New York Times just last week. "She brings excitement and pressure to me, but I like that," the Migos rapper, born Kiari Kendrell Cephus, said. "She's number one, so every time I'm hitting the charts, I've got to be top 10." He hinted that he and Cardi were considering teaming up for a joint album, then explained how settling down with her was "the best thing that's happened to me personally." "I have a wife and a child—that changed my whole everything. I was a young hothead, but now I understand the value of life," he said.
Cardi, too, spoke about the strength of their relationship in her October interview with W. "When I got married with my dude, we still had a lot of doubts, because our relationship is not like everybody's," she said. "He was always traveling, and I was always traveling. We're artists. So I used to see him, like, twice a week, and, you know, he's known for having different women, and I'm known for, like, not taking shit from guys. But we really loved each other, and we was scared to lose each other."
Related: Cardi B Explores ASMR