Celebrating Carolina
The Couture Council of the Museum at FIT presented the designer with an award.
---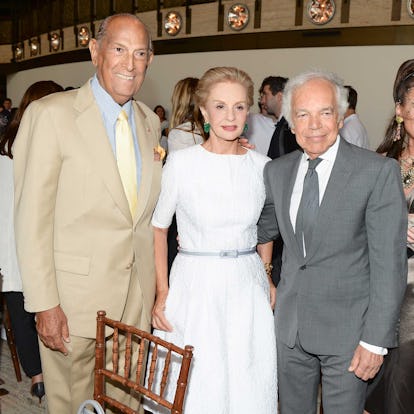 "I'm not ready for this!" exclaimed a top party photographer before racing off to coax Lucy Liu into a pre-step-and-repeat photo.
Not to belabor an already belabored sentiment, but summer is over, school (or its equivalent) is back in session and there is no greater reminder of this to the fashion industry than the brisk onset of New York Fashion Week, whose unofficial opener has become the annual Couture Council of the Museum at the Fashion Institute of Technology's annual luncheon honoring a beloved designer. This year's recipient was Carolina Herrera and with her came a terribly chic and print-wearing crowd who descended upon the David H. Koch theater with the same mixed emotions—excitement and apprehension—afflicting any returning student.
"It's back to reality," sighed one social regular.
Well, more like an alternate reality. After all, guests were greeted by a crew of white Nehru-collar-sporting men opening doors and proffering glasses of white wine and rosé (hey, at least there's no shortage on the Upper West Side!) Fashion editors mingled with actresses like Liu and Renee Zellweger, while on an outside veranda, Star Jones snapped pics with one of the chairs of the Couture Council Yaz Hernandez.
Lunch skewed luxe healthy—roasted rainbow carrots with beluga lentils and lobster and grapefruit salad—and the speeches were blessedly to the point and heart-felt. And even humorous.
"As usual, they ask me to hit everyone up for money, so that's why I'm here," joked co-chair Julie Macklowe.
"Carolina Herrera is proof of the adage that life begins at 40," observed FIT president Joyce F. Brown.
After the ladies—and smattering of gents—daubed at their plates, Hernandez introduced the lunch's star saying "She has been my inspiration all throughout my life. As a fellow Latina, I'm proud I can call Carolina my friend."
Seth Meyers employed his signature wit to toast Mrs. Herrera.
"The FIT Couture Council Award for Artistry of Fashion," he intoned. "For my money, the most simply named award out there. Eight words. With FIT abbreviated."
Meyers went on to recall how his now wife had chosen a Carolina Herrera gown for their nuptials.
"Turns out getting a ring from me is less exciting than having Carolina Herrera pin your dress," he quipped, though he had a more touching note to add. Apparently, Alexi Ashe (now Meyers) was stricken with food poisoning the morning of their wedding and looked very much the worse for wear. And still managed to stride down the aisle. "She walked out and looked more beautiful than I had ever seen her look and I truly believe that the Herrera dress Alexi put on was transformative…I'm not saying Mrs. Herrera saved our wedding, but I am saying we are naming our first child 'Carolina.' Girl or boy."
A clearly moved Herrera took to the podium amidst a standing ovation.
"Seth, you are a very tough act to follow," she said. "Fashion is a dream that becomes a reality… thank you."
Because even the valedictorian knows when to keep things brief and to the point.
Photos: Celebrating Carolina
Oscar de la Renta, Carolina Herrera, and Ralph Lauren. Photo by BFAnyc.com.
Lucy Liu. Photo by PatrickMcMullan.com.
Renee Zellweger, Seth Meyers, Alexi Ashe. Photo by BFAnyc.com.
Ivanka Trump. Photo by PatrickMcMullan.com.
Yaz Hernandez, Chair of the Couture Council. Photo by PatrickMcMullan.com.
Star Jones. Photo by BFAnyc.com.
Dennis Basso and Dr. Joyce Brown. Photo by PatrickMcMullan.com.
Hilaria Baldwin. Photo by PatrickMcMullan.com.
Liz Peek, Chairman of the Board at FIT. Photo by PatrickMcMullan.com.