White Gloves Gone Wild
Carolina Herrera and Linda Yablonsky were honored at the Art Production Fund's gala
---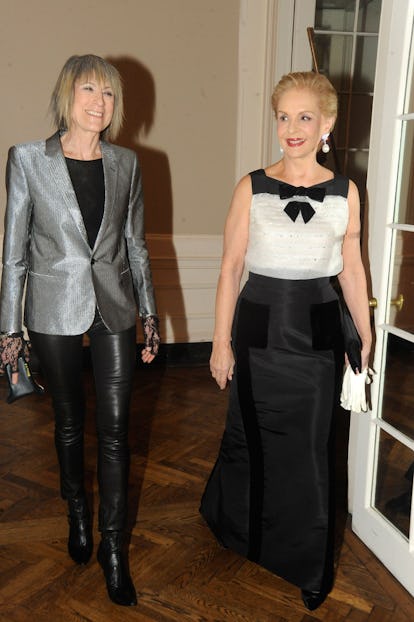 Considering that Art Production Fund's (APF) past public projects have included a Marco Brambilla video installation at the Time Warner Center and the projection of a Ryan McGinley work, "Varúò," which follows a barefoot young woman traipsing through Manhattan, onto the billboards of Times Square, it might seem curious that the non-profit chose a seemingly stuffy private Upper East Side club as the site of its spring gala Wednesday evening. (Said institution is so discreet, it refuses to have its name mentioned in coverage of the event.) Then again, the theme of night, which honored Carolina Herrera and writer Linda Yablonsky, was "White Glove Gone Wild Gala" and the dress code of "glove and gown for ladies, jacket and tie for gents" was loosely interpreted by many.
"We wanted to do a benefit outside all the other benefits and we wanted to have a spring break [theme]. So we started thinking about beer kegs and t-shirts and girls gone wild," explained Doreen Remen, APF's co-founder with Yvonne Force Villareal. When a friend introduced them to said anonymous club, it was a sealed deal. "We thought, oh my god, we have to do it, but it's so white glove! And then we said, we're literally white glove gone wild. What is white glove? It's the highest, the best, the most, the uber. And that's what our work is. It's just gone wild."
And so alongside women like the co-chairs Fabiola Beracasa, Renee Rockefeller, Allison Sarofim and Cindy Sherman, was emcee Donna D'Cruz in a Carolina Herrera look accessorized with copious face paint and a Venetian mask-cum-crown; Stacy Engman in a dress, by the artist Rachel Mason, that looked as though she had taken a hammer to a mirror; and many a tux-clad lady proudly bucking the gown mandate. Dita Von Teese mingled with "Glee" star Dianna Agron and Emmy Rossum. Female servers passed trays of mini potatoes with caviar and cheeseburgers. And the Dom Perignon champagne was served in coupes the size of a generous martini glass.
Marilyn Minter took over a small room near the front where she took wet-glass portraits of select guests. There was a live auction of works by Jeff Koons (whose "Dom Perignon Balloon Venus" went to Gigi Mortimer for more than twice its auction estimate of $20,000), Enoc Perez and Ugo Rondinone. On the second floor, Vanessa Beecroft set up an installation, VB73, a tableau of women like Frederique van der Wal and Amy Sacco, fully clothed—it was an Upper East Side club, after all—in an array of period dress paired with wigs. "I'm feeling judged," said one young woman, as the group stared blank-faced at passersby.
Back downstairs in another room, a slew of volunteers were applying temporary tattoos designed by the artist Wangechi Mutu, whose motifs included a suggestive pout and the phrase "I've been trying so hard to be feline."
"I wonder what Carolina Herrera will think of these!" mused one guest.
She had her answer later during cocktails.
"I would like a CH!" proclaimed the designer (unfortunately, no such design was available).
"For me, it's not strange because I always wear white gloves," said the designers of the evening's theme. "They are made to order. Because they have to fit you perfectly."
And would Mrs. Herrera be partaking of the second part of the dictate, by going wild?
"What do you mean? I get naked or what? What do you mean wild?" she said with mock indignation and a laugh. "I'm dressed up already. I cannot be wild. I should have come in something else, maybe."
To the contrary, she looked perfect, as always.
Photos: White Gloves Gone Wild
Yvonne Force Villareal, Doreen Remen, and Casey Fremont Crowe in Carolina Herrera. Photo by Sherly Rabbani
Karlie Kloss in Carolina Herrera. Photo by Sherly Rabbani
Marina Abramovic. Photo by Sherly Rabbani
Dianna Agron and Dita von Teese, both in Carolina Herrera. Photo by Sherly Rabbani
Emmy Rossum in Carolina Herrera. Photo by Sherly Rabbani
Linda Yablonsky and Carolina Herrera. Photo by Sherly Rabbani
Vanessa Traina Snow. Photo by Sherly Rabbani
Marilyn Minter. Photo by Sherly Rabbani
Cindy Sherman. Photo by Sherly Rabbani
Rachel Feinstein. Photo by Sherly Rabbani
Doreen Remen. Photo by Sherly Rabbani
Stacy Engman. Photo by Sherly Rabbani
Gabby Karan De Felice and Gianpaolo De Felice. Photo by Sherly Rabbani
Tara Subkoff. Photo by Sherly Rabbani
Cynthia Rowley. Photo by Sherly Rabbani
Yvonne Force Villareal. Photo by Sherly Rabbani
Jamie Tisch and Jeanne Greenberg Rohatyn. Photo by Sherly Rabbani
Aimee Mullins in Carolina Herrera. Photo by Sherly Rabbani