Supermodel Carolyn Murphy On Staying Relevant at 43: "I'm Fascinated By the New Generation"
At an intimate cocktail party toasting designer Ryan Roche's first runway show, the icon of '90s fashion opens up about the industry then and now.
---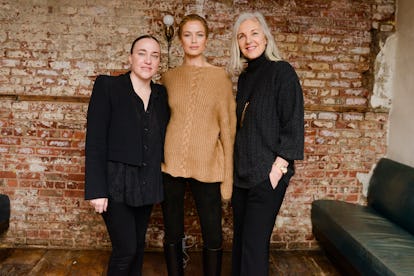 Hunter Abrams/BFA.com
"My first runway show with my first cocktail," said Ryan Roche, nestled in a corner of Nolita's Musket Room restaurant on Saturday evening. "It feels great." For Fall 2017, the designer traded in her usual intimate presentations for an equally intimate runway show Saturday afternoon, complete with a soundtrack sung by her daughter Luella, 13, and a friend, Storey Littleton. (Roche teared up, she confessed.) All the hallmarks of Roche's designs—elegant knitwear, monochrome looks, louche silhouettes—were accounted for, with a bit of a bolder streak. In lieu of soft blush and camel tones, there were deeper, more vivid reds; she played with tailoring and partnered with an Italian manufacturer to produce her own shoes.
Since she debuted her eponymous ready-to-wear label six years ago, Roche has discovered fans in celebrity moms like Maggie Gyllenhaal and Milla Jovovich—and above all, model Carolyn Murphy, with whom Roche has struck up a friendship since they met several years ago at a farm upstate. (Roche, an Idaho native, and Murphy, raised in rural Florida, share a penchant for the outdoors; Murphy only recently sold her orchard to a stylist friend.) Their children met at last season's Ryan Roche presentation and hit it off, much like their parents. So, naturally, it was Murphy who, along with Matchesfashion.com founder Ruth Chapman, hosted the understated downtown after party for Roche's Fall 2017 show. Julianne Moore and Brother Vellies designer Aurora James also milled about the rustic restaurant; Luella sat nearby, swaddled in a mink-brown fur coat that had walked the runway just hours earlier.
"You look like Gwyneth Paltrow in that movie — The Royal Tenenbaums," Roche told her. Murphy, in a camel-toned cable sweater, complimented the fur: "Is that from the show?" she wondered, eyeing it admiringly.
With nearly two decades in fashion, Murphy is still thriving at 43. She's part of a corps of '90s superstars who, two decades on, remain as relevant as ever. Last season, she walked Michael Kors Collection, Tom Ford (alongside Amber Valletta), and Atelier Versace (with Karen Elson and Naomi Campbell); she's been the face of Estée Lauder since she was 28, and she starred in this season's Miu Miu campaign alongside a bevy of old-school models and newer faces alike—Karen Elson, Lara Stone, Elle Fanning, Sonia Ben Ammar, and others.
Many of her younger cast mates were her daughter's age, Murphy pointed out—"I'm fascinated by the new generation, because I have a daughter who's 16," she explained. Also fascinating is the phenomenon of Instagram. Social media, with its relentless, endless feeds and constant intimate access, has changed the landscape of modeling. Brands covet social media cachet and prize follower counts; last season, Dolce & Gabbana stacked its cast with Insta-famous children of the wealthy and famous, while some the most visible models working right now have followers numbering the tens of millions. "I like being a little more removed from it," Murphy said. She's on Instagram, but only sometimes. "I can dip in here and there, and I think it's because I have a healthy distance."
This distance sometimes presents wryly funny exchanges; at last season's Tom Ford show, a 20-something woman working the venue, not recognizing the models, asked for Valletta's name and Murphy's ID. "In the '90s, we were such a sisterhood, and it was the same group," Murphy said. By contrast, for many shows now, "they're looking for the Gigis or the Kendalls or the Bellas."
Yet except for the occasional such mishap, Murphy is really not so removed—at 43, she remains as interested and engaged in fashion as ever. "We've had longevity," she said of the models of her generation. "It's about mixing it up." She credits this, in part, to an increased appreciation and demand for diversity in the industry—whether diversity of bodies, of ethnicities, of gender identifications, or of ages. "There's really no more boundaries or limitations," she said. "I think it's a real celebration of that right now, especially with the political climate."
This season, though, Murphy plans to lay low, taking in fashion week from the sidelines rather than the runway. ("I might…" she said wistfully when the subject of Michael Kors came up. "I always say I might walk in one of those shows.") She had fallen ill for the first few days of fashion week, fending off "a little bit of FOMO"—but a self-professed introvert, she's content to observe from a remove from time to time.
"If I had it my way," Murphy said, deadpan, "I'd just be upstate knitting with Ryan, wrangling my chickens."
See W's most popular videos: