Carolyn Murphy's Favorite Beauty Tip Comes Courtesy of Her Midwife
Supermodel Carolyn Murphy reveals her beauty and skincare routine, her love for surfing and horseback riding, and more.
---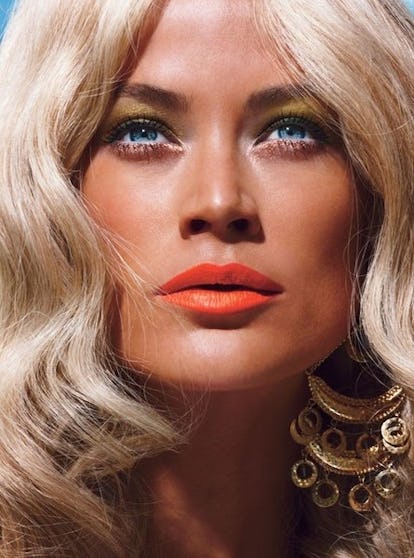 Photographer: Emma Summerton Stylist: Edward Enninful
Known for her piercing blue eyes, sun-kissed radiant skin, and beachy blonde waves, supermodel Carolyn Murphy is the epitome of an all-American beauty. Murphy, who can still be seen dominating the runways for designers like Micheal Kors at 43-years-old, has proven that age is simply just a number. And with over 28 years in the industry, and as a longtime face of Estée Lauder, the supermodel definitely has a beauty routine worth stealing. From her simplistic skincare regiment to her love of surfing and horseback riding, here Murphy reveals her best kept beauty secrets and why you can never go wrong with a red lip.
Medicine cabinet snapshot:
Coconut oil, rosewater and glycerin Spray, Estée Lauder DayWear 24-Hour Moisture Crème, and Weleda Calendula Body Lotion.
Good skin starts with:
Estée Lauder Advanced Night Repair Serum ($65,nordstrom.com).
Best advice from your dermatologist:
Best advice from your facialist:
Don't try extractions at home.
SPF of choice:
Coola Body SPF 30, EiR NYC Surf Stick for the face.
Makeup miracles:
Estée Lauder Sumptuous Mascara and Homeoplasmine for lips.
Most underrated product:
The eyelash curler.
Never leave the house without:
Clean skin, moisturizer, mascara, Estée Lauder Double Wear Concealer, and lip tint.
A good hair day starts with:
Christophe Robin Cleansing Cream ($49,sephora.com) and Ryan Pearl Hair Oil.
My hair colorist always says:
Don't over wash and always leave some conditioner in your hair.
Nails must be:
Clean and buffed, with no polish, if you can avoid it.
Beauty from the inside out:
Water, sleep, a plant-based diet with little or no grain, lean protein, vitamin D, B, and C, omega oils, and prenatal pills.
Exercise obsession:
SLT. I love the fast-paced Pilates, but I'm an outdoors girl, so surfing, hiking and horse riding is better.
Drink of choice:
I drink Ginger Kombucha daily.
Product that you picked up from the pros:
My midwife introduced me to WiseWays Detox Bath Crystals—great after flights.
A woman should smell like:
Whatever makes her feel good, mine is custom oil mix of amber, sandalwood with a hint of rose.
Appointment you'd love to nab:
I'd love to grab an appointment with a secret body massage lady that Vanessa Traina told me about but I can't tell you ;-).
Spa-cation at:
Gurney's in Montauk, because it's been remodeled tastefully and they have incredible services, whilst overlooking the ocean.
TSA-friendly essentials:
Weleda Skin Food to hydrate, tea tree oil and eucalyptus oil combo to spray the air for germs, Lingua Franca cashmere travel set, melatonin, Estée Lauder's Advanced Night Repair Concentrated Recovery Powerfoil Mask ($22, neimanmarcus.com) and Stress Relief Eye Masks.
In-tub must-read:
Anything by Thich Nhat Hanh.
Best advice from mom:
Lipstick can change a look, I go for Estée Lauder Pure Color Envy Sculpting Lipstick in shades of red.
Best-kept beauty secret:
Layer, layer, layer…serums, oils, creams and don't strip you face with over scrubbing, peels, lasers, etc.
Beauty myth you'd like to debunk:
Lasers. I think they produce more pigmentation.
Related: Supermodel Carolyn Murphy On Staying Relevant at 43: "I'm Fascinated By the New Generation"
Inside the Most Over-The-Top, Supermodel-Filled Halloween Party of 2017
Natalia Vodianova, Karlie Kloss and Izabel Goulart attend the 2017 amfAR Fabulous Fund Fair at Skylight Clarkson Sq on October 28, 2017 in New York City. (Photo by Michael Loccisano/amfAR/Getty Images)

Michael Loccisano/amfAR
Nas performs onstage at the 2017 amfAR Fabulous Fund Fair at Skylight Clarkson Sq on October 28, 2017 in New York City. (Photo by Michael Loccisano/amfAR/Getty Images)

Michael Loccisano/amfAR
Natalia Vodianova and Naomi Campbell attend amfAR's The Fabulous Fund Fair with Moet Hennessy on October 28, 2017 in New York City. (Photo by Bryan Bedder/Getty Images for Moet Hennessy)

Bryan Bedder
Natalia Vodianova and Jeff Koons attend amfAR's The Fabulous Fund Fair with Moet Hennessy on October 28, 2017 in New York City. (Photo by Bryan Bedder/Getty Images for Moet Hennessy)

Bryan Bedder
Charli XCX performs at amfAR's The Fabulous Fund Fair with Moet Hennessy on October 28, 2017 in New York City. (Photo courtesy of amfAR)
Natalia Vodianova attends amfAR's The Fabulous Fund Fair with Moet Hennessy on October 28, 2017 in New York City. (Photo courtesy of Victor Boyko for Naked Heart Foundation)
Mariacarla Boscono attends amfAR's The Fabulous Fund Fair with Moet Hennessy on October 28, 2017 in New York City. (Photo courtesy of Victor Boyko for Naked Heart Foundation)
The scene at amfAR's The Fabulous Fund Fair with Moet Hennessy on October 28, 2017 in New York City. (Photo courtesy of Victor Boyko for Naked Heart Foundation)
Paris Hilton attends amfAR's The Fabulous Fund Fair with Moet Hennessy on October 28, 2017 in New York City. (Photo courtesy of Victor Boyko for Naked Heart Foundation)
Naomi Campbell attends amfAR's The Fabulous Fund Fair with Moet Hennessy on October 28, 2017 in New York City. (Photo courtesy of Victor Boyko for Naked Heart Foundation)
Lucy Yeomans and Imaan Hammam attends amfAR's The Fabulous Fund Fair with Moet Hennessy on October 28, 2017 in New York City. (Photo courtesy of Victor Boyko for Naked Heart Foundation)
Constance Jablonski attends the 2017 amfAR Fabulous Fund Fair at Skylight Clarkson Sq on October 28, 2017 in New York City. (Photo by Nicholas Hunt/Getty Images)

Nicholas Hunt
Ellie Goulding attends the 2017 amfAR Fabulous Fund Fair at Skylight Clarkson Sq on October 28, 2017 in New York City. (Photo by Nicholas Hunt/Getty Images)

Nicholas Hunt
Jenna Lyons attends the 2017 amfAR Fabulous Fund Fair at Skylight Clarkson Sq on October 28, 2017 in New York City. (Photo by Nicholas Hunt/Getty Images)

Nicholas Hunt
Izabel Goulart attends the 2017 amfAR Fabulous Fund Fair at Skylight Clarkson Sq on October 28, 2017 in New York City. (Photo by Nicholas Hunt/Getty Images)

Nicholas Hunt
Dylan Sprouse attends amfAR's The Fabulous Fund Fair with Moet Hennessy on October 28, 2017 in New York City. (Photo courtesy of amfAR)
The scene at amfAR's The Fabulous Fund Fair with Moet Hennessy on October 28, 2017 in New York City. (Photo courtesy of amfAR)

Nicholas Hunt/amfAR