5 Minutes with the Catbird Duo
Rony Vardi and Leigh Batnick share their beauty secrets.
---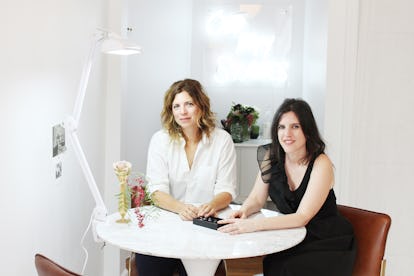 Catbird, the Williamsburg boutique, is a staple for chic Brooklyn girls on the lookout for delicate gold stacking rings, modern wedding accessories, and home goods—and many of the store's products, such as its namesake candle collection, practically have a cult following. This week, the store's creative directors Rony Vardi and Leigh Batnick revealed that they are re-releasing their most beloved scents, and adding several more to the roster. Here, the stylish duo shares their other favorite products, beauty obsessions, and more:
What's your 5-minute beauty routine? Rony Vardi: I splash on cold water and apply mascara while lashes are still wet. Then follow with a quick eyebrow pencil. Swoosh on some moisturizer with SPF (I like Diptyque's), the teeniest bit of color on cheeks (Paula Dorf Candy Apple Red is my go-to) and apply Living Luminizer by RMS Beauty on cheekbones. If I remember, Catbird Tarot Deck solid perfume or Byredo Gypsy Water on pulse points. And if I have an extra second I'll scrunch some Shu Uemura Essence Absolue into my hair. Leigh Batnick: I start with Bioderma on a washcloth (switching to Aster & Bay Cleansing Oil in the winter) followed by Biologique Recherche P50 on a cotton pad. Spray on Heritage Products Rosewater & Glycerin Mist and seal with Shiva Rose Glow Balm or Vintner's Daughter Serum. Apply Glossier Perfecting Skin Tint, NARS Doeceur blush, a highlighter on my cheeks (one of our designers just brought it back from Korea) and ELF mascara + eyelash curler, Stila eyeliner, lip balm (one of millions) or Black Honey. Dab Youth Dew bath oil on pulse points, Catbird Ghost Rose solid perfume on arms and décolletage. I swear I can do it in 5, maybe 7 minutes.
If you had an extra 10 minutes in the morning how would you spend it? Rony: Snuggling and chatting with my kids. Leigh: Yoga, or maybe just not be late.
What beauty items are always in your purse? Rony: Burt's Bees Cuticle Cream. I attack my cuticles as if they are my worst enemies. And one zillion lip balms, but Palmer's Cocoa Butter is always among them. Leigh: Mini Altoids, Ghost Rose solid perfume, Rodin Lip Balm, black eyeliner, Isa's Lilac Rouge.
What's your worst beauty blunder? Rony: A really tight perm on my already curly hair when I was in middle school. Oy. Leigh: Oh, the glitter I wore in high school! But, that's okay! The blunders are part of the path.
What's your beauty pet peeve? Rony: Trying too hard. But sometimes even that is charming. Leigh: I don't think I have one. Maybe misunderstanding beauty for goodness.
What are you currently obsessed with? Rony: Glamglow face mask. I like my masks to hurt. Leigh: Youth Dew baths, REN Flash Rinse One Minute Facial, Y7 Yoga.
Beauty Insiders Share Their Biggest Pet Peeves
Lisa Hoffman "When makeup distracts from someone's natural beauty. We've all heard makeup should enhance rather than cover up your features. But I also believe beauty should be more experiential: True beauty is reflected in confidence, creativity, and exuding passion."
Courtesy of the subject
Hannah Bronfman "Pencil thin eyebrows!"
Photo by WireImage
The Streicher Sisters Kristie: "Not blending makeup in enough. Like, when you can see the brow pencil lines in the brow." Ashley: "I'm really over the pastel hair color trend."
Courtesy of the subject
RMS Beauty's Rose-Marie Swift "Hyaluronic acid. Big time. And people who worship YouTubers who don't know how to do makeup. It's not that they aren't good makeup artists, some of them are, but these kids have no knowledge of technique. They make it up as they go, and they make it up in the school of Kim Kardashian."
Courtesy of the subject
Tata Harper "When people don't exfoliate, it disturbs me. When I'm in stores with customers and their skin has no glow, I'm like, 'Nothing is penetrating because of all that built up dead skin!'"
Courtesy of the subject
Odile Gilbert "Too much plastic surgery. My friends and I go for drinks at the Beverly Hills Hotel and watch all the people walk through. Everyone looks so fake, and it's so weird to me that they don't see it! I don't mind plastic surgery, but it has to be good. It can't be obvious."
Photo by WireImage
Gina Gilbert "Hot roots. It's how colorists describe brassy, orange color."
Courtesy of the subject