Only Cate Blanchett Could Pull Off This Airport Outfit
But how did Cate Blanchett manage to get her full leather jumpsuit through airport security at LAX?
---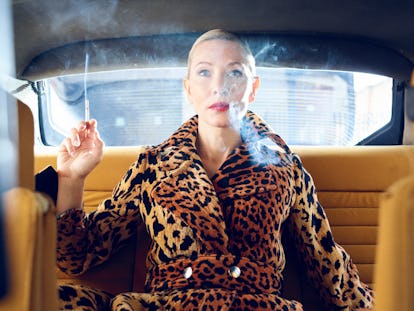 Alex Prager
Cate Blanchett showed up at LAX yesterday to board a plane, but she was dressed as if she was prepared to fly it at a moment's notice. In a style statement worthy of Amelia Earhart (or, perhaps the character her costar Leonardo DiCaprio played in The Aviator), Blanchett was ready for take off in a deep brown, full leather belted jumpsuit from Belstaff.
With no carry-on bags or personal items in sight, Blanchett kept the look simple—only accessorizing with sunglasses and her passport and boarding pass. A teal shirt underneath peeked out as well.
Blanchett is no stranger to wearing jumpsuits out and about lately. Perhaps inspired by her character's glitzy Met Gala one-piece from Ocean's 8, Blanchett has been spotted in quite a few onesies in recent years. Though, going full leather jumpsuit ups her commitment. Especially considering she chose to wear the outfit to get through airport security, while apparently flying international, no less.
The TSA has no official guidelines on what one can or cannot wear on an airplane. But several practical guides to getting through airport security quickly recommend against wearing complicated shoes, excessive outerwear, or clothing with too much metal detailing. We also all know that removing your belt and shoes is still standard practice.
While LAX is home to America's only luxury private terminal (where membership starts at $4,500 a year), Blanchett was spotted out and about in the common area.
Blanchett has a busy year ahead of her. Her latest project Mrs. America is set to premiere in April on FX's new digital channel on Hulu. The actress will play the notorious anti-feminist conservative who stood in stark contrast to passage of the Equal Rights Amendment. In her native Australia, she'll also appear in another mini-series Stateless.
Blanchett will also star opposite Bradley Cooper in Guillermo Del Toro's upcoming Nightmare Alley, a movie that may be one of the director's creepiest in years.
The actress, of course, is pretty versatile in her talents, and can pull things off in roles that we couldn't quite imagine anyone else doing. The same could be said about this choice in travel fit.
Related: Cate Blanchett, Interpreted: 9 Female Artists and Photographers Expose the Actress's Power as a Muse