Cate Blanchett, Interpreted: 9 Female Artists and Photographers Expose the Actress's Power as a Muse in a Special Issue of W Magazine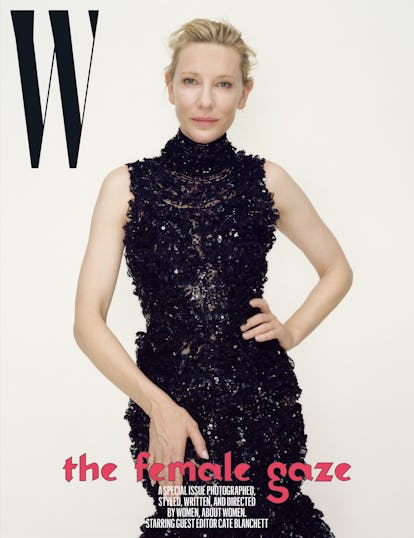 Photograph by Rineke Dijkstra. Styled by Sara Moonves. Hair by Sam McKnight for Sam McKnight Products at Premier Hair and Make-up; Makeup by Mary Greenwell for Giorgio Armani at Premier Hair and Make-up. Produced by Laura Holmes Production; Photography Assistants: Jodie Herbage, Richard Kovacs; Fashion Assistants: Allia Alliata, Angelique De Raffaele.
At the Cannes Film Festival this year, 82 women, all of whom have starred in, directed, written, or otherwise worked on movies, including many that have been shown over the festival's 72-year history, were celebrated together on the long red carpet that leads to the Grand Théâtre Lumière. It was a beautiful and profound statement that spoke directly to the #MeToo movement. Instead of commiserating about injustice, these women, from different backgrounds and countries, were proudly displaying their talent, range, and creativity. It was an active gesture of solidarity. "We need to remake the industry in a new and fresh way," said Cate Blanchett, who was the head of the jury in Cannes and is also the guest editor of this issue of W. Our idea was to create something similar to that amazing female empowerment scene in Cannes: to show what female photographers, artists, directors, and stylists can create. This issue, spearheaded by the greatest actress of her generation (who, most recently, plays a complex witch in The House With a Clock in Its Walls, out on September 21), is an extraordinary ode to the female gaze. All of our contributors in these pages are women. For Blanchett, who was the muse for nine of these varied talents in this cover portfolio—including Alex Prager, who cast her in a murder mystery; Cass Bird, who captured Blanchett on the night of her Ocean's 8 premiere, in Times Square; and Shirin Neshat, who envisioned her as a raven-haired chanteuse—the breadth of vision was thrilling. "I don't like to generalize about gender," Blanchett explained, "but, for me, the biggest question was: Why haven't I worked with these remarkable women more?! Where have they been?" They are here. World: Take notice.