Cate Blanchett's Lucille Ball Biopic Is Actually Happening
And it could be the actresses' toughest role yet.
---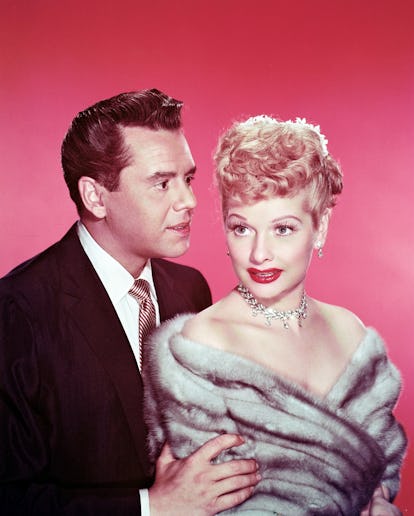 Silver Screen Collection
Cate Blanchett has played queens, warrior fairies, divorced down-on-their luck socialites, depressed lesbian writers, and even Katharine Hepburn with ease, but could comedy icon Lucille Ball be her toughest role yet? It may not be too much longer now until we find out.
The Australian actress's involvement in a Ball biopic written by West Wing and The Social Network scribe Aaron Sorkin has been previously noted as far back as 2015, but all sorts of things get tossed around in Hollywood without actually becoming a reality. Now, after after nearly two years of reports and whispers that project is finally moving forward, according to Deadline, thanks to Amazon. Indeed, the hunt is already on to find an actor for Ball's husband Ricky, originally played by Desi Arnaz (Deadline reports that Javier Bardem is an early favorite), as well as characters Fred and Ethel. Ball and Arnaz's children are on board with the project, and will allow Sorkin to use both of their parents's memoirs as source material.
At first estimation, Blanchett may not seem the obvious choice to play one of the screen's best physical comedians of all times. Wouldn't this role provide the perfect opportunity for someone like an Amy Poehler, Kristen Wiig or even an up-and-coming star like Ellie Kemper? Who better to play a comedy legend than a comedy legend in the making?
While Blanchett has played for laughs before, it's usually of the dryer, more sardonic variety (see: Blue Jasmine). Comedy Blanchett is more pouring martinis down her throats than stuffing chocolate down her blouse. But the reality is that the I Love Lucy star wasn't always a laugh-a-minute off the screen presence (anyone who has seen any of Ball's later-in-life interviews is well aware of that fact). Indeed, she was a complicated woman, a Hollywood pioneer and savvy business person (she was the first woman to run a major television studio), and her marriage to Arnaz was notoriously turbulent. And playing a tough, powerful, complicated, glamorous woman is basically Blanchett's wheelhouse.
Still, when the world comes to see a Lucille Ball biopic, they still want a little bit of that I Love Lucy comedy. Can Blanchett give us a convincing "But Ricky!" wale and also managed to get faux-drunk on Vitameatavegamin? Can she do it all while jumping back-and-forth into her portrayal of the real life Ball, so different from her on-screen character, without being too jarring?
That may be the challenge for everyone involved: balancing the beloved onscreen persona of Lucy Ricardo that generations of Americans grew up on while also giving us new insight into Ball's private life.
Sorkin, of course, infamously tried to give us a behind-the-scenes of a comedy institution project before. His show Studio Sixty on the Sunset Strip was a fictionalized version of the inner workings of a very Saturday Night Live show. It was not much of a success by any means. He's since stuck biopic gold with his work on The Social Network, Moneyball, and Steve Jobs. It's worth noting that his first television series, Sports Night, is still regarded as a critically beloved dramedy cult classic.
There's no word on when exactly the project will start shooting, and there's no director attached (though, it might be of note that Sorkin's directorial debut, the Jessica Chastain-starring Molly's Game, debuts later this year), but its still very possible the project could be shot and completed in time for the 2018 awards season.
Related: Cate Blanchett Lip Synced With Some Drag Queens Last Night at Stonewall
Watch: Cate Blanchett Saw Her First Sex Scene in Third Grade:
A Celebration of Cate Blanchett's Age-Defying Beauty
In 1999, a young Cate Blanchett arrived at the Oscar And Lucinda premiere in New York wearing a satin burgundy lip with a blue floral hairpiece.

Photo by Getty.
In 1998, Blanchett looked stunning and natural wearing just a hint of color on the lips with a swept back ponytail.

Photo by Getty.
Wearing her blonde locks in softly tousled curls with a sheer berry lip, Blanchett attended the The Talented Mr. Ripley premiere in 2000.

Photo by Getty.
Debuting her newly chopped pixie cut, Blanchett arrived at the The Gift premiere in 2000 wearing a natural face with a sheer pink lip.

Photo by Getty.
Blanchett looked radiant with luminous skin and a smoky blue eye wearing her hair in a sleek, side-parted up do at the Veronica Guerin screening in 2003.

Photo by Getty.
Celebrating her first Oscar win in 2005 for her role in The Aviator, the star wears her blonde locks in tousled curls with a hint of cream blush on the cheeks and a vibrant pink lip.

Jeffrey Mayer
Wearing a sleek, twisted up do with a light contour on the cheekbones and a creamy, nude lip, the actress attends the Elizabeth: The Golden Age premiere in 2007.

Photo by Getty.
The Giorgio Armani beauty attended the brand's Haute Couture F/W 2010 show wearing her hair in a swept back up do with a glossy, berry pink lip in 2009.

Photo by Getty.
Sporting a frosted, silver smoky eye with a hint of blush on the cheeks, Blanchett attends the 64th Annual Tony Awards in 2010.

Photo by Getty.
Back to a shorter length, Blanchett arrives at the 83rd Annual Academy Awards in 2011 with creamy, luminous skin and a nude lip.

Photo by Getty.
At the premiere of Blue Jasmine in 2013, the Australian beauty wears a sleek, side-parted do with a satin red lip.

Photo by Getty.
The actress celebrated her second Oscar win for her role in Blue Jasmine in 2014 wearing her hair in elegant curls with a nude pink lip.

Photo by Getty.
Wearing her hair in an elegant up do with a subtle grey smoky eye, Blanchett attended the 68th Annual Cannes Film Festival in 2015.

Photo by Getty.
At the 88th Annual Academy Awards in 2016, Blanchett wore her side-swept curls with a subtle taupe smoky eye and nude lip.

Photo by Getty.
A timeless beauty, Cate Blanchett wore her signature look of creamy, luminous skin with a hint of blush on the cheeks and a nude lip at the The Present opening night in 2017.

Photo by Getty.