HBO's Catherine The Great Trailer With Helen Mirren is Truly Regal
Helen Mirren stars in this opulent historical limited series.
---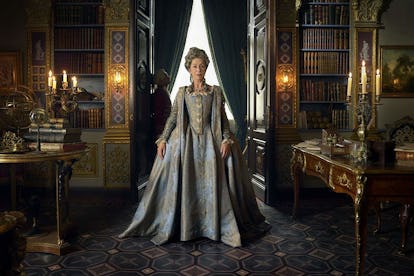 IMDb
"When I was young I dreamed of freedom. I dreamed of breaking chains. But as you get older your choices narrow. So instead, I gave us an empire. But I knew exactly what I was doing." Khaleesi, is that you?
Ever wondered what would have happened if Daenerys Targaryen hadn't been killed by Jon Snow and had instead continued to expand her empire under the guise of "liberation" until she found herself, at last, all-powerful and unattached atop the highest throne in the land? Then look no further than HBO's upcoming Catherine The Great.
The limited series stars Dame Helen Mirren as the 18th century Empress of Russia, the country's longest-ruling female leader who took power after overthrowing her own husband. Catherine did not, by the way, have sex with horses, and she did not die from trying to have sex with a horse, despite long running historical rumor. So just know that.
The trailer looks sumptuous and opulent, like Imperial Russia itself, a truly epic adaptation. Mirren will no doubt be an awards contender for her steely yet sexy portrayal of the famous monarch. The series also stars Jason Clarke as Catherine's lover and commander Grigory Potemkin. But don't expect matching his-and-hers crowns from the woman who declares "I will not share my throne with anyone."
Catherine The Great premieres on HBO this Fall (but if you're absolutely desperate for Imperial Russia Content, you can always watch The Last Czars on Netflix. It's weird and kind of bad, but also, kind of amazing). It's unclear how much the show will lean into the #girlboss narrative of it all, but around the 55-second mark of the trailer, you can see the "her" in "Catherine" highlighted in blood red, so make of that what you will. Check out the trailer below:
Related: Natasha Lyonne, Michelle Williams, Billy Porter, and More Stars Bringing Television To New Heights
How Selena Gomez's Red Carpet Style Has Transformed Since Her Disney Days
Just 16 at the time, Gomez was only one year into Wizards of Waverly Place when she wore this toga-like Marchesa gown to the American Latino Media Awards in 2008. Photo courtesy of Getty Images.

Getty Images
A year later, Gomez tried out red lipstick and a shorter hemline at the 6th Annual Hollywood Style Awards. Photo courtesy of Getty Images.

Getty Images
Doing her duty as a Disney star, Gomez showed up at the Kids' Choice Awards in a cheery yellow dress and a casual braid. Photo courtesy of Getty Images.

Getty Images
This Marchesa ensemble was hardly the first – or last – ice skater look for Gomez. It was also just the first of nine outfits that night, which had her hosting the 2011 MTV Europe Music Awards. Photo courtesy of Getty Images.

Getty Images
In an Atelier Versace gown, Gomez wore more fabric to the Spring Breakers premiere at the 2012 Venice Film Festival than she probably wore in the entire film. Photo courtesy of Getty Images.

Getty Images
Again in strapless Atelier Versace and newly single, Gomez switched into this metallic dress to party after the 2013 Golden Globes. Photo courtesy of Getty Images.

Getty Images
Her Atelier Versace gowns got more ambitious over the years: This navy on at the 2013 MTV Video Music Awards relied heavily on teeny silver clasps. Photo courtesy of Getty Images.

Getty Images
Gomez switched it up with tied-back hair and Dior at a screening of her 2014 film, Rudderless. Photo courtesy of Getty Images.

Getty Images
Gomez showed up to the "China: Through The Looking Glass" Met Gala in a tasseled Vera Wang gown and a headpiece made of orchids. Photo courtesy of Getty Images.

Getty Images
Starting 2016 off in red leather Louis Vuitton, Gomez hung out with Nicolas Ghesquière at a UNICEF benefit in L.A. Photo courtesy of Getty Images.

Getty Images
Selena Gomez attends the 2015 American Music Awards at Microsoft Theater on November 22, 2015 in Los Angeles, California. Photo courtesy of Getty Images.

Getty Images
Selena Gomez attends The 58th GRAMMY Awards at Staples Center on February 15, 2016 in Los Angeles, California. Photo courtesy of Getty Images.

Getty Images
Selena Gomez attends the 'Manus x Machina: Fashion In An Age Of Technology' Costume Institute Gala at Metropolitan Museum of Art on May 2, 2016 in New York City. Photo courtesy of Getty Images.

Getty Images
Selena Gomez arrives at the 2016 Vanity Fair Oscar Party Hosted By Graydon Carter at Wallis Annenberg Center for the Performing Arts on February 28, 2016 in Beverly Hills, California. Photo courtesy of Getty Images.

Getty Images
Selena Gomez arrives at the 2016 American Music Awards at Microsoft Theater on November 20, 2016 in Los Angeles, California. Photo courtesy of Getty Images.

Getty Images
Selena Gomez arrives at the Premiere of Netflix's '13 Reasons Why' at Paramount Pictures on March 30, 2017 in Los Angeles, California. Photo courtesy of Getty Images.

Getty Images
Selena Gomez attends the "Rei Kawakubo/Comme des Garcons: Art Of The In-Between" Costume Institute Gala at the Metropolitan Museum of Art on May 1, 2017 in New York City. Photo courtesy of Getty Images.

Getty Images
Selena Gomez attends Harper's BAZAAR Celebration of "ICONS By Carine Roitfeld" at The Plaza Hotel on September 8, 2017 in New York City. Photo courtesy of Getty Images.

Getty Images
Selena Gomez attends The 58th GRAMMY Awards at Staples Center on February 15, 2016 in Los Angeles, California. Photo courtesy of Getty Images.

Getty Images
Selena Gomez arrives at the 2017 American Music Awards at Microsoft Theater on November 19, 2017 in Los Angeles, California. Photo courtesy of Getty Images.

Getty Images
Selena Gomez attends the 2017 BoF 500 Gala at Public Hotel on September 9, 2017 in New York City. Photo courtesy of Getty Images.

Getty Images
Selena Gomez at Metropolitan Museum of Art on May 7, 2018 in New York City. Photo courtesy of Getty Images.

Getty Images
Selena Gomez attends The Fashion Awards 2017 in partnership with Swarovski at Royal Albert Hall on December 4, 2017 in London, England. Photo courtesy of Getty Images.

Getty Images
Selena Gomez attends the opening ceremony and screening of "The Dead Don't Die" during the 72nd annual Cannes Film Festival on May 14, 2019 in Cannes, France. Photo courtesy of Getty Images.

Getty Images
Selena Gomez arriving at the Gala Dinner during the 72nd annual Cannes Film Festival on May 14, 2019 in Cannes, France. Photo courtesy of Getty Images.

Getty Images
Selena Gomez attends the photo call for "The Dead Don't Die" during the 72nd annual Cannes Film Festival on May 15, 2019 in Cannes, France. Photo courtesy of Getty Images.

Getty Images
Selena Gomez attends "The Dead Don't Die" New York Premiere at Museum of Modern Art on June 10, 2019 in New York City. Photo courtesy of Getty Images.

Getty Images