Catherine Zeta-Jones's Cocaine Godmother Trailer is Here and It is Something
The Welsh-born actress play the Colombian-born drug queenpin.
---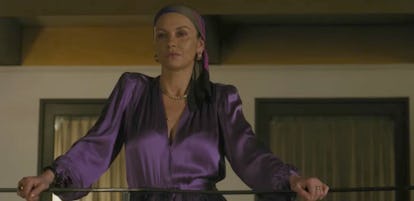 Catherine Zeta-Jones has been trying to line up a role as "Cocaine Godmother" Griselda Blanco for the better part of three years, and now thanks to Lifetime, the trailer for the project is finally here. Let's just put it this way: this certainly isn't anything like the Lifetime movies your grandmother used to watch.
Colombian-born Blanco, who was alternatively known by the nicknames "La Madrina" and the "Black Widow," first entered the drug business with her second husband Alberto Bravo while living in Queens, New York during the mid-'70s. She fled back to Colombia to escape charges in 1975. That same year, according to reports at least, she confronted her husband and six bodyguards about money missing from the business. A gun fight ensued. Bravo and the bodyguards laid dead. Blanco escaped with only minor injuries. She then reemerged in Miami where she became a leading player in the city's infamous "Cocaine Cowboy Wars" of the 1980s. At its peak, her drug ring brought in $80 million a month and spanned the entire hemisphere. She also developed a reputation for violent ruthlessness, but always managed to escape her competitor's numerous assassination attempts. Eventually, however, she wound up in jail (though for a time she still ran her empire from her cell) but was released in 2004. Eventually she was assassinated in Colombia in 2012.
The quick recounting of her life leaves out some of the juicy details: the bisexual orgies, the gold-plated machine guns, her particular fashion sense, and the three husbands she killed. It is no wonder then why someone would want to commit her life story to film. It's a helluva a tale. Even for Lifetime.
The story of how Zeta-Jones came to be part of the film isn't quite as dramatic, but worth mentioning. Back in 2014 she was cast in a separate Blanco biopic, but there was outrage over the fact that the Welsh-born Zeta-Jones would play the Colombian drug dealer. Rumors also spread that she had won the role over Jennifer Lopez. Eventually, however, neither would get the part in that particular version. According to IMDB, the movie is still in development, but Maria Full of Grace star Catalina Sandino Moreno is slotted in the title role.
Zeta-Jones, meanwhile, bounced over to this Lifetime project. The crew includes Mexican director Guillermo Navarro and American History X scribe David McKenna. Lopez, meanwhile, was said to be working on yet another Blanco biopic for HBO, but there has't been much news on the project for a while. Blanco's story was also the basis of the documentary Cocaine Cowboys II and inspired a telenovela.
The controversy of the choosing Zeta-Jones over a Latina actress is bound to reach a peak as the movie nears its January premiere date. It has been a point of contention since 2014 when Zeta-Jones was attached to the other film. This won't be the first time that Zeta-Jones has played a Hispanic woman, however. She also played a Latina in The Mask of Zorro, a project that proved to be her career breakthrough. She would also play the Hispanic wife of a drug lord in 2000's Traffic. The website Latin Heat once snarked that Zeta-Jones had become "Hollywood's most bankable Latina actress."
Of course, she starring in a film that was shot in Vancouver, and somehow uses the Canadian city as a stand in for Colombia and Miami. Authenticity didn't seem to be the goal.
Related: Catherine Zeta-Jones Believes That There's No Such Thing as a 5-Minute Face, and That an Anti-Inflammatory Diet Goes a Long Way