Five Minutes With Cecile de France
Actress Cecile de France, 37, chats financial terminology, wardrobe decisions and how she handled her new movie's revealing love scenes.
---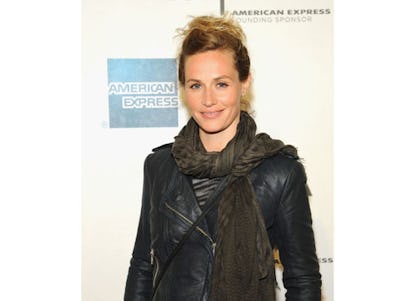 America is not the only country to produce cinematic sweethearts. Though bearing only a slight resemblance to Meg Ryan circa her French Kiss and You've Got Mail days, save for a tousled blond do and impish smile, Cecile de France could easily be considered her Gallic counterpart. The Belgian actress is perhaps best known as the bohemian, gap-toothed Isabelle in Cedric Klapisch's cult films L'Auberge Espagnole and Les Poupees Russes (she won a Cesar for the former). She has also starred as a well-intentioned waitress in the romantic comedy Avenue Montaigne and survived a tsunami in Clint Eastwood's 2010 Hereafter.
In Mobius, directed by Eric Rochant, de France changes tack, playing Alice, a glamorous, gifted trader who after bringing down Lehman Brothers in 2008 is forced to spy for the CIA in Monaco until she is granted reentry in the United States. Her endeavors are complicated when the Russian FSB recruits her in its own mission and the team's lead agent Moises (Jean Dujardin) falls in love with her. Unable to reveal his true identity, his affair with her jeopardizes both their lives—and turns the film into a modern day Hitchcockian tale, with a dose of Audrey Hepburn and Carey Grant in Charade.
Just after the film's US premiere at the Tribeca Film Festival last week, de France, 37, chatted financial terminology, wardrobe decisions and how she handled the movie's revealing love scenes.
How would you describe Alice? She is a famous star trader so I had to find self-assurance, a feeling of power, but she is cool, she cracks jokes, she has humor, she has irony. She's calmly superior; she's a bit of a cynical individual. Quite abrupt. And she's as intrepid in her career as in her life because she likes to bet. She's a gambler, a risk-taker. So this is the part that is very tough and tenacious. But on the other hand, she is a free spirit, she likes to have fun, she likes to make love. And when she is in love, she is more fragile and spontaneous. And with Moises there are no taboos. And it's miraculous. It's been a long time since she's felt that with a man. So it was very interesting to mix the hard part and the soft part.
Did you have to prepare for her financial background? Yes, I knew nothing about the financial world and still don't. I had to take lessons in finance. And Eric was passionate about the financial world so he came to my house to give me some lessons in finance. But it was the way to enter into the character. To find a credibility as a professional.
So now you can fake it on the trading floor? No, I just remember a few things… but I had to understand what is securitization, diluting. So I understood a little bit better, but it's not perfect.
I loved all the clothes you wore as Alice: lots of very chic pantsuits with shirts tastefully unbuttoned. Did you have a lot of input into the wardrobe and how it shaped the character? The costume designer proposed some photos and we talked about them. We had as a model, Julia Roberts in Closer, her style was very feminine but also very classic. And pants are good on me, sometimes better than skirts. But that tells the tough part of Alice. She's feminine when she's making love. She's very, very feminine.
Speaking of which, the love scenes are quite long and revealing. Were they hard for you to shoot? It's very difficult. But with Jean, it was relaxed. And there was no ambiguity or embarrassment. You know, it relaxed the atmosphere, it was good to laugh with him. But we really worked on the choreography, on each shivering spasm, trembling in the scene. But it was my job. Because Jean is very attentive and delicate and respectful, but I did the job more than he did. So that was difficult. But he was helpful. And Eric also was attentive. We were making love the three of us, a ménage a trois, because we were very close.
In an interview, Jean Dujardin says that you have mostly played "child-women" and that in this movie you're a "very feminine woman." Do you agree that this is the most grown up, womanly character you've played? The true thing is it's a very complex character. Very rich. So it's not usual. And of course it's really glamorous. When I enter the bar, the Destiny, he has to fall in love immediately with me. So I had to be the most beautiful, with the hairdresser, the makeup and the costume, we did our best.
What is next for you? The Chinese Puzzle, which is third part of L'Auberge Espagnol and Les Poupees Russes. We just shot it here in Chinatown in September. I'm rehearsing a musical comedy in Paris called Anna by Serge Gainsbourg. [My character, Anna] is an intern at a publicity company. The boss of the company falls in love with a photo of her and he doesn't know it's Anna. It's a complicated story, but it's a love story.
So once again, you are making a man fall in love with you. Yes (laughs).
Portrait: Getty Images