All the Cute Dogs Celebrities Are Fostering Amid the Pandemic
From Kaia Gerber's "quarantine buddy" to Miley Cyrus and Cody Simpson's "baby boy Bo."
---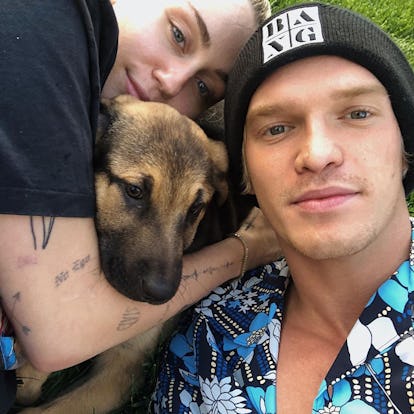 Courtesy of @codysimpson
These days, everyone needs a quarantine buddy—or six, if you're Kaia Gerber. Her latest is much more attainable (not to mention furrier) than the rest. "Now is a great time to foster a puppy in need!," the supermodel wrote on Instagram on Tuesday, revealing the two pups she adopted from the Labelle Foundation, a Los Angeles-based nonprofit. "Reach out if your living/financial situation allows," Gerber continued.
The coronavirus pandemic has made for a crisis for animal shelters, which are understaffed or even shuttering. (Fewer people are adopting, and in-person fundraising efforts have been suspended.) So, Gerber doubled up her efforts: "I couldn't separate the brothers," she added in a video of her two new buds.
Last week, the actress Camila Morrone faced a similar predicament. A day after sharing that she'd adopted a puppy from Hollywood Huskies, a husky rescue nonprofit in Southern California, she revealed that she'd already upped her dog count to two. "I'm officially obsessed with fostering," she wrote. "I couldn't stand the thought of Jack not being with his sister, so I asked if I could take in Jill (on the right) as well." (Hot tip: There is a very adorable video of the pair playing together on the second slide.)
Morrone has also reminded her followers that her new family members are still looking for a permanent home. "These sweet creatures need you so badly," she wrote on Instagram. "Fostering a puppy during this quarantine time has been the single best decision. For all my friends showing interest in doing this, DO IT. You won't regret it."
Selena Gomez is now also a proud mother of two dogs. On Tuesday, she introduced her Instagram followers to her "new family member" Daisy. Apparently, she is getting along "very well" with Gomez's other dog, Winnie.
Others have decided to make things more permanent. It seems that no celebrity owns more animals than Miley Cyrus. (She has 13 or so pets, including seven dogs, two horses, two mini horses, and two pigs.) Apparently, though, the 27-year-old still has room for more. "Baby boy Bo," as Cyrus's boyfriend Cody Simpson calls him, is named after her dad Billy Ray Cyrus's high school nickname, as well as the word "rainbow." She dedicated one of her daily Instagram Lives to introducing him, as well as speaking with the founder of Bo's former home, the Wagmor, about the importance of caring for animals amidst a pandemic.
Simpson has also been fawning over Bo on Instagram. He shared a trove of photos of his "sweet son" on Tuesday, including one with Bo surrounded by his guitar and typewriter.
https://www.instagram.com/p/B-Ijoifp4Ho/
Like Cyrus, Mary Phillips has adopted a dog from the Wagmor. In the comments section of Morrone's Instagram, the celebrity makeup artist called it the "best decision" she's made.
Meanwhile, Emily Ratajkowski threw the many lovers of her dog Colombo a bone by sharing a flood of photos of the German Shepherd, in celebration of his first birthday. "I'm going to take this opportunity to post a shit ton of pics of him 'cause you know what? We all could use some puppy pics right about now," she wrote on Instagram. So far, Colombo is Ratajkowski and her husband Sebastian Bear-McClard's only pet, but don't be surprised if they also end up catching dog fever.