The Best Celebrity "I Voted" Selfies and Memes From the 2018 Midterm Elections
If you don't post a photo of yourself with an "I voted" sticker during the 2018 midterm elections, did you even vote?
---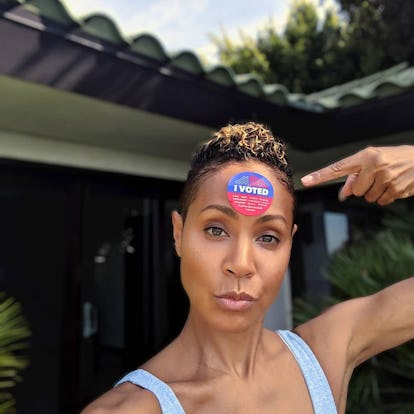 If you don't post a photo of yourself with an "I voted" sticker during the 2018 midterm elections, did you really even vote?
Sure, not every polling place offers "I voted" stickers to those who filled out their ballots (nor is it guaranteed that those who sent in an absentee ballot will receive sticker proof that they cast their vote early). But on social media, celebrities who hit the polls on November 6 for the midterm elections are posting selfies, memes, and other forms of encouragement to their American followers to get out the vote.
Many celebrities, including Oprah Winfrey, have expressed their support for Democratic Party candidates, like Stacey Abrams in Georgia's gubernatorial race, Andrew Gillum for governor in Florida, and Beto O'Rourke for senator in Texas. From supermodels like Cindy Crawford to superstar Olympians like Adam Rippon, celebrities who voted in the midterm elections took the day as an opportunity to encourage others on Instagram to go to the polls, posting photos that prominently show off their "I voted" stickers.
Long lines, inclement weather, and even geographical distance did not stop Hollywood's A-list from casting their votes. For example, Beanie Feldstein—who is currently on location in England filming the upcoming Caitlin Moran comedy, How to Build a Girl—didn't let the distance stop her from proving to the world that she cast a vote. "I'm in London but you best believe I mailed in my ballot last week and packed my sticker to wear around proudly all day!!!" she captioned a photo on Tuesday. The Grey's Anatomy star Ellen Pompeo brought her child to the polls with her, and Busy Philipps ran into her fellow actor Adam Scott at the polls, commenting, "You never know WHO you're gonna run into at your polling place!" Connie Britton posted her own version of a common midterm meme that has been circulating for the past few days, illustrating the exhaustion felt while voting in the 2018 midterms versus the optimism many had before 2016.
Even celebrities who are not United States citizens, like Naomi Campbell and Rihanna, encouraged their Instagram followers to vote. Campbell opted for a photograph of herself dressed like Uncle Sam with a quote from Barack Obama: "Do not complain. Don't hashtag. Don't get anxious. Don't retreat. Don't binge on whatever it is you're binging on. Don't lose yourself in ironic detachment. Don't put your head in the sand. Don't boo. Vote. Vote." Meanwhile, Rihanna went all out with a screenshot that outlines the 15 states that allow for same-day voter registration, in an effort to make voting easier for some of her fans who may live in those states. "It's ELECTION DAY America!!! The most important day for the rest of your lives…all you have is right now! TODAY!! If you're tired of complaining about the state of the country and government, get up and do something about it!!! #VOTE … simple!!!" the singer wrote.
See the best "I Voted" selfies, memes, and words of encouragement from celebrities who filled out their ballots for the 2018 midterm elections, here.
Related: Thanks to Taylor Swift, Midterm Voting in Tennessee Has Skyrocketed