Thanks to Taylor Swift, Midterm Voting in Tennessee Has Skyrocketed
Nearly 100,000 Tennessee voters aged 18 to 29 cast their ballots early this year.
---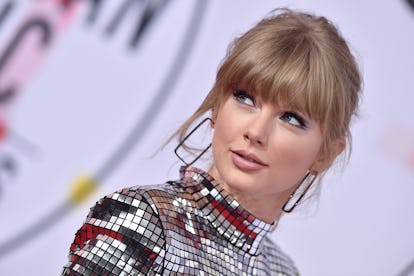 Axelle/Bauer-Griffin/FilmMagic
Throughout the last month, since Taylor Swift broke her self-imposed gag rule and not only encouraged political participation but also shared her own political leanings, her Instagram feed and public appearances have been full of reminders to vote in the 2018 midterms. In the days after Swift's initial get-out-the-vote post, almost exactly a month before Tuesday's election, she was credited with causing a massive increase in voter registration in her home state of Tennessee. When early voting began in the state, on October 17, Swift put up yet another post encouraging her followers to cast their ballots well before the polls close; new data released this week shows that Tennesseans did, indeed, turn out for early voting in droves—a surge that many are (reasonably) linking to Swift's prompts.
According to early and absentee voting data compiled by the data-tracking organization TargetSmart, the total number of ballots cast in Tennessee through the November 1 early voting deadline clocked in at 1,366,135, a nearly 300 percent increase over the 357,654 who voted early in the 2014 midterms. Perhaps even more indicative of Swift's influence, however, is the number of voters aged 18 to 29 who participated in early or absentee voting in the state: 97,826 reportedly did so this year, which is more than seven times higher than 2014's tally of 12,812.
Of course, it's impossible to know to what extent, exactly, Swift is responsible for the early voting surge—political engagement has shot up since the 2016 presidential election, and Swift is far from the only celebrity to be encouraging fans and followers to rock the vote. That said, it's undeniable that she had at least some impact on the Volunteer State's political engagement. Truly, Tennessee: Look what she made you do!
And though early voting is now over and the midterm results will soon start rolling in, Swift is still fully committed to getting out the vote. On Tuesday, as she has for much of the preceding weeks, the Grammy winner shared countless photos in her Instagram Story of fans who had just cast their votes (at this point, she may well have reposted all 1,366,135 early Tennessee voters' selfies), adding encouraging and grateful messages to them for completing their civic duty. She also uploaded a series of selfie videos discussing the importance of voting: "I'm seeing a lot of underestimation of young voters and this new generation, who now have the right to vote just in the last couple of years. But these are people who grew up post-9/11, they grew up with school shooting drills at their schools. These are people who want to vote," she said. "It's not enough to just want change. It's not enough to just want to vote. You have to go and make change by voting, and today is your opportunity to do that. I promise you, it feels so wonderful to exercise that right that you have."
Related: Taylor Swift Calls Out "Fear-Based Extremism" in Latest Political Instagram