Taylor Swift Continues Political Streak With a Pedicure
Go vote, then get your nails done.
---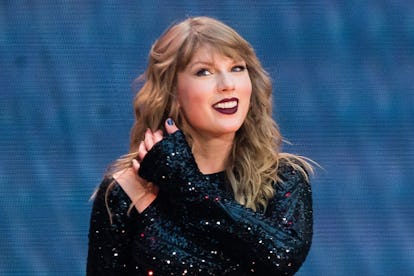 Samir Hussein/Getty Images
Now that Taylor Swift has broken her silence on politics, she can't stop, won't stop encouraging her followers to fill in the blank spaces on their midterm ballots this fall. This week, she made yet another political statement, with a little extra help from a few bottles of nail polish.
On Wednesday morning, Taylor posted a photo set on Instagram: The first of two shots is a Polaroid picture of her feet on a wooden deck, with each toenail painted either red, white, or blue, while the other is a casual selfie of Taylor. "Something I wish I knew about when I was 18 and voting for the first time: ✨EARLY VOTING✨. It makes it so quick and easy to go and cast your vote before November 6. Early voting starts TODAY in Tennessee and goes to Nov 1," she wrote in the caption. And for fans and followers not in Tennessee, she also pinned a calendar of the early voting dates for all 50 states in the link in her Instagram bio.
Taylor first kicked off her campaign to get out the vote at the beginning of this month. At the time, she shared another Polaroid picture of herself on IG, and explained in a lengthy caption why she felt compelled to finally open up about her political leanings, and why she's decided to vote for Democratic nominees Phil Bredesen and Jim Cooper to represent Tennessee in Congress. "In the past I've been reluctant to publicly voice my political opinions, but due to several events in my life and in the world in the past two years, I feel very differently about that now. I always have and always will cast my vote based on which candidate will protect and fight for the human rights I believe we all deserve in this country," she wrote. "I believe in the fight for LGBTQ rights, and that any form of discrimination based on sexual orientation or gender is WRONG. I believe that the systemic racism we still see in this country towards people of color is terrifying, sickening and prevalent."
In the hours after the inspiring post, Vote.org reported a massive spike in voter registration. And a few days later, Taylor once again reminded everyone to hit their local ballot boxes during her acceptance speech for the Artist of the Year Award at the AMAs. "I just wanted to make a mention of the fact this award and every single award given out tonight were voted on by the people," she said toward the end of her speech. "And you know what else is voted on by the people…is the midterm elections on November 6. Go out and vote, I love you guys."
Make Taylor proud: Triple-check that you're registered to vote and check your state's early voting schedule here.
Related: Taylor Swift's Albums Race up iTunes Charts After Endorsing Democrats