Taylor Swift Finally Breaks Political Silence With Instagram Post Against Republican Senate Candidate Marsha Blackburn
"I believe in the fight for LGBTQ rights, and that any form of discrimination based on sexual orientation or gender is WRONG."
---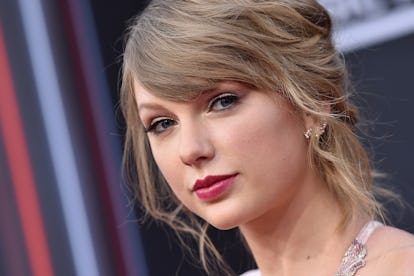 Axelle/Bauer-Griffin/FilmMagic/Getty Images
Taylor Swift has been plenty vocal about many things over the course of her career: men who have wronged her, her love of cats, her distaste for Kanye West among them. But one thing that has never made the list: her political views. That is, until now.
On Sunday evening, just 24 hours after accused sexual abuser Brett Kavanaugh was sworn in to the Supreme Court of the United States of America, Swift broke her political silence with a lengthy Instagram post denouncing Marsha Blackburn, a Republican Senate candidate running in Swift's home state—and voting location—of Tennessee.
Written under a pensive black and white polaroid photo of herself, Swift began the caption by addressing the fact that she has, until this point, stayed quiet about her politics, often to the point of criticism, as was the case when she did not endorse either Hillary Clinton or Donald Trump in the 2016 presidential election. "In the past I've been reluctant to publicly voice my political opinions, but due to several events in my life and in the world in the past two years, I feel very differently about that now," she began. " I always have and always will cast my vote based on which candidate will protect and fight for the human rights I believe we all deserve in this country. I believe in the fight for LGBTQ rights, and that any form of discrimination based on sexual orientation or gender is WRONG. I believe that the systemic racism we still see in this country towards people of color is terrifying, sickening and prevalent. I cannot vote for someone who will not be willing to fight for dignity for ALL Americans, no matter their skin color, gender or who they love."
Swift went on to get specific—namely, her distaste for Blackburn's views. "As much as I have in the past and would like to continue voting for women in office, I cannot support Marsha Blackburn," she continued. "Her voting record in Congress appalls and terrifies me. She voted against equal pay for women. She voted against the Reauthorization of the Violence Against Women Act, which attempts to protect women from domestic violence, stalking, and date rape. She believes businesses have a right to refuse service to gay couples. She also believes they should not have the right to marry. These are not MY Tennessee values."
The singer made note that she will be voting for Phil Bredesen for Senate and Jim Cooper for House of Representatives before urging her fans—including those who have just turned 18, and thus can now vote for the first time—to educate themselves on the candidates and to register to vote for the midterm elections. Fittingly, she ended the post with a rainbow emoji.
Guess what she said about the Old Taylor being dead really was true. Read the full post, here: