Taylor Swift Channels Arya Stark and Also Santa Claus on Her New Single, "Look What You Made Me Do"
She has a murder list, and she's checking it twice.
---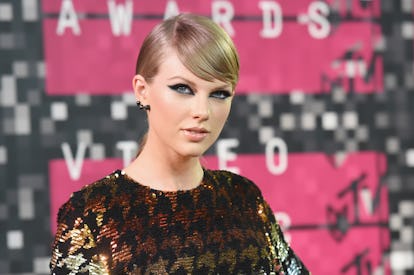 Jason Merritt/Getty Images
For the past decade, Taylor Swift has established herself as the foremost writer of very, very sweet diss tracks. Speak Now, her last true country album, was full of them, from "Mean" to "Innocent" to the not-so-subtly titled "Better Than Revenge"; Red has the scathing "We Are Never Getting Back Together"; and, three years ago, 1989 brought us "Bad Blood." Often, they're about her ex-boyfriends; less frequently, about a feud with another artist (Katy Perry and Kanye West both come to mind).
But Swift's newest track, "Look What You Made Me Do," is anything but sweet. As Swift says herself (and echoes in her just-updated Instagram biography), "The old Taylor can't come to the phone right now."
Swift released the song at midnight, just more than a day after announcing her upcoming sixth album, Reputation. The old Taylor was summarily scrubbed from the internet following her victory in a trial against the former DJ David Mueller, who she accused of touching her inappropriately during a 2013 meet-and-greet. Swift (or her team, more likely) deleted her Instagrams and tweets, and then, earlier this week, replaced them with the tail of a hissing snake. She announced the new album, and hinted at a new single, on Wednesday; at the stroke of midnight on Friday, "Look What You Made Me Do" was unleashed on the world.
The track, produced by Jack Antonoff (the Bleachers frontman who was also behind Lorde's latest album and the St. Vincent single "New York"), gives songwriting credit to Right Said Fred of "I'm Too Sexy" fame—a less-cool version of the vintage inspiration Swift's close friend Selena Gomez also tapped into with her Talking Heads-approved single "Bad Liar." The allusions to her feud with Kanye West are clear—his "tilted stage" from the Pablo tour; the phone call interlude a clear reference to the call Kim Kardashian West posted on her Snapchat—but it also finds Swift taking cues from murder-list-makers like Beatrix Kiddo of Kill Bill and Arya Stark of Game of Thrones, as well as Santa Claus. (She did, after all, grow up on a Christmas tree farm.) "But I got smarter, I got harder in the nick of time; Honey, I rose up from the dead, I do it all the time," she sings in the pre-chorus. "I've got a list of names and yours is in red, underlined, I check it once, then I check it twice, oh!" Like the Game of Thrones and Kill Bill protagonists, Swift also proves she's a master shapeshifter; gone are all traces of her country roots. So, sure, she seems to be out for Kardashian-West blood—but what of Lannister blood?
The morning after the single premiered, Swift posted another series of three images to her Instagram—this album is all about the aesthetic. Two depicted the front cover of Reputation magazine, a collectible "album" of art and behind-the-scenes images. The third showed a series of clips from the upcoming video for "Look What You Made Me Do," which will premiere during the MTV VMAs this Sunday. Swift won't be watching Game of Thrones, it seems. She has her own murder list to attend to.
So why can't the old Taylor come to the phone? It's probably operated by Kim Kardashian, and the old Taylor, well, "She's dead," Swift hisses midway through the song. Then, she giggles.
Katy Perry confesses she cries to some of her own songs: