What, Exactly, Is Going On with the VMAs Right Now?
With Katy Perry hosting, an outer-space theme, and "lots" of pyrotechnics, here's how MTV seems to be contending with the Game of Thrones finale.
---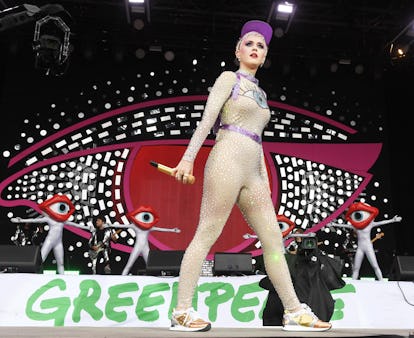 Rune Hellestad – Corbis/Getty Images
The MTV VMAs have never been an exercise in subtlety. This, after all, is an awards show where Pamela Anderson's exes once got into a physical fight, where Kanye West launched a thousand memes when he stopped Taylor Swift mid-acceptance, and where Nicki Minaj uttered the now-famous line "Miley, what's good?" As the network has swung wildly towards video, exhuming TRL, Unplugged, and Wild n' Out, it has also planned what's shaping up to be the most bombastic Video Music Awards show yet.
Sunday nights force television audiences to make a pretty tough decision between Game of Thrones, Life of Kylie, and Twin Peaks—and it seems like MTV is doing the most to make sure the VMAs offer viable competition. Katy Perry, fresh off her new video "Swish Swish," is hosting; Taylor Swift is rumored to be making an appearance-slash-burying the hatchet with Perry; the whole thing is covered in silver foil and "outer space" themed; and 11 different performers are slated to take the stage (or, rather, the five stages distributed across the space). There will be 560 chain motors suspended from the ceiling, part of the elaborate stage maneuvering of the event (for comparison, a VMAs set designer told Variety an average rock concert might feature a mere 150 hanging objects), allowing Katy Perry 560 opportunities to come swinging in on a candy cane trapeze. (We might be making up the part about the trapeze, but an early preview of the show indicated Perry would be airborn, and accompanied by the theme from 2001: A Space Odyssey.)
According to Variety, Katy Perry will also perform, as will Logic, who is slated to offer a remembrance of Chester Bennington and Chris Cornell, 30 Seconds to Mars, Lorde, Fifth Harmony, DNCE, Ed Sheeran (back from Westeros at last, and predicted by Youtube and Spotify to win Artist of the Year), Miley Cyrus, Kendrick Lamar, Pink, and erstwhile Vine star Shawn Mendes, who will inaugurate the new Unplugged next month. The likes of Millie Bobby Brown, Chance the Rapper, and Gal Gadot will be seated in a separate "VIP Village."
"Rehearsals have yet to begin, the run-of-show hasn't been nailed down, and presenters still don't know who they'll be paired with," Variety reported Wednesday, "but producers are confident they'll be able to pull off the biggest VMAs in the network's history." (When dress rehearsals do begin, according to the event's executive producer Garrett English, they will keep going up until the minute the show goes on air, which is definitely one way to make up the time.) This seems ill-advised, but they're the experts.
The performers are apparently free to choreograph their own sets, though because of time and space constraints, Ric Lipson, the set designer, told Variety he has had to veto "some over-the-top ideas"—though based on early reports of the show's outline, it's not entirely clear what he would deem too over-the-top to move forward.
Related: Until Missy Elliott Wins the Video Vanguard Award, the VMAs Mean Nothing
MTV VMAs: See What Britney Spears, Taylor Swift, and More Wore to Their First Video Music Awards
Arguably the queen of the VMAs, Britney Spears made her first appearance in 1999 in sheer black; 17 years later, she wore a similarly-colored ensemble.

Photos by Getty Images.
Taylor Swift kicked off her storied VMA history in a blush pink dress in 2008; in 2015, she took home Video of the Year in sequined sweats.

Photos by Getty Images.
Alicia Keys attended her first VMA's in 2004 wearing a grecian-inspired gown; last year, she appeared bare-faced.

Photos by Getty Images.
In 2000, Beyoncé attended the ceremony with her Destiny's Child band members wearing matching leather looks; last year, she took home "Video of the Year" in a feathered couture gown.

Photos by Getty Images.
Ariana Grande opted for a sweet floral look for her first VMA red carpet; in 2016, she opted for something a bit more mature, by Alexander Wang.

Photos by Getty Images.
The picture of pop princess-dom, Christina Aguilera went leopard and sheer for the 1999 ceremony; by 2008, she was fully embracing the glam side of things.

Photos by Getty Images.
Justin Bieber piled on the accessories for his first ceremony in 2010; in 2015, he opted for a more streamlined look in ripped jeans and a leather jacket.

Photos by Getty Images.
Ciara attended her first show in 2008 wearing a silver minidress; in 2015, she took a much more fashion-forward approach in a fringed number.

Photos by Getty Images.
Jared Leto presented at the 2006 awards wearing some serious guyliner and a white skinny scarf; nine years later, despite a new Academy Award, the actor proved he still was into his goth ways.

Photos by Getty Images.
J.Lo showed up to the 1998 awards in a oversized cream suit and matching hat; the singer's look for the 2015 awards was far more on par to the Jennifer Lopez we know now.

Photos by Getty Images.
Kanye West arrived at the 2004 awards in an all-white ensemble; twelve years later, he wore a similar ensemble and arrived with now-wife Kim Kardashian.

Photos by Getty Images.
Justin Timberlake showed up with the rest of the 'Nsync gang in a leather jacket; by 2013, he had shifted to his signature fedora.

Photos by Getty Images.
Katy Perry, who will host this year's ceremony, crafted her own ensemble for the 2008 awards; at the 2014 awards, she riffed on Britney Spears's iconic denim gown.

Photos by Getty Images.
Lady Gaga kicked off her tradition of kooky ensembles in 2009 wearing a feathered look; in 2013, she saved her theatrics for the stage.

Photos by Getty Images.
In a leather mini and trailing braid, Kesha made her VMA debut in 2010; in 2014, she toned down the look with a pastel gown and matching hair.

Photos by Getty Images.
Madonna kicked off the inaugural ceremony in 1984; in 2009, she returned in a subdued black suit.
A year before her iconic lavendar catsuit, L'il Kim matched Lisa "Left Eye" Lopez at the 1997 awards; the rapper let her boots do the talking in 2013.

Photos by Getty Images.
Gwen Stefani attended the 1997 awards with her No Doubt bandmates; in 2014, she was solo and donning shocking pink.

Photos by Getty Images.
Miley Cyrus arrived at the 2008 awards in a modest metallic dress; in 2015, her look was still metallic but definitely not modest.

Photos by Getty Images.
Pink, who will receive this year's Video Vanguard Award, took home her first moon-man in 2001; the singer arrived at the 2012 awards in a metallic gown.

Photos by Getty Images.
Rihanna was a fresh-faced and little-known singer when she attended the show in 2005; last year, she recieved the Video Vanguard award.

Photos by Getty Images.
Demi Lovato attended the 2011 awards in a sequined minidress; four years later, she returned wearing a similar ensemble.

Photos by Getty Images.
Selena Gomez made her VMA debut in 2011 in a high-low black dress; in 2015, she was super sophisticated in navy Calvin Klein.

Photos by Getty Images.
Solange arrived at the 2001 awards in an ensemble she'd likely not be caught in today; the singer was much more in tune with her current sartorial standard by 2014.

Photos by Getty Images.
Katy Perry admits she cries to some of her own songs sometimes: