With MTV Unplugged Reboot, MTV Continues Pivoting to Video
Shawn Mendes, modern-day Bruce Springsteen, will inaugurate the new series.
---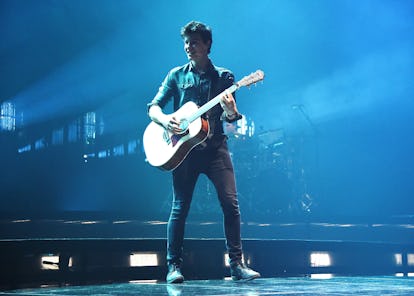 Nicholas Hunt/Getty Images
MTV recently abandoned a short-lived experiment in "prestige journalism," laying off dozens of MTV News staffers, many of them recruited from Bill Simmons's now-defunct Grantland, as part of a strategy to turn towards video and away from in-depth written reporting and criticism. Now, it seems, the "pivot to video"—which quickly became a meme within certain Twitter circles—means rebooting the channel's classic shows. MTV has already announced plans to resuscitate Total Request Live; it debuted a Laguna Beach descendent Siesta Key (which we recently called "the worst impulses of the new retrograde MTV"); it revived Wild 'n' Out, and now its bringing back MTV Unplugged.
Next month, MTV Unplugged will relaunch with a performance by Canadian singer-songwriter and vestigial Vine star Shawn Mendes at Los Angeles's Ace Hotel. Unplugged debuted in 1989 and ran consistently for the next decade, appearing less frequently until 2009 and essentially ceasing operations—save for a few specials here and there, often as few as one per year—for the last eight years. Artists like Bruce Springsteen, Lauryn Hill, Neil Young, Jay Z, and Nirvana have all graced its stage, playing (usually acoustic) sets of their own songs and covers. (Mendes might not be this generation's Springsteen, but who knows what will emerge from the ashes of Vine next.) In its rebooted form (which the network is calling the "2.0 version," according to Variety), Unplugged guest artists will play venues that hold specific meaning—like "I always wanted to play Carnegie Hall," MTV's Amani Duncan told Variety. Or, you know, the Ace Hotel. (After all, it's now been immortalized in Bon Iver's "33 'GOD.'")
Unplugged is just one part of MTV's effort not only to get back into the video game, but also to revisit its own archives instead of honing a voice as an objective journalistic outlet. The network has pivoted so far to video it has probably started to get dizzy at this point, and has definitely made at least a 360.
Edward Enninful reflects on Kurt Cobain, Kate Moss, and the best of '90s fashion: