MTV's TRL Is Returning to Television This Fall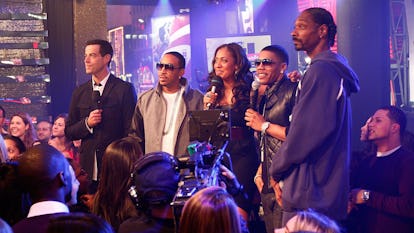 Michael Loccisano/FilmMagic/Getty Images
2017 is the year of the revival, and MTV's TRL is that latest staple of the early aughts to rise from the dead.
According to The New York Times, a revamped version of TRL (a.k.a Total Request Live) will return in October to its signature Times Square studio (and possibly the Times Square plaza, where screaming fans would hold signs for hours just waiting for their favorite artist to glance out the studio window).
The new version of TRL will run for one hour, though it could potentially stretch to two or three hours per day if it's successful, says MTV president Chris McCarthy. "It's the right route," he told the Times. "When you talk to artists and they say to you, unaware of what we're doing, can you bring back TRL? We'd be crazy not to reinvent that."
The original show ran from 1998 to 2008 and was the network's centerpiece, featuring the day's newest music videos and hottest artists. It's the avenue through which Carson Daly rose to fame, though the Voice host will not be returning to his alma mater. Instead, there will be five relatively unknown new hosts (no word on whether they'll be referred to as veejays — shorthand for video jockeys — as they were originally called).
TRL is not the only series that MTV has dug up from the past. Wild N Out and Fear Factor have both gotten reboots (starring Nick Cannon and Ludacris as hosts, respectively), and so has My Super Sweet Sixteen. MTV also recently launched Siesta Key, which many are referring to as a Florida-based cousin of Laguna Beach.
So now, get ready for a whole new generation of fans to be racing home from school to catch TRL on MTV (not to mention those of us who will be racing home from work to watch).
Related: Paris Hilton Invented Everything You're Doing in 2017, and She Knows It
TRL Is Back! Revisit Some of the Show's Most Iconic, Early 2000s Fashion Moments
Rihanna poses for a photo backstage during MTV's Total Request Live at the MTV Times Square Studios on May 8, 2007 in New York City.

Getty
Britney Spears backstage at a taping of MTV's "TRL" in Times Square.

Getty
Kanye West during MTV's "TRL" announcing the nominations for the 2007 MTV Video Music Awards at MTV Studios in Times Square on August 7, 2007 in New York City.

Getty
Shakira and Carson Daly during MTV's Spankin' New Music Week on TRL at the MTV studios in New York City.

Getty
Christina Aguilera during "Spankin' New Music Week" on TRL at the MTV studios in New York City.

Getty
Jessica Simpson and Damien Fahey during a taping of MTV's "TRL" in Times Square.

Getty
Gwyneth Paltrow poses for a photo backstage during MTV's Total Request Live at the MTV Times Square Studios September 16, 2004 in New York City.

Getty
Daniel Radcliffe and Emma Watson appear on stage during MTV's Total Request Live at the MTV Times Square Studios May 24, 2004 in New York City.

Getty
NEAlicia Keys poses for a photo backstage during MTV's Total Request Live at the MTV Times Square Studios December 21, 2005 in New York City.

Getty
Beyonce Knowles makes an appearance on MTV's Total Request Live on February 28, 2007 in New York City.

Getty
Paris Hilton at the MTV Studios Times Square in New York City, New York.

Getty
Charlize Theron attends a taping of MTV's "TRL" in Times Square.

Getty
Avril Lavigne attends a taping of MTV's "TRL" in Times Square.

Getty
Amy Adams appears onstage during MTV's Total Request Live at the MTV Times Square Studios November 19, 2007 in New York City.

Getty
Solange Knowles visits MTV's "TRL" at the MTV studios in Times Square August 26, 2008 in New York City.

Getty
Taylor Swift poses for a photo backstage during MTV's Total Request Live on June 16, 2008 at the MTV Times Square Studios in New York City.

Getty
Jennifer Lopez and Carson Daly at a taping of MTV's "TRL" in Times Square.

Getty
Kris Jenner and Kim Kardashian arrive at the "TRL" taping at the MTV Studios in Manhattan on August 25, 2008 in New York City.

Getty
Ashley Olsen and Mary Kate Olsen during visit MTV's "TRL" – May 5, 2004 at MTV Studios, Time Square in New York City, New York, United States.

Getty
Keira Knightley during Keira Knightley Visits MTV's "TRL" – June 28, 2004 at MTV Studios in New York City, New York, United States.

Getty
Gwen Stefani with the Harajuku Girls during "TRL" – March 22, 2005 at MTV Studios, Times Square in New York City, New York, United States.

Getty
Lauren Conrad visits MTV's "TRL" – September 14, 2005 at MTV Studios in New York City, New York, United States.

Getty
Michelle Williams, Kelly Rowland and Beyonce Knowles of Destiny's Child visit MTV's "TRL" in Times Square.

Getty
Lindsay Lohan visits MTV's "TRL" – December 7, 2004 at MTV Studios in New York City, NY, United States.

Getty
Anne Hathaway visits MTV "TRL" – June 29, 2006 at MTV Studios in New York City, New York, United States.

Getty
Ashlee Simpson visits MTV's "TRL" – September 20, 2004 at MTV Studios – Times Square in New York City, New York, United States.

Getty
Miley Cyrus appears on MTV's "TRL" at the MTV studios in Times Square on July 18, 2008 in New York City.

Getty
Rachel Bilson visits MTV's "TRL" – February 23, 2005 at MTV Studios in New York City, NY, United States.

Getty
Cameron Diaz, Lucy Liu and Drew Barrymore visit MTV's "TRL" – June 26, 2003 at MTV Studios Times Square in New York City, New York, United States.

Getty
Carson Daly and Angelina Jolie during a taping of MTV's "TRL" at MTV Studios- Times Square in New York City, New York, United States.

Getty
Halle Berry Presents a Dramatic Interpretation of Britney Spears's TRL classic "Oops, I Did It Again":