Taylor Swift Wins Groping Trial Against DJ David Mueller, Vows to Raise Money for Victims of Sexual Assault
"My hope is to help those whose voices should also be heard."
---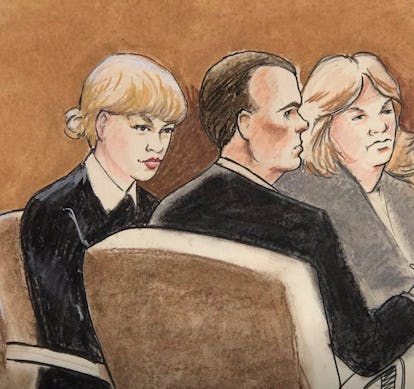 Jeff Kandyba
Four years and one week-long trial later, Taylor Swift has won her case against a radio DJ, David Mueller, who, she claimed, groped her before a 2013 concert. Today, a jury ruled in Swift's favor, the Associated Press reported, finding that Mueller was guilty of sexual assault and awarding the $1 the pop artist sought.
"My hope is to help those whose voices should also be heard," Swift said in a statement. "Therefore, I will be making donations in the near future to multiple organizations that help sexual assault victims defend themselves."
Swift has been vocal about taking a stand alongside victims throughout the trial, as, at one point, she told Mueller's attorney in court, "I am not going to allow you or your client to make me feel like this is my fault, because it isn't." Her attorney also summed up her sentiments earlier today, telling the defense, "Victims are prone to blink rather than relive the shame and humiliation of what took place."
As for the $1 Swift was seeking in the trial, her lawyer Douglas Baldridge explained, "The single value of which is immeasurable to all women in this situation. It means, 'No means no,' and it tells every woman that they will determine what is tolerable to their body."
Her peers have thanked Swift for sending that message, as just today Kesha tweeted at her, "@taylorswift13 i support you always, and especially right now and admire your strength and fearlessness. truth is always the answer." Her words echoed Lena Dunham's: "Proud of @taylorswift13 for her fierce & cutting testimony & her refusal to settle for being treated like property. Her example is powerful."
Read Taylor Swift's full statement below, via KDVR News.
"I want to thank Judge William J. Martinez and the jury for their careful consideration, my attorneys Doug Baldridge, Danielle Foley, Jay Schaudies and Katie Wright for fighting for me and anyone who feels silenced by sexual assault, and especially anyone who offered their support through this four-year ordeal and two-year long trial process."
"I acknowledge that the privilege that I benefit from in life, in society and in my ability to shoulder the enormous cost of defending myself in a trial like this. My hope is to help those whose voices should also be heard. Therefore, I will be making donations in the near future to help multiple organizations that help sexual assault victims defend themselves."
A Brief History of the 16 Most Memorable Celebrity Courtroom Sketches, from Amy Winehouse to Taylor Swift
Watch: Gigi Hadid Had a Kobe Bryant Cake at Her Best Birthday Party Ever
Gigi Hadid Had a Kobe Bryant Cake at Her Best Birthday Party Ever