A Jury of Humans Who Have Maybe Never Listened to a Taylor Swift Song Has Been Selected for Taylor Swift's Groping Trial
A questionnaire circulated among prospective jurors was designed to exclude anyone with prior knowledge of Swift and her music.
---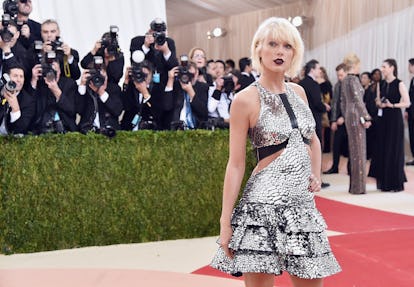 Mike Coppola/Getty Images
Four years after Taylor Swift first alleged radio DJ David Mueller reached under her skirt and grabbed her butt during a meet-and-greet at the Denver-based country radio station KYGO, the trial for the civil suit she brought against Mueller has begun. Swift, who appeared in court Monday, and Mueller are both expected to take the stand after Tuesday's opening statements, just two of approximately 17 witnesses who also include Swift's mother, Andrea, and the photographer during the afternoon in question.
During Monday's jury selection process, the court handed out a rigorous questionnaire designed to weed out, it seems, anyone with any prior interest in, or awareness at all of, Swift and her music. Questions include whether jurors have ever listened to Swift on the radio, watched one of her videos, read a blog post about her, bought one of her records, attended one of her concerts, or "intentionally listened to Taylor Swift through an online service." (Now that Swift is back on Spotify, a daunting question.) So, you know, that means anyone who has listened to the radio, read a tabloid, or is a woman under the age of 27. Or, as Jezebel pointed out, perhaps anyone who identifies as a woman, at all: "In the end, this jury is going to be filled with men, which does not strike me as good or fair," wrote Lauren Evans on Monday night, when the jury still had yet to be picked.
Swift has kept out of the spotlight this year, purportedly to keep her new romance with Joe Alwyn more private than her previous relationship with Tom Hiddleston, but perhaps also in preparation for the trial. After all, it might be easier to find neutral, non-Swift fans two years after the release of 1989 rather than, say, shortly after the Kim Kardashian video. Jury selection was finalized by Tuesday—the court managing to unearth eight humans who have possibly never heard a Taylor Swift song ever—and opening statements are expected to begin the trial during the day Tuesday.
For context, this is a case that has been developing for two years. In 2015, Mueller sued Swift alleging the singer wrongfully accused him of groping her, resulting in damage to his reputation and the loss of his $150,000 per year salary. (When Swift's management contacted the station about her allegations in 2013, Mueller was promptly dismissed.) While Mueller sought $3 million in damages, Swift, in a countersuit for assault and battery filed one month later, asked for just $1; in a court statement, she declared she wants to "serve as an example to other women who may resist publicly reliving similar outrageous and humiliating acts." Swift hasn't been known for her outspoken commitment to many political or social issues, but the case presents an opportunity for Swift to use her platform—fans, reportedly, have lined up outside the courthouse at 6 a.m. in hopes of catching a glimpse of the star—and perhaps assure others they can come forward with their own stories of assault.
Related: Selena Gomez Has A New Song, and It is Taylor Swift-Approved
Chris Hemsworth thinks Charlize Theron should be the new James Bond:
Celebrities like Taylor Swift and Kendall Jenner Are All Obsessed with Gingham This Summer
Rihanna arrives at MAC Cosmetics And The MAC AIDS Fund Present "It's Not Over" Premiere at Quixote Studios on November 18, 2014 in Los Angeles, California.

Getty
Zoey Deutch arrives at HBO's "True Blood" Final Season Premiere at TCL Chinese Theatre on June 17, 2014 in Hollywood, California.

Getty
Taylor Swift sighting on August 1, 2014 in New York City.

Getty
Lily James attends a photocall for the Cinderella Exhibition at Leicester Square on March 20, 2015 in London, England.

Getty
Emmy Rossum is seen on May 27, 2015 in Los Angeles, California.

Getty
Kirsten Dunst arrives at the Premiere Of Universal Studios' "Unbroken" at TCL Chinese Theatre on December 15, 2014 in Hollywood, California.

Getty
Freida Pinto attends the 8th Annual Veuve Clicquot Polo Classic at Liberty State Park on May 30, 2015 in Jersey City, New Jersey.

Getty
Daisy Ridley attends the press conference for 'Star Wars: The Force Awakens' at the Conrad Hotel on December 9, 2015 in Seoul, South Korea.

Getty
Kendall Jenner attends the Kendall + Kylie Collection At Nordstrom Private Luncheon at Chateau Marmont on March 24, 2016 in Los Angeles, California.

Getty
Catherine, Duchess of Cambridge visits the mentoring programme of the XLP project London Wall on March 11, 2016 in London, England.

Getty
Amal Clooney seen on the streets of Manhattan on September 17, 2016 in New York City.

Getty
Gillian Jacobs attend Hulu's Upfront Presentation on April 30, 2014 in New York City.

Getty
Ruth Negga attends TimesTalks to discuss the film "Loving" at the TimesCenter on November 1, 2016 in New York City.

Getty
Camilla Belle arrives at Victoria Beckham For Target Launch Event at Private Residence on April 1, 2017 in Los Angeles, California.

Getty
Sarah Paulson attends the red carpet event for FX's television series "Feud: Bette and Joan," March 1, 2017 at the TCL Chinese Theatre in Hollywood, California.

Getty
Sienna Miller poses at a photocall for "The Lost City Of Z" at Corinthia London on February 16, 2017 in London, England.

Getty
Hailey Gates attends "The Beguiled" New York Premiere at The Metrograph on June 22, 2017 in New York City.

Getty
Laura Harrier is seen on June 26, 2017 in New York City.

Getty