What Game is Taylor Swift Playing? Here's All the Conspiracy Theories Floating Around About New Album Reputation
All the best—and most outrageous—responses to #TS6, AKA Reputation.
---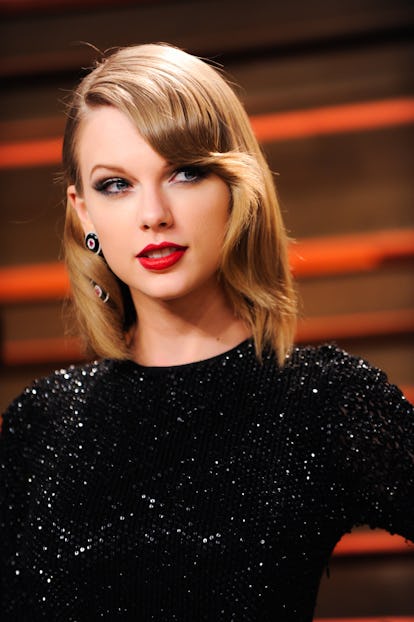 Taylor Swift announced Reputation, her long-awaited sixth studio album, on Instagram on Wednesday. Preceded by a series of Instagram videos of a decidedly nasty-looking snakes slithering across her feed, Swift's announcement also indicated a new single slated for release Thursday.
Rumors have circulated about #TS6, as it was known before the announcement, for months—Swift has released a new album every two years on the dot since she debuted with her self-titled album in 2006—and only amped up when Swift scrubbed her social media tracks and began dropping hints on Instagram this week. It would make a triumphant climax of the past few weeks for Swift, who faced off against the former radio DJ David Mueller who she alleged had touched her inappropriately during a meet-and-greet in 2013.
She won that case and proceeded to make a large donation to the Joyful Heart Foundation founded by Mariska Hargitay. (Swift also has a cat named for Hargitay's Law and Order: SVU character Olivia Benson.)
But it's entirely possible she did not intend to announce the record just yet. A user on the pop music forum ATRL.net, levi_valvi, dug into Swift's website and unearthed a page that featured the Reputation cover art, title, and a blank track list (one that indicates the lead single, the fourth track on the album, clocks in at nearly nine minutes). Not a bad strategy for a woman known to bury references in her liner notes. New York magazine's Select All reached out to the Swift camp to ask if the reveal, which began circulating on Twitter about an hour before the official announcement went live on Swift's Instagram, had anything to do with the sudden unveil.
In the aftermath of the announcement, fans and commenters haven't ceased speculating about what the new album might bring. A title, release date, and cover art doesn't change all that much when it comes to the theories (many of them conspiracy-leaning, given Swift's apparent love of cryptography)—but it gives fans plenty more to read into. After all, she released the first of the Instagram videos, depicting a snake tail, on the most holy of days: during the solar eclipse, just before it reached totality.
So, what does it all mean, if it means anything at all? Or is Swift so accustomed to Kremlinologists falling over themselves to spot the next staged photo opp next to some rocks in a Rhode Island beach that she's now stoking the internet machine that tracks her, like a celebrity complex ouroboros? Here's a few ideas:
Take, for example, the album cover for the record, which depicts Swift in grayscale, clad in a distressed sweatshirt against a backdrop of manufactured newspaper headlines. The title, Reputation, is printed across the top in gothic lettering. Reputation has been interpreted as an ill-advised critique of the media at a moment when politicians—led by President Trump—have disqualified less-than-flattering news coverage as "fake news." "So Taylor Swift's album cover is trying to say that she distrusts the media?" the New Yorker's Doreen St. Félix wrote on Twitter. "Great message in 2017."
And some might take it as a nod to newspaper mastheads—but others have noted its similarities to the typeface used on Kanye West's Pablo merchandise, reading it as a reference to Swift's feud with the rapper over his track, "Famous." (The album art's mall goth aesthetic has also provided ample fodder for comparisons to everything from Ashlee Simpson to Lady Gaga and Tony Bennett to Guns n' Roses.)
Even the early snake-shaped Instagrams for Reputation seemed to be a reference to the feud, during which Kim Kardashian famously tweeted, ahead of dropping the damning "Famous" phone call video on her Snapchat, "Wait it's legit National Snake Day?!?!?They have holidays for everybody, I mean everything these days!"
The generous interpretation here is that Swift is about to enter her Purpose era, her apology tour; the less generous one, that the record will find Swift on the defensive again. (Comparisons to Britney Spears circa "Piece of Me" and Lindsay Lohan circa "Rumors" have proved inevitable.)
In a related development, Swift is rumored to be appearing at the MTV Video Music Awards this Sunday, where her one-time rival Katy Perry is also slated to perform and to release her new video for "Swish Swish," the diss track aimed at Swift. There is buzz that Swift will release her own new video that night, or at least perform it; The Ringer has dubbed it Swift's "Single Release-Katy Perry Peace Summit."
If the first single—reportedly entitled "Timeless," based on a mysterious website that went live earlier this week—is really nine minutes long, Swift may have to abbreviate it a bit.
After all, even Beyoncé had to perform a medley when she played Lemonade at the VMAs.
Gigi Hadid recalls her favorite birthday: