Taylor Swift Makes "Extremely Generous" Donation to Mariska Hargitay's Charity for Sexual Assault Survivors
The singer won her case against David Mueller this week.
---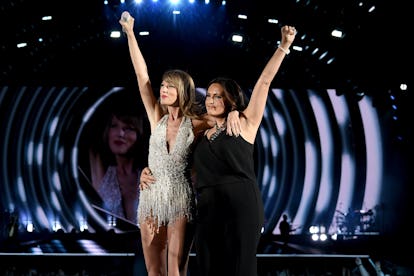 Dimitrios Kambouris/LP5/Getty Images
Just days after a jury found a former radio DJ guilty of groping Taylor Swift at a pre-concert meet-and-greet in 2013, the singer-songwriter is taking an additional step to assist sexual assault survivors in the future.
Per People, Swift has donated a large sum of money to Mariska Hargitay's Joyful Heart Foundation, which helps to heal, educate, and empower survivors of sexual assault. (Hargitay and Swift go way back—the singer named her cat, Olivia Benson, after Hargitay's Law & Order: SVU character.) Although the amount of money Swift donated wasn't disclosed, the CEO of the foundation said it was an "extremely generous financial investment in the movement to end sexual violence."
"I hope that Taylor's very public experience―and her decision to speak out―not only helps empower other victims to speak up and take action, but offers them solidarity," Hargitay said in a statement. "I'm honored by her dedication and commitment to these issues, and I'm deeply grateful for her support of the Joyful Heart Foundation."
The weeklong trial proved to be an emotional yet empowering journey for Swift and her family. The singer was applauded for her testimony, and her mother broke down in tears multiple times when she testified. With her court victory, Swift will also be receiving only $1 out of solidarity for fellow survivors, in contrast to the $3 million the plaintiff, David Mueller, was seeking.
"I acknowledge the privilege that I benefit from in life, in society, and in my ability to shoulder the enormous cost of defending myself in a trial like this," Swift said in a statement after her win. "My hope is to help those whose voices should also be heard. Therefore, I will be making donations in the near future to multiple organizations that help sexual assault victims defend themselves."
A Brief History of the 16 Most Memorable Celebrity Courtroom Sketches, from Amy Winehouse to Taylor Swift
"Women's Rights Are Human Rights": 62 Fashion Insiders Speak Out in a Powerful Video for International Women's Day: