Taylor Swift Testifies in Trial Against DJ David Mueller: "It Was Definitely a Grab"
"I am not going to allow your client to make me feel like it is any way my fault because it isn't," she said on the stand.
---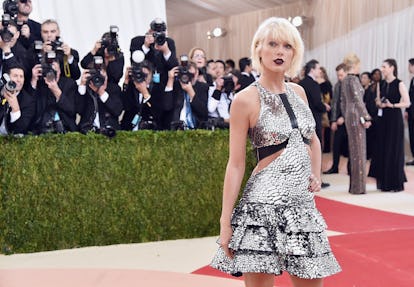 Mike Coppola/Getty Images
Taylor Swift was the first witness to take the stand on the fourth day of her trial against former radio DJ David Mueller, who Swift alleges touched her inappropriately during a meet-and-greet in Denver in 2013. Her mother, who took the stand the previous day, did not attend, citing illness. Swift spent just shy of an hour on the witness stand, according to Buzzfeed's Claudia Rosenbaum, revisiting the alleged assault and describing Mueller's behavior as "despicable," "shocking," and "horrifying."
"It was definitely a grab," she said of the incident, during which, she explained, Mueller put his hand up her skirt during a photo opportunity. "He stayed latched on to my bare ass cheek as I moved away from him, visibly uncomfortable." She added she thought both Mueller and his girlfriend, with whom they are also photographed, were intoxicated.
After the alleged groping, Swift continued to meet with fans, reluctant to post-pone or cancel an event that many had waited hours for. On cross-examination, Mueller's attorney Gabriel McFarland told Swift still could have taken a break, Swift replied, "and your client could have taken a normal photo with me." McFarland attempted to redirect Swift on several occasions during his cross-examination—she also added she did not blame her bodyguard, who had been there while the photo was taken; instead, "I'm critical of your client sticking his hand under my skirt and grabbing my ass," she told McFarland. Buzzfeed also observed Swift "appeared aggravated" by the questioning.
"I am not going to allow your client to make me feel like it is [in] any way my fault because it isn't," she said.
McFarland also asked Swift if she watched police shows during his cross-examination; she emphatically responded she named her cat Olivia Benson after Mariska Hargitay's Law & Order: SVU character. At the close of McFarland's questioning, Swift's own attorney said he had no questions for her.
Related: A Jury of Humans Who Have Maybe Never Listened to a Taylor Swift Song Has Been Selected for Taylor Swift's Groping Trial
Gigi Hadid had a Kobe Bryant birthday cake at her best birthday ever:
From Jackie O to Taylor Swift, a Look Back At What Celebrities Have Worn For Their Day In Court
Jackie Onassis at the Federal Courthouse for trial Jackie Onassis vs. Photographer Ron Galella for Harassment.

Getty
Jackie Onassis during Jackie Onassis vs Ron Galella, Photographer for Harassment Trial at Federal Courthouse in New York City on March 8, 1972.

Getty
Jackie Onassis during Jackie Onassis vs Ron Galella, Photographer for Harassment Trial at Federal Courthouse in New York City on March 8, 1972.

Getty
Winona Ryder attends her trial wearing a matching sweater and skirt set.

Getty
Winona Ryder enters the Beverly Hills Municipal Court for the reading of the verdict on the eighth day of her shoplifting trial on November 6, 2002 in Beverly Hills, California.

Getty
Winona Ryder leaves Santa Monica County Building after reporting to the probation office on December 11, 2002 in Santa Monica, California.

Getty
Courtney Love leaves the Clara Shortridge Foltz Criminal Justice Center in Los Angeles on November 10, 2004.

Getty
Courtney Love leaves court after giving a judge a progress report on her assault charge at the Clara Shortridge Foltz Criminal Justice Center on November 18, 2005.

Getty
Courtney Love arrives at Los Angeles Superior Court on July 27, 2004 in Los Angeles.

Getty
Naomi Campbell leaves Manhattan Criminal June 27, 2006 in New York City after being charged with second-degree assault on her housekeeper, Ana Scolavino, after allegedly throwing a mobile phone at her.

Getty
Naomi Campbell was charged with second-degree assault Thursday following the alleged assult on her housekeeper in her Park Avenue apartment on March 30, 2006 in New York City. If convicted, she could face 7 years in Prison. Her trial date has been set for June 27th 2006 in New York Criminal Court. (Photo by Jemal Countess/WireImage)

Jemal Countess
Linda Evangelista appears at Manhattan Family Court on May 4, 2012 in New York City.

Getty
Linda Evangelista appears at Manhattan Family Court on May 8, 2012 in New York City.

Getty
Linda Evangelista appears at Manhattan Family Court on May 7, 2012 in New York City.

Getty
Paris Hilton arrives at the Metropolitan Branch Courthouse on May 4, 2007 in Los Angeles, California. L

Getty
Paris Hilton arrives at a Miami court where she is involved a breach of contract suit. on July 9, 2009 in Miami, Florida.

Getty
Paris Hilton sighting at the Ferguson U.S. Courthouse for her civil trial on allegations she failed to adequately promote the 2006 film National Lampoon's Pledge This! on July 10, 2009 in Miami, Florida.

Getty
Britney Spears arrives at a custody hearing at the Stanley Mosk Courthouse on October 26, 2007 in Los Angeles, California.

Getty
Lil' Kim departs the Federal Court House in New York City on March 15, 2005.

Getty
Nicole Richie and boyfriend Joel Madden leave court in Glendale, California, on July 2007 after Richie pleaded guilty to driving under the influence of drugs.

Getty
Sienna Miller is pictured at the High Court on November 24, 2011 in London, England.

Getty
Lindsay Lohan arrrives for her arraingment at the Airport Courthouse on February 9, 2011 in Los Angeles, California.

Getty
Lindsay Lohan arrives for the afternoon session of the probation revocation hearing at the Beverly Hills Courthouse on July 6, 2010 in Los Angeles, California.

Getty
Lindsay Lohan leaves court after her latest probation hearing on February 22, 2012 in Los Angeles, California.

Getty
Lindsay Lohan leaves court after her latest probation hearing at the Airport Courthouse on March 29, 2012 in Los Angeles, California.

Getty
Lindsay Lohan leaves Airport Branch Courthouse of Los Angeles Superior Court March 18, 2013 in Los Angeles, California.

Getty
Amanda Bynes attends an appearance at Manhattan Criminal Court on July 9, 2013 in New York City.

Getty
Stephanie Seymour is seen leaving Stamford Superior Court where she faced charges of Driving Under the Influence on February 2, 2016 in Stamford, CT.

Getty
Kim Kardashian surrounded by Los Angeles County Sheriff Deputies leaves the Stanley Mosk Courthouse after attending her divorce hearing from Kris Humphries on April 12, 2013 in Los Angeles, California.

Getty
Amal Clooney attends a press conference at Doughty Street Chambers on October 5, 2015 in London, England.

Getty