Taylor Swift's Mother Andrea Swift Testifies Her Daughter Was "Shaken" and "Humiliated" After Alleged Assault
During the third day of Swift's trial against former radio DJ David Mueller, mom Andrea Swift took the stand.
---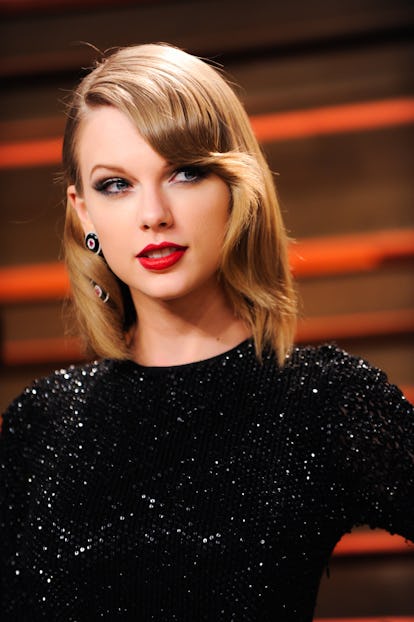 Taylor Swift's trial against former radio DJ David Mueller is entering its fourth day, and while the pop star has yet to take the stand, her mother, Andrea Swift, testified on her behalf during the third day of proceedings. She recounted the events of the day in question, when Swift alleges Mueller reached up her skirt during a meet-and-greet at Denver's Pepsi Center while Swift was on tour for her crossover record Red.
"I knew what happened, I heard it from her, I heard it from my daughter's mouth. He sexually assaulted her, right there, that guy," Andrea said, identifying Mueller from the stand, according to The Cut. "I was upset to the extent of feeling like I wanted to vomit and cry at the same time." She added that they had not approached the police with the allegations because she did not want Swift, who was "really shaken, she was humiliated, she was horribly embarrassed because he grabbed her" to "relive this awful moment over and over again."
"I did not want every interview from now on to have to make her include what happened to her. I did not want her to have to live through the endless memes and GIFs that tabloid media and internet trolls would come up with," she said, according to People.
According to statements Swift made ahead of the trial, consistent with her mother's own testimony, immediately after Mueller groped her, Swift thanked the DJ for attending and immediately told her mother, then one of her managers, and her radio promotions manager what had transpired. They reported it to Mueller's station, KYGO, who promptly dismissed him; two years later, he sued Swift for $3 million for damage to his reputation and the loss of his $150,000-per-year income. Swift counter-sued (for just $1, but with the intention of standing up for survivors of sexual assault who may be reluctant to come forward), and here we are.
The trial is scheduled to conclude on August 17, with Swift taking the stand sometime before then. Hopefully they locate her before then, because, according to courtroom sketches, she's simply nowhere to be found. They do have a convincing stand-in, though.
Mueller has continued to deny he touched Swift inappropriately; on the stand during the second day of the trial, he testified he touched "what seemed to be a ribcage or ribs." (Creepy, dude.) Still, there is one quite damning piece of evidence: the photo of the meet-and-greet, in which Swift is shown putting some space between herself and the DJ, his hand suspiciously low on her back—like, not where her ribs are.
"I knew there was something horribly wrong in that picture," Swift's mother testified, according to Jezebel. "She has that smile frozen on her face, but there's something going on in her eyes. I just looked at it and I was sickened."
Mueller also revealed, in his testimony Tuesday, that he had been fired from two previous radio stations for other offenses prior to joining Denver's KYGO. A key part of Mueller's suit contends he has been unable to find a new DJ gig as a result of the firing; Swift's lawyer has attempted to undermine this argument by pointing out any of his previous firings could also have damaged his reputation.
In the Swift camp, the alleged 2013 assault changed how they approached fan interactions. "It absolutely shattered our trust," the elder Swift said on the stand, according to the Denver Post. "It made us do a bunch of things differently." This includes smaller meet-and-greet audiences, background checks on attendees, and tighter security. "It scared us really badly," she added.
Watch: Katy Perry Confesses to Crying to Some of Her Own Songs
Katy Perry Confesses to Crying to Some of Her Own Songs