Taylor Swift Deletes All Instagram Photos, Blacks Out Website
Does this mean new music?
---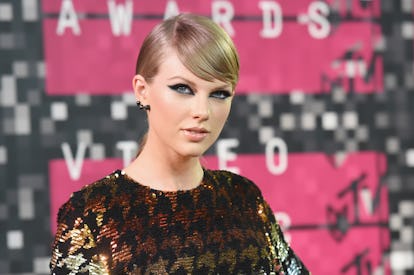 Jason Merritt/Getty Images
Must Taylor Swift destroy all that it is before setting the stage for a new ear of creation …or is just done with social media like so many stars before her? We may have an answer soon, and it seems like many of her fans won't be at ease until we do.
On Friday, followers of the pop star on social media noticed that her profile pictures on Facebook, Twitter and Instagram had all been removed and replaced with anonymous gray person-shaped avatars, all of her Instagram photos had been deleted and her website had been completely blacked out. Because Friday marks the three-year anniversary of Swift's announcing her last album, 2014's 1989, and the subsequent release of the album's first single, "Shake It Off," fans of Swift are speculating that the total blackout means an announcement about her long-awaited sixth studio album is imminent.
"New Era? Hacked? #SomeoneCallTheAmbulance Can't breathe right now ??????," one fan tweeted. Others were equally shook, tweeting simultaneously hopeful and confused things like, "TS6 IS COMING SOON I THINK OMG. (Hopefully)," "I CAN FEEL THE NEW ERA RISING #TS6" and "If this is her hinting to us that a new album announcement is coming, I'm going scream and cry with happiness!"
The 27-year-old has been keeping her social media and public presences extremely low-key ever since the 1989 World Tour ended in December 2015. In 2017, besides promoting "I Don't Wanna Live Forever," her collaboration with Zayn for Fifty Shades Darker, and her one live performance at a pre-Super Bowl event in Houston in February, Swift has only posted on Instagram in order to promote new music from friends like Haim, Lorde and Selena Gomez.
However, she made headlines recently while appearing in court to countersue former radio DJ David Mueller, who sued Swift, alleging that he unfairly lost his job after she reported that he had groped her backside during a meet and greet. Upon her victory in the sexual assault case on Monday, the pop star made an "extremely generous" donation to Mariska Hargitay's Joyful Heart Foundation, which heals, educates, and empowers survivors of sexual assault, and pledged to continue raising money for the cause.
Related: Taylor Swift and Joe Alwyn Have Emerged At Last, Hiding Under Hoodies and Not in a Suitcase
Gigi Hadid Talks About Her Squad:
Taylor Swift Actually Never Wears Sneakers
Taylor Swift. Photo by Getty Images.
Taylor Swift. Photo by Getty Images.
Taylor Swift in Los Angeles this year. Photo by Getty Images.
Taylor Swift on her 2013 RED Tour in Los Angeles.
Taylor Swift on her 2013 RED Tour in Massachusetts. Photo by Getty Images.