While You Were Sleeping, Taylor Swift and Zayn Released a Music Video
The duo collaborated on a new song for the Fifty Shades Darker soundtrack.
---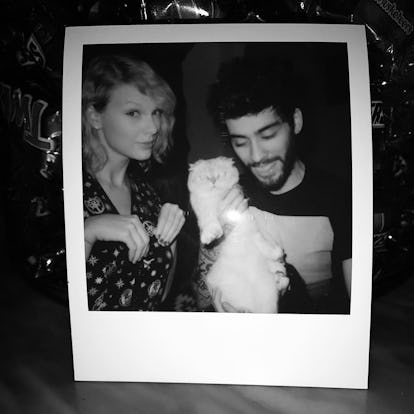 And the VMA goes to…
Early Friday morning, Taylor Swift and Zayn dropped the music video for "I Don't Want to Live Forever," the lead single off the Fifty Shades Darker soundtrack, and over the course of four minutes and 17 seconds, the duo take on everything you'd expect from the video from the lead single off the Fifty Shades Darker soundtrack.
There's Zayn walking moodily through the rain while avoiding paparazzi, Taylor Swift sitting dejectedly alone in the middle of a sexy masquerade party, and lots, lots of writhing around (more Swift than Zayn on this one).
The video was reportedly shot in London, and sees the two megastars separate from each other, save for one brief, non-touching encounter towards the end of video. In it, Zayn appears in his best business casual attire–a blazer over a crew-neck t-shirt–and plenty of facial hair for good measure. Swift, on the other hand, embraced the nature of the novels in a black trench-coat secured haphazardly over a set of black lace lingerie. Her blonde hair appears messier than usual–romantic anguish leaves no time for brushing, after all–while her signature red lips are amplified by a coat of glitter, likely at the hands of Pat McGrath's bestselling Lust 004 kit.
The duet marks Swift's first major professional comeback since going relatively silent, save for a birthday Instagram post or two, after Kim Kardashian released a video of Swift and Kanye West discussing his song "Famous"–something Swift had vehemently denied happened–over the summer. The song, released in the beginning of December, will appear on the Fifty Shades of Grey sequel soundtrack, due out on February 10th, alongside songs from John Legend, Sia, Nick Jonas and Nicki Minaj.
Watch the I Don't Want to Live Forever video:
Like so many other things in the world of pop culture, Swift's involvement can be traced back to her infamous #Squad. The franchise's female lead Dakota Johnson and Swift quickly became friends after being introduced by Cara Delevingne, while Gigi Hadid is, of course, both a Swift bestie and girlfriend of Zayn. What a tangled web Swift weaves…
Watch Gigi Hadid reveal the secret to her runway walk: