Selena Gomez's New Single "Bad Liar" Already Has David Byrne's Approval
"Bad Liar," which features a bass line drawn from Talking Heads' "Psycho Killer," just came out today—but Talking Heads frontman David Byrne has already given the track his stamp of approval.
---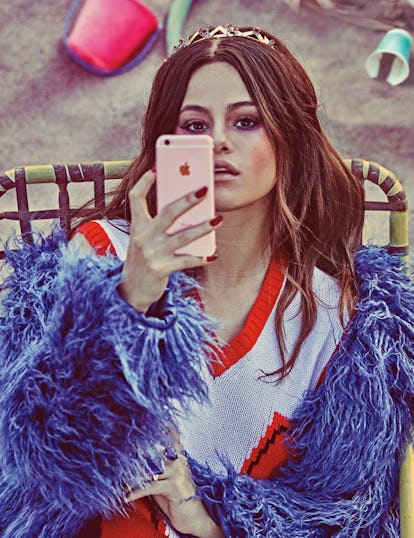 Selena Gomez has been teasing her new single, "Bad Liar," for five days now—ever since she posted three mysterious Instagrams featuring windows blinds with "Bad Liar" scrawled across the image in what looks like red lipstick. The next day, another three images appeared: the cover art for the new track, and a date, May 18. Then she started posting lyrics, then little snippets of songs—and that's when her fans started to realize "Bad Liar" sounds a whole lot like the Talking Heads' "Psycho Killer."
The new track debuted Thursday, and indeed, it shares that buoyant thumbed bass line that distinguishes "Psycho Killer"—because they're actually the same bass line, though "Bad Liar" is transposed down a few notes.
"Selena and Julia are Talking Heads-obsessed," co-writer Justin Tranter told Variety, referring to Gomez and songwriter Julia Michaels. They decided to play the bass line from "Psycho Killer" and write a new song over the top. Thus "Bad Liar" was born. The track is a sonic departure for Gomez, a sparse, minimal single that showcases her voice and lyrics over the simple '70s-era bass and a syncopated clapping rhythm. Lyrically, "Bad Liar" takes a candid, quotidian tone—"I was walking down the street the other day, trying to distract myself, but then I see your face—oh, wait, that's someone else," she sings—and Gomez's voice, almost a sing-song speaking voice, flits over the top, matching in tone. While her previous single earlier this year was Kygo's tropical house track "It Ain't Me," here, Gomez showcases a new solo sound.
Gomez and her songwriting partners proceeded with the blessing of Talking Heads frontman David Byrne himself. After the track had come together, Warner/Chappell Publishing, to which Gomez, Tranter, and Michaels are all signed, played it for Byrne—who lent them his support.
"He heard it, loved it and approved it," Tranter told Variety. Byrne's team confirmed this, according to Billboard, which reported he "wholeheartedly gave his permission." Byrne later took to Twitter to reiterate his support—"I really like the song…and her performance too," he wrote, adding hashtags #badliar and #psychokiller. What better seal of approval for a Talking Heads fan than a byline alongside Byrne himself?
Behind the scenes of Selena Gomez's March 2016 cover shoot: